Još tamo koncem 2010. izašla je prva kompilacija hrvatskih garažnih bendova "It Came From The Garage!!, Vol. 1" (Wombat Records), a bješe to vrijeme kad se naveliko koristio myspace kao platforma za promoviranje glazbe. Myspace danas gotovo više nitko ne koristi, puno godina je prošlo, a na kompilaciju se i zaboravilo, no bendova je sve više. Sve donedavno kad je ekipa okupljena oko emisije "Ispod radara" na zagrebačkom Radio Studentu ponovno odlučila sastaviti nastavak ove kolekcije s nekim novim imenima, ali i nekim odranije vrlo dobro znanim.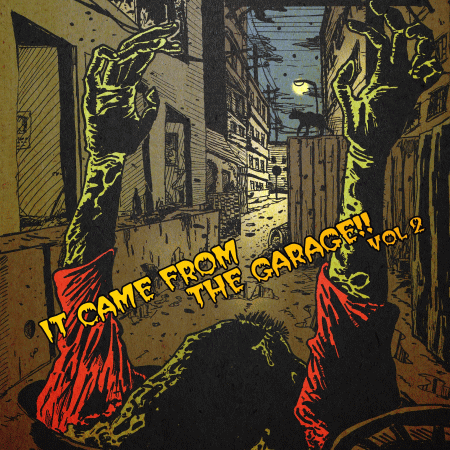 Garažni zvuk takav kakav jeste, barem u rocku, punku, psychobillyju, surfu, r'n'b-iju i pripadajućim žanrovima uvijek je bio prljav, sirov, primitivan i opskuran održavajući lo-fi image u kome je scenska i koncertna izvedba važnija od snimke. Može se i falšati, griješiti, ispadati iz akorda i intonacije jer je još tamo od polovine 60-ih (termin je skovan zahvaljujući kompilaciji "Nuggets: Original Artyfacts from the First Psychedelic Era 1965-1968" objavljenoj 1972), pomalo i posprdan zbog neke druge-treće lige, odnosno amaterske potaknute uspjehom britanskog rocka u USA uspio sačuvati integritet upravo zahvaljujući činjenici da nikada nije težio k mainstreamu i komercijalno prihvaćenim normama stvorivši prvu alternativu, odnosno opoziciju na rock sceni najjednostavnijim 'do-it-yourself' pristupom. A uostalom, nakon prvog značajnog vala američke garaže (The Kingsmen, 13th Floor Elevators, The Seeds, MC5, The Stooges, The Sonics...) većina njih je potonula u anonimnost, ali su mnogo inspirirali punk, hardcore i grunge scenu.
Danas je termin često prisutan, a izvođača tog kova i na našoj sceni ima već poprilično dugo vremena koje seže još u epohu ex-Yu, no ovdje su skupljeni bendovi i imena koja trenutno egzistiraju (ne bih sa 100%-tnom sigurnošću rekao za neka koja mi se čine u hiatusu), ali unatoč nekom opće raširenom shvaćanju oko prljavog lo-fi zvuka, svih ovih 11 snimaka ima svoju autentičnost, svježinu i direktnost bez ikakvih okolišanja. Čak se ispočetka niti ne primjeti da je recimo snimak MOJO MEN FROM MARS - "
R'n'r bastards & tear it up
" zapis uživo, a neki poput (KRNJI) ŠTAJNER BEND - "
Brzina sviranja ŠB-a
" demo, ali vraški dobro ugođen demo s vokalnim samplovima. Uz 8 zagrebačkih i po jednog izvođača iz Vinkovaca (HARP EXPLOSION) i Grabovca (GARAGE IN JULY), ovdje je uvršten i jedan njemački, abnormalno šašav i perverzan THE GIRAFFE MEN feat. MARIETTA'S SISTERS, no izgleda da u njemu ima nekih naših, hrvatskih glazbenika. Nisam dovoljno analizirao dosje benda pa ne želim trabunjati bezveze, no kompilacija u cjelosti reflektira aktualni dio preciziranih gabarita u kome oldschool i nije toliko bitna predispozicija jer se itekako osjeća da dio izabranih izvođača sve više zauzima gard nove retrospekcije poput DETROIT GROOVE GANG, TYGER LAMB, THEE MELOMEN ili bendova s totalno lucidnim imenima - THE DEGS (po nekima izvedenica iz The Dogs) i SLOMING MOPS ('dimljena vimena') dajući svaki zasebno neki vlastiti element koji ih odvaja od standarda, a tome se u principu i teži.
Manje bitna stvar što su sve ove pjesme već ranije objavljene na zvaničnim nosačima unatrag 2-3 godine; uistinu ih je gušt imati skupljene na jednom mjestu. Jedina je šteta što se nije pronašlo mjesta za bendove s juga (a ima ih oho-ho), te što fizičko izdanje omotnice ne donosi nikakve informacije o izvođačima, ali za to valjda treba pričekati Vol. 3.
Naslovi: 1.EROTIC BILJAN AND HIS HERETICS - Disgrace, 2.MOJO MEN FROM MARS - R'n'r bastards & tear it up (live), 3.DETROIT GROOVE GANG - Turn down the lights, 4.TYGER LAMB - Dirty water, 5.THEE MELOMEN - Borrowed time, 6.(KRNJI) ŠTAJNER BEND - Brzina sviranja ŠB-a, 7.THE DEGS - Gangster, 8.HARP EXPLOSION - I don't know, 9.SLOMING MOOPS - Get along, 10.GARAGE IN JULY - Za Iggyja, 11.THE GIRAFFE MEN feat. MARIETTA'S SISTERS - Welcome to the box
ocjena albuma [1-10]: 8

horvi // 14/10/2018