Treći, ovaj puta još uvijek neslužbeni živi zapis novosadskih industrial legendi realiziran je sukladno s drugim "4th Of June (The Day We Made Contact), live" (2012) kada je obilježena 15. godišnjica rada. Tada je bend imao dva najjača albuma u karijeri ("El Conquistadors" i "DreDDup") mada su stari fanovi redovito favorizirali prvi i drugi, doživjeli su značajne personalne izmjene i činilo se da su na najboljem putu ka konačnom proboju na inozemnu scenu. Međutim, od tada su stvari počele stagnirati po tom pitanju da bi se moglo govoriti o nekom značajnijem izlasku u svijet bez obzira koliko se MiKKa trudio svim silama gurati i promovirati bend van granica regiona. Slovenski Dreamsphere, Noctiferia, Condemnato Cristi, Siddharta, pa i riječki One Piece Puzzle daleko konkretnije su učvrstili svoje pozicije u industrial/metal/electro fahu djelomice i stoga što su imali (i još uvijek imaju) potporu ozbiljnih izdavača bez kojih, kako god gledajući, pravi biznis za transplataciju kod širokog auditorija i nije samo tako lako ostvarljiv zadatak. Borgesia, a posebice Laibach su ipak drugačija povjesno-kulturološka priča kojom redovito započinje svako poglavlje industriala na ovim područjima…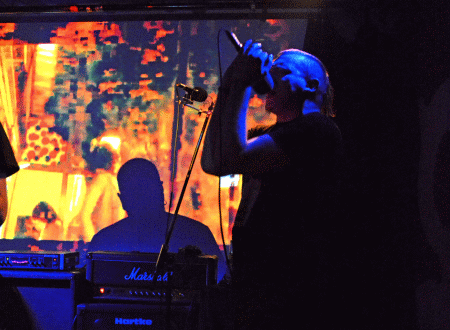 Pet godina kasnije, na istome mjestu Crna Kuća (CK13, Novi Sad) s novijom postavom i jedinim originalnim članom iz 1997., frontmenom
Mihajlo Obrenovim - MiKKom
, 20. obljetnica benda je ponovno proslavljena na visokom tehničkom nivou s precizirano konciznom svirkom punom elektronske matrice i tu se nema šta prigovarati. Oduvijek su im performansi bili napucani tim tehničkim finesama koje nisu dozvoljavale improvizacije, egzibicije i nenadane ispade što je profesionalno gledajući najkorektniji pristup čime su doslovce preslikavali samu kompozitorsku strategiju nastanka pjesama. Neću kazati studijsku produkciju jer je MiKKa vješt elektronski meštar, programer i producent koji je u zadnjih desetak godina izgradio veliku zvučnu zidinu benda mjerljivu s najznačajnijim svjetskim predstavnicima žanra. Jest da je živi nastup daleko više metaliziran i obogaćen rock/hardcore/punk gabaritima za razliku od albuma na kojima je taj manjak evidentan, osobito živih bubnjeva i gitara, pa je stoga i sama draž preslušavanja, a i doživljaja njihovih koncerata mnogo bolja strukturalna slika sadržaja koja u potpunosti nadmašuje studijske zapise.
A za 20. obljetnicu očekivala bi se set-lista s presjekom karijere, međutim sa prva dva albuma se nije pronašla niti jedna pjesma, dok sa "El Conquistadors" tu čast imaju samo teme "
Return of the TV
" i "
Futurism
". Sav repertoar sastavljen je od materijala iz ove decenije s naglaskom na posljedna dva albuma "I Dreamt Of A Dragon" (2014) i DeathOven: Rebels Have No Kings" (2016) s kojih je izvedeno ukupno 10 pjesama od 21 koliko ih ima na ovome nastupu, no u trominutnom komadu "
Medli
" sabijeno je čak, kako je satirično najavio MiKKa 17 upravo tih starih pesama koje ne mogu odsvirati jer nisu imali dovoljno vremena. A čitav zapis iznosi čak sat i 45 minuta u kome se moglo uživati jer su i same upadice između pjesama vrlo humoristične s obostranom interakcijom publike.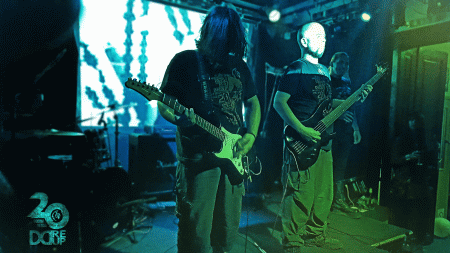 Drugi dio koncerta su žestoke baraže elektronike, plesnih tempova i nabrušene svirke, a tijekom cijelog nastupa Mikka održava sjajan štimung sa svojim grčevito-oporim metal-punk/gothic vokalom lukavo izbjegnuvši sve one zamke zapetljanih aranžmanskih zahvata s kojima su se kompozicije upravo u ovoj deceniji znale protegnuti u pretenciozno nadmetanje na tipkovnicama. Odnosno, sve ovo zvuči upravo onako kako i treba, te onako kako se i očekuje od ovih underground mahera kojima stalno manjka pravi zgoditak za poentiranje bogatog kreativnog autoriteta. Snimljen je i prilično kvalitetan video zapis s nekoliko kamera, nekoliko isjećaka je već postavljeno na youtube, a prema nekoj hipotezi, mogao bi se dobiti i kompletan live video DVD koji s pravom prikazuje zbog čega su DreDDup to što jesu i, da ima sreće, ono što bi mogli biti.
Tonski, svirački i koncepcijski dotjerano u tančine. Na svjetskom nivou.
Naslovi: 1.Intro, 2.I dream alone, 3.When dead come home, 4.GilloTeen, 5.Fire up with the planet, 6.Inject the poison, 7.Mr.Fooz, 8.Zelia, 9.Disco-taken, 10.ReMorse code, 11.Etika, 12.Return of the TV, 13.Fuck me like there's no tomorrow, 14.Garden of dead friends, 15.Medli, 16.Cannibal drive, 17.TamTamTam, 18.Venom, 19.Trust, 20.Futurism, 21.God of FM stereo, 22.Two of us, 23.Outro
ocjena albuma [1-10]: 10

horvi // 05/06/2017