U 27 godina karijere R.E.M. je po prvi puta objavio album uživo. Snimljen je za vrijeme dva nastupa u Point Theatre u Dublinu 26. i 27. II, 2005. na Around The World turneji, a objavljen je 15.X 2007. kao dvostruki cd koji uključuje jedan audio i jedan DVD.
U stalnoj postavi Peter Buck (gitara), Mike Mills (bas, prateći vokal i klavijature), te Michael Stipe (vokal), koncertni sastav je proširen uz bubnjara Bill Rieflina na još troje glazbenika - Scott McCaughey (gitara, klavijature i prateći vokali), Ken Stringfellow (klavijature, gitara, melodika i prateći vokali) i Daniel Ryan iz The Thrills (gitara i prateći vokali). Kao što već dva i pol desetljeća R.E.M. neprekidno očarava svojim živim nastupima, tako je i ovaj koncert vjerni prikaz njihove trenutne snage koja unatoč poodmaklim srednjim životnim godinama još uvijek nije opala. Što se tiče samog koncertnog snimka, tu nema puno prigovora.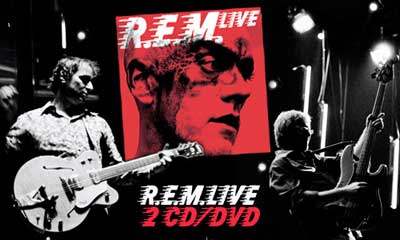 U sat i 40 minuta trajajnja ovog zapisa sažeto je gro hitova uglavnom iz 90-tih kada su bili diskografski i koncertno jedan od najatraktivnijih svjetskih rock bandova. Iz vremena '80-tih pronašla su se samo tri hita "The one I love", "Orange crush" i "(Don't go back to) Rockville" dok je paleta 21. stoljeća pripala nekolicini angažiranih protestnih političkih kompozicija (između ostalih "I wanted to be wrong" i "Final straw"). Uz znanu nisku stadionskih hitova "Everybody hurts", Bad day", "Imitation of life", "Losing my religion", "What's the frequency, Kenneth?", "Drive" i "Man on the moon" pred sam konac koncerta uvrštena je samo jedna nova kompozicija "I'm gonna DJ". Besprijekoran album uživo kome se nema što zamjeriti.
ocjena albuma [1-10]: 8

horvi // 21/11/2007