Mark Edward Smith
je preminuo 24. I 2018. u 60. godini ostavivši iza sebe ogromnu i bogatu diskografiju prezirajući mainstream iz dna duše. Nakon smrti objavljeno je 18 živih zapisa od kojih su dva ogromna box-seta s 11 cd-ova, a datiraju iz različitih perioda, od najranije faze kasnih 70-ih do zadnjih koncerata povodom posljednjeg studijskog albuma "
New Facts Emerge
" (2017) kada ga je napustila supruga
Elena Poulu
. Mnogi taj razvod braka smatraju ključnim fitiljem za razlaz benda jer mu je ona održavala homogenost porodice dobrih desetak godina, no kako je bio strastven pušač i alkoholičar, rak pluća i bubrega je učinio svoje. Isprva, baš u toku promocije spomenutog albuma se nije točno znalo što mu je jer se na koncertima pojavljivao u invalidskim kolicima, a svoju privatnost je strogo držao u tajnosti, isplivavale su mnoge netočne izjave i naklapanja britanskih medija oko njegove smrti.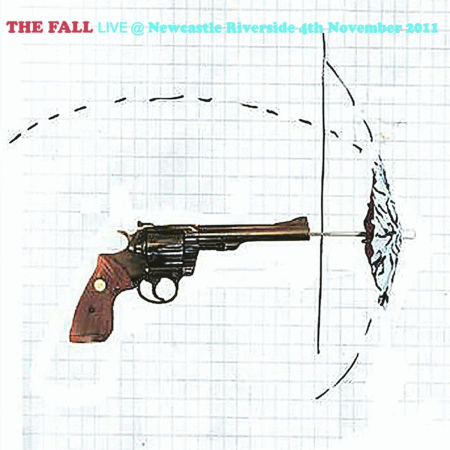 Cog Sinister, izdavačka nezavisna etiketa Mark E. Smitha pokrenuta još 1987. na kojoj su The Fall objavljivali isključivo žive albume, iskopala je ovaj zapis iz jednog, ha, romantičnijeg perioda kada je pokojni kralj alternative bio još u punoj snazi, taman nakon sjajnog "
Your Future Our Clutter
" (2010)
www.terapija.net/mjuzik.asp?ID=8309
, a neposredno na promociji čudnovato neurotične lirske papazjane "
Ersatz G.B.
" (2011)
www.terapija.net/mjuzik.asp?ID=12847
kada se okomio na sve i svašta nizajući poetski supijani, a i pijani nered drvlja i kamenja. Tada je imao vrlo dobru postavu konciznih glazbenika s kojom je bio relativno zadovoljan, ali mučio ga je status ne osobito uspješnog benda u rodnoj Britaniji koji na koncertima dovuče jedva nekoliko stotina ljudi. Istina, mnogi alternativni izvođači bi odmah potpisali ugovor da im na koncerte pohode stotine, a kamoli kad je primjerice u Zagrebu na Rokaj Festu 6. srpnja 2008. ispred sebe imao dobrih 3-4 tisuće posmatrača i izveo onaj urnebesni performens otkidajući i šikanirajući čitav bend kao bezveznjake.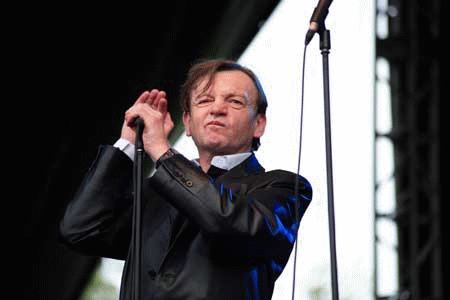 The Fall - Mark E.Smith, 6.VII 2008.,Rokaj Fest, Jarun, Zagreb © kd sudec
Ovaj živi nastup je lošije tehničke kakvoće kao da je snimljen mobitelom iz publike, ali to mu daje pravu draž: uvodnih 3 i pol minute su žamori publike među kojima se može svašta toga čuti i očito jest da ljudi nisu bezveze došli na još jedan koncert The Fall. Ionako nisu znali što točno mogu očekivati od M.E.S-a, ponajmanje da na pozornicu dođe trijezan. Kombinacijom pjesama s ta dva navedena albuma, poput drskog uvodnika "
Nate will not return
" u kome je isparadirao debelu Beth Ditto iz američkih The Gossip, zatim psihodelijom nabijena "
Taking off
", košmarnim rockabilly brzancem "
Cosmos
", potom i hard-heavy/blues komad "
Greenway
" (sve s albuma "Ersatz G.B."), a onda i ironičnom "
Cowboy George
" u kojoj je smetnuo s uma, valjda se uživljavajući u stari kolaboracijski hit s Inspiral Carpets "I want you" (1993, UK no.18) da ponovno može oživjeti dio dramatične popularnosti koju su The Fall imali tijekom madchester-pop groznice koju je neobjašnjivo ignorirao tjerajući svoj poligon 'ja sam svoj i nitko mi ništa ne može'. A u tome se dobro preveslao samo da je bio malčice skuliraniji. Zvali su ga i Mudhoney i Pixies i Sonic Youth na suradnju, no svima je odbrusio - jebite se.
Kako nije bio za nikakve kompromise potezavši sebi najidealnija rješenja što se tiče umjetničkog stvarateljstva uperenog u The Fall kojeg je ionako smatrao vlastitim nedodirljivim kraljevstvom, tako na ovome zapisu skoro pa da niti ne komunicira s publikom jer su njegove pjesme ionako nekomunikativne, abrazivne u lirskom aspektu s puno enigmatičnosti, pa ipak je dozvolio publici da prepozna "
I've been duped
" (pjeva Elena), kraut-rock psihodeliju "
Latch key kid
" (album "Imperial Wax Solvent", 2008, Uk no.35) i očekivanu obradu "
White ligthning
" davno pokojnog Jiles Perry Richardsona iliti The Big Bopper-a, jednog od prvih rockabilly izvođača koji je poginuo u saobraćajki 1959. s 28 godina. Sve je ovo nabijeno snažnim ritmovima, basovima, post-punk gitarama bez distorzije, psihodeličnim premazima klavijatura i tim njegovim bijesnim vokalima, a pronašla se i raritetna izvedba urnebesne "
Psykick dancehall
" koja nikad nije objavljena na službenim albumima. Datira iz najranijeg perioda, računa se tamo od 1978-1983. Na bisu je izvedena samo kratka verzija "
Laptop dog
", također s "Ersatz G.B.".
Pedesetak minuta istinski koncizne svirke u kojoj on nikad nije dozvolio niti najmanje opstrukcije (inače si u momentu letio van iz postave, čak i na koncertu) i njegovog neurotičnog pijanog mrmljanja i vriskanja prikazuju The Fall u sasvim zadovoljavajućem i dakako, energičnom izdanju. A za produkciju je manje bitno. Ono glavno je tu i uvijek dobrodošlo za popunu kolekcije živih dokumenata.
Naslovi: 1.Intro, 2.Nate will not return, 3.Taking off, 4.Psykick, 5.Cosmos, 6.Strichnine, 7.Cowboy George, 8.Psykick dancehall, 9.I've been duped, 10.White lightning, 11.Greenway, 12.Latch key kid, 13.Laptop dog
ocjena albuma [1-10]: 7

horvi // 16/03/2021
PS: Tonski snimak albuma je puno bolji od priloženog video zapisa s youtube