Otkrivanje zagubljenih albuma može često biti pogrešno tumačeno.
Brix Smith
, pravim imenom
Laura Elisse Salenger
, nekadašnja supruga
Mark Edward Smitha
, pokojnog velikog vođe
The Fall
, evo, čak je 24 godine sakrivala ovaj album od javnosti, skoro pune 4 godina i od smrti M.E.S.-a, a odlučila ga je javno realizirati tek koncem 2021. i sad sve može djelovati panegrično u delayu kao zakašnjeli odjek prošlosti.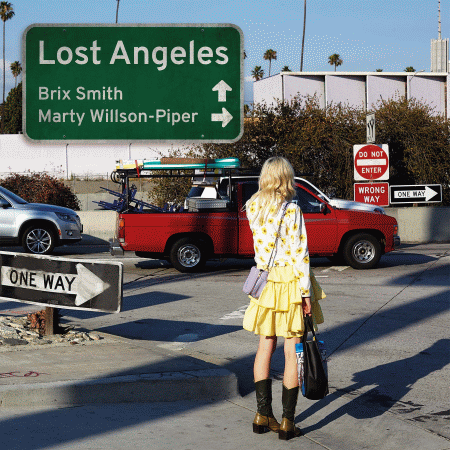 Album je snimljen 1997. s engleskim gitaristom
Marty Willson-Piperom
koji je radio s brojnim bendovima poput australskih psihodeličara The Church, punkerima The Saints, zatim u All About Eve, švedskim Anekdoten..., taman kada je Brix definitivno završila svoju drugu rolu u The Fall gdje je prvotno boravila u periodu 1983-1989 kada se razvela, a potom od 1994-1996. Tada je, kaže izgubila samopouzdanje, bila je ranjiva u izlasku iz razornog bračnog prekida, pokušala je još jednom, ali nije išlo. Također se pogubila i mentalno i financijski, a plašila se, ako otkrije svoje stvarno psihičko stanje, da će biti odbijena od glazbene industrije, pa je zato ostavila ovaj album da čeka na neko daleko pogodnije vrijeme.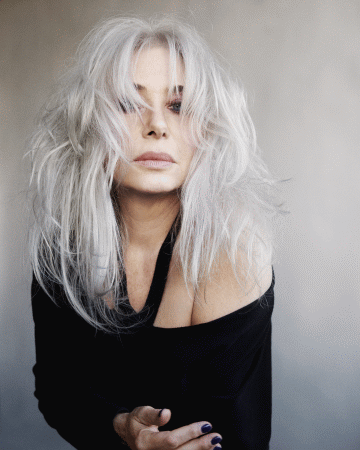 Brix Smith © 2021
Pošto M.E.S.-a više nema koji bi joj štošta zamjerao i degradirao je, odlučila ga je objaviti u trenutku kada se priprema za solo album s Martin Gloverom - Youthom iz Killing Joke, te zakazanim koncertima na Killing Joke turneji 2022., ako do njih dođe, kako bi se publika upoznala s tom enigmatično nepoznatom karikom u njenoj karijeri. Ona je tijekom 80-ih paralelno s radom u The Fall imala i vlastiti bend The Adult Net s kojim je 1989. objavila simpatičan indie-folk pop album "The Honey Tangle" na tragovima Throwing Muses i R.E.M., a i postala je važna figura u svijetu mode, TV i filma. Od 2014. pokreće novi bend
Brix & The Extricated
s bivšim članovima The Fall koji su sudjelovali i na njenim ranijim ostvarenjima.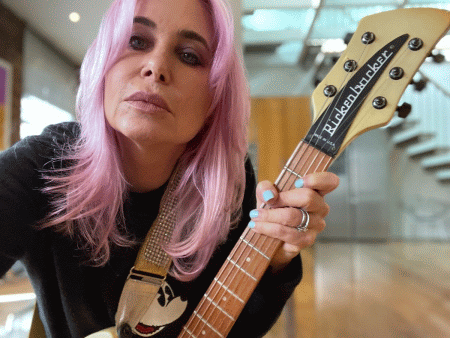 Brix Smith © 2021
Ono što dočekuje na ovome albumu je vrlo pitka i živahna pop varijanta post-punka i indie-rocka, čak i preblagog za drugu polovicu 90-ih, nešto poput kombinacije Pixies pjesama u kojima pjeva Kim Deal, zatim tada kurentnih Mazzy Star s Hope Sandoval, a djelomice i s The Cranberries, no aranžmanski se oslanja na klasične 'pop' The Fall figure. Točnije, to su plesni rock ritmovi s bogatim bas linijama i neprekidnim gitarskim međuigrama (ima ponešto i synth harmonija), te mračnim lirskim raspoloženjem s naglašenim emotivnim i često neugodnim psihičkim tegobama, a osnovna korespodencija jest nastavak njenog rada s The Adult Net.
Šarmantno postavljene psihodelične gitare u uvodnom singlu "
Backwards
", plesni rock tempo i vokal nalik na Debbie Harry dovlače simpatičnu količinu vibracija, a nastavak s melankoličnom "
On top of you
" oživljava neke od velikih trenutaka ženskog rocka kome odavno manjka eksplozivan refren, još tamo od Bangles i Hole s kojima je svojevremeno radila. Dirljiva balada "
Sorry
" zasigurno M.E.S.-u 1997. ništa ne bi značila u pozitivnom smislu; on grižnju savijesti nikad nije preferirao, posebice kad je uz Brix prisutan i prateći Piperov vokal, eh, da. Svašta si je mogao misliti, a to tada nije bilo potrebno. Ako se ovdje očekuju The Fall komadi, teško da se mogu naći, tek mjestimično s naglašenim bas linijama "
Super softy
", no kompozicija ide u sasvim drugačijem, komercijalnom smjeru i harmoničnim radiofriendly refrenom, "
Flower
" u posve baladičnom neo-folk/ gothic ugođaju evocira djelomice i This Moral Coil za što je zaslužan i violončelo, a "
Orangina
" može svakome ljubitelju Pixies ozariti obraz kao pjesma koja im je oduvijek manjkala nakon himne "Where is my mind".
Stoga je previše očekivati od namjerno zapostavljenog albuma snimljenog u vrlo pogodnom vremenu alternativnog rocka i grungea kada se ustvari završio pravi komercijalni uspon rocka, a Brix je ionako bila s vlastitim respektom na marginama, no primijeti se odličan pop/acid-jazz rad u "
Joys of you
" s trubom nalik na Sylvianove pjesme u kojima mu je gostovao Mark Isham, pa zgodan pop-rock rap (da, dobro ste pročitali 'rap') "
Star
" ili obrada Ramones "
Here today, gone tomorrow
" s klasičnim The Fall punk riffom u umjerenom ritmu. Ovdje se može pronaći i još mnogo toga, vrlo lijepog, čak i snenog poput Duran Duran dream-pop završnice "
Hoover for hands
", a i detaljno izgrađenih finesa 'praznog i slomljenog srca' koje je tada imalo samo 35 godina. Pokazala je da ima veliki talent za pisanje osebujnih psihodeličnih pop-rock komada izniklih na zasebnom izvoru, daleko od The Fall u kojima je bila najvitalnija i najznačajnija figura najboljeg dijela M.E.S.-ove karijere.
Naslovi: 1.Backwards, 2.On top of you, 3.Sorry, 4.Super softy, 5.Flower, 6.Orangina, 7.Little wounds, 8.Joys of you, 9.Star, 10.Here today, gone tomorrow (Ramones), 11.Soup, 12.Hooves for hands
ocjena albuma [1-10]: 8

horvi // 28/12/2021