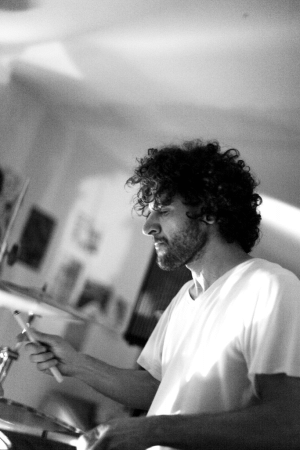 Gabriel Hibert © Hazam Modoff
Hm, čudnovati francuski bubnjar iz Toulousea (rođen 1979) realizirao je vrlo čudan album kojeg je teško kategorizirati. U svojoj biografiji samo spominje da je u periodu od 2004. do 2011. svirao u nekoliko također čudnih bendova, no ako ih pokušavate potražiti na internetu teško će te ih naći. Bili su to Gilles de la Tourette ili GDLT (2004-2008), Les Horlogistes (2009-2011) i At the Rustle (2009-2010) u kojima je uz prioritetni set bubnjeva svirao klavijature, baratao samplovima, te ponekad zapjevao, a varirali su od math/noise rocka sve do eksperimentalnog dance macabrea, neo-klasike i psihodeličnih ambijenata. Nakon odlaska iz GDLT pomalo počinje skladati vlastite solo kompozicije, a izlaskom iz Les Horlogistes 2011. definitivno se okreće samo individualnim radovima.
Bubnjevi su mu osnovica glazbe na kojoj izgrađuje svu ostalu infrastrukturu sasvim solidno baratajući gitarom, klavijaturama, basom, te elektronskim pomagalima poput sampling pada, specifične naprave za udaraljkaše, a bome i ponekim duhačkim instrumentom. Odnosno, multiinstrumentalist je koji se razvija u slobodnom pravcu bez obzira na neku fokusiraniju strukturu, dok na živim nastupima koristi upravo matricu potkrijepljenu upravo sampling padom preko koje improvizira udaraljkaške vještine. Nazvali su ga bend s nevidljivim muzičarima, a sam vokal koristi kao dodatni instrument koji čak nije niti u nekom semantičkom spektru već služi kao tretman za efekte što se vrlo dobro uočava u kompoziciji "
Matière
". Katkad na koncertima ugosti i ponekog na vokalu, primjerice ovog proljeća u rodnom mu se Toulouseu priključila mlada lokalna filmska režiserka
Steph Artaud
(
https://stephanieartaud.wordpress.com/
) u svojstvu reperice.
"Abducté" mu je službeno treći album (sam ih i producira) u kome je osnovna instrumentalistička manipulacija bubnjeva bez klasičnih vokalno-tekstualnih kompozicija. Nošen je cinematic pristupom kojeg vodi uvrnuto-ekscentrična fabula što kovitla od ezoteričnosti do mikroba (grinja), odnosno od metafizičkog makrokozmosa do najprimitivnijih sfera života povlačeći raznoliki žanrovski spektar elemenata. Pronalazi se u njegovim tehnikalijama i sampling pad efektima math/ noise rocka i industriala sve do ambijenata i blagih urona u drone metodiku šarajući udaraljkaške sekvence bez nekog određenog voznog reda. Njegove finese su u obostranoj spregi čiste analogne svirke i elektronskih medikamenata koje vrlo vješto aranžira u spretno koncipirane kompozicije koje nemaju nikakav striktno određeni žanrovski fah zbog čega ga ne bije uzalud glas čudaka sklonog improvizacijama i eksperimentima.
Vrlo zanimljivo ostvarenje.
ocjena albuma [1-10]: 7

horvi // 31/08/2017