Kantautor
Bastian Kallesøe
je specijalist za labirinte ljubavi i slične melodramatične tematike. Ranije je radio samo s akustičnom gitarom i uglavnom kod kuće kao Matej Krajnc, a onda su mu se koncem 2012. na jednom nastupu u Tobias' baru priključile Kirsten i Marie. Treći album "Late Bloomer" je snimio za 3 dana (ha-ha-ha, Krajnc ga snimi za sat vremena bez greške kad se god sjeti neke dobre ideje). Izgledom podsjeća na Aleksander Cepuša iz mlađih dana (obojica su imali i duge kose i brade, kako kad), no pljeni ga nježan tanki tenor i fingerpicking stil prebiranja po gitarskim žicama.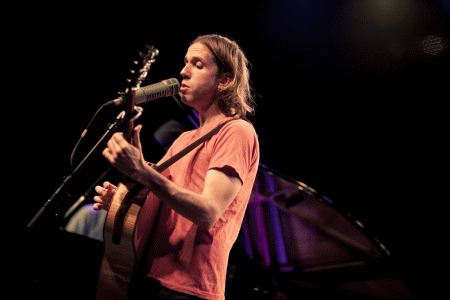 "Wholly Wholly" mu je prvi album na kome se odlučio proširiti postavu s klasičnom ekipom u kojoj samo manjka električna gitara. Znači, ovdje je sve od bubnjeva, basa, klavijatura, pozadinskih ženskih vokala, a ima i jednu žensku pratilju zaduženu za gudačke sekvence. Vrlo mirno otpočinje ovaj 35 minuta dugačak rad jednostavnim singlom "
Gershwin's invisible year
" i može se pomisliti kako će čitav album biti ovakvih akustično-amplificiranih gabarita. Međutim "
The moon
" je začudno veselijeg afrobeat tempa i iskrzanijeg gitarskog tretmana s atmosferičnim harmonijama klavijatura, a kako se odmiče stvar po stvar, otkrivaju se šarmantni detalji imitirajući tim staccatima pahuljice snijega, kapljice kiše ("
Canopy
"), ponegdje pjesma počinje od mekane bas linije razvijajući pozadinsku orkestraciju ("
Lightbulb serenade
"), neke su čisti ambijenti (instrumental "
An evening with Bertrand
"), te sve pokazuje i eksperimentalniji pristup koji se i ne bi očekivao.
Vjerojatno nije želio kompromitirati svoj dosadašnji rad, pa je za drugi singl odabrana čista fingerpicking tema "
There is no life on other planets
", ali da album baš i nije takav potvrđuje sasvim neočekivana "
Ballad of the unseeing eye
" gdje je pratećoj ekipi dozvolio potpuni doprinos razvivši temu na 10 minuta u kojoj je
Mathilde Bagger-Larsen
zadužena za orkestracije ostvarila minimalistički, ali veoma efektan gudački tretman insinuirajući školu Steve Reicha i Philip Glassa. Na samom kraju albuma je još jedna tema posvećena uvodnom kompozitoru, stariji singl "
Gershwin wake up singing
".
Vrlo sjetno i melankolično djelo s kojekakvim razmatranjima ljubavnih jada, a i radosti punih emotivnih previranja na tragovima su Sylvianovog spomenutog remek djela "Secrets of the Beehive", ali samo na tragovima. Ipak mu još štošta manjka u tome od primjerice psihodeličnosti i tematski širih obzora, te moćnijeg baršunastijeg glasa i hrabrijih aranžmanskih poteza, da ne kažem avangardnih jer su mu izuzev navedene desetominutne teme sve pjesme uokvirene u vrlo kratke formate od gotovo nepune 3 minute.
Naslovi: 1.Gershwin's invisible year, 2.The moon, 3.Canopy, 4.Lightbulb serenade, 5.An evening with Bertrand, 6.There is no life on other planets, 7.Ballad of the unseeing eye, 8.Paris, 2014, 9.The rest of your life, 10.Gershwin wakes up singing
ocjena albuma [1-10]: 6

horvi // 27/09/2018