Indie-rock bend iz Seattlea Darto egzistira na marginama lokalne scene od početka ove decenije. Njihov frontmen i gitarist
Nicholas Merz
nedavno je objavio debitantski solo album o kome smo pisali, a istovremeno je i s matičnim bendom realizirao ovaj treći EP po redu. Imaju još i 3 albuma. Netko kaže 4, ali kad materijal iznosi manje od pola sata teško da bi se mogao složiti da je to format albuma...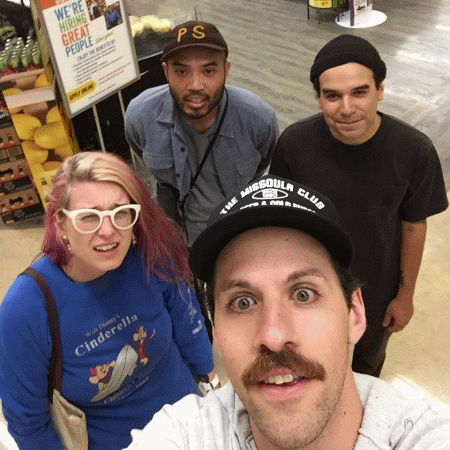 Glazba na ovih svega 13 minuta je raznolika i šeta od uvodnog plesnog krautrocka "
Brotherhood
" s eksperimentalizacijama na saksofonu (gost
Neil Welch
iz jazz dueta Bad Luck) preko akustične "
Persona
" s legato gitarom, harmonijom syntha i ponovno saksofonom do klavirske fragmentacije "
Totality
" koja više odgovara segmentu contemporary classical i završne vrlo spore "
Everyday actor
" uz vokal
Candance Harter
, inače članice benda (preostala dvojica su
Gregory Flores
i
Gordon De Los Santos
). Bend se ovdje ističe time da im plesni ritam, a inače i bubanj nisu nešto osobito sastavni elementi već voli eksperimentirati sa zbunjujućim, ali vrlo lijepim minimalističkim parametrima uronjenih u psihodeličan dekor.
Kao što je Merzov debi album "The Limits Of Men" najinteresantniji u lirskom aspektu, tako se i ovdje provlači vrlo slična kontura opservacija od muške moći i dominacije s evidentnim osjećajem za ispoljavanjem agresije u stanju nesigurnosti, te moći i kontrole gledanih iz nekoliko različitih aspekata. No, glazba je vrlo spora i senzibilna izuzev spomenute uvodne koja može zavarati kako će se ovdje dobiti solidna porcija dance-rocka. Ništa od toga. Darto su specijalni, vrlo tihi i samozatajni minimalistični mistici daleko od one razvikane scene velegrada koji je iznjedrio posljednje prave i istinske svjetske rock zvijezde početkom 90-ih godina prošlog stoljeća. Ovo je jedan sasvim drugačiji Seattle. Skroman, zbijen u underground, a ovaj materijal doima se kao solidna sobna lo-fi snimka s toplim i prozračnim referencama izoliranog i opskurnog bez ikakve želje za manipulacijom širokih ukusa. Simpatično.
Naslovi: 1.Brotherhood, 2.Persona, 3.Totality, 4.Everyday actor
ocjena albuma [1-10]: 7

horvi // 05/11/2018