Nećete pogriješiti ako The Crossing usko povežete s kršćanskim blagdanima. Do sada su imali dva Božićna albuma, te jedan sa sakralnim temama. Vole se snimati u crkvama i katedralama, ali su uz svu liturgijsku narav ponekad vrlo iščašeni i neočekivani.
Okupivši nekoliko kompozitora kršćanske ekumene iz Danske, Latvije, Njemačke, USA, ta s Islanda, glavni meštar
Donald Nally
na šestom albumu ovog mnogoljudnog mješovitog pjevačkog zbora pozabavio se baroknim oratorijem Dietericha Buxtehudea iz 1680. "Mebra Jesu Nostri" na temu Kristovih meditacija i mučeničkih patnji. Da ne bi ovaj adaptirani remake ostao samo u domeni vokalne izvedbe, kao glazbenu pratnju angažirao je
International Contemporary Ensemble
, jedan od najznačajnijih malih orkestara u USA generirajući spektakularni raspon stilsko-žanrovskih mogućnosti suvremene komorne glazbe.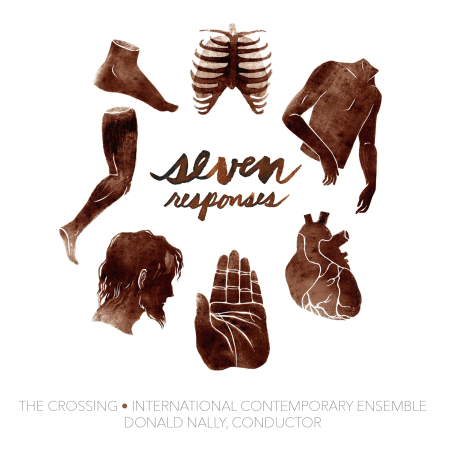 Album je vrlo dugačak, podijeljen na dva CD-a i sveukupno iznosi skoro 2 sata, a karakterizira ga mirnoća, lamentacija, mnogo nijemih vokaliziranja, žalost, depresija i tuga. Otvara ga nama dobro znan Lewis Spartlan komadom "
To the hands
" sa 6 kratkih stavaka koje je uradio s poetom Paul Kaneom i dobitnicom Pulitzerove nagrade - Caroline Shaw kreirajući modernu kantatu pozivajući se na grčku tragediju. Hans Tomalla je napravio "
I come near
" baveći se multifonijom, a danski kompozitor Pelle Gudmundsen-Holmgreen "
Ad cor
" se izdvaja duhovitošću i ciničnošću; obojica su iskoristili ICE orkestar kroz gudače i drvene duhače instrumente s ponešto udaraljki, te od tog trenutka počinje da se giba jedna sasvim drugačija glazbena fabula prema neobičnim stilskim zahvatima ("Ad cor" sadržava spoken-word, čegrtaljke i puno minimalizma). Islanđanka Anna Thorvaldsdottir potpisuje "
Ad genua - To the knees
" održavajući baroknu suštinu originala, koja se na drugom CD-u pretvara u posve neočekivani zaplet.
David T.Little je 15 minuta dugačku "
Dress in magic amulets, dark, from my feet
" uobličio u nevjerojatan spoj sakralne nijeme vokalne izvedbe i doom/drone disonanti s gudačima i bubnjevima što zvuči brat-bratu poput Sun O))) dokazivajući da je taj metal/ambient žanr ustvari ponikao iz baroka 17. stoljeća. Komad ujedno na veoma pristupačan način dočarava 'pop' publici Kristovu muku u osvježenom popularnom underground maniru što je svakako jedno od velikih iznenađenja ovog albuma. Latvijski kompozitor Santa Ratniece se opet u najduljem broju "
My soul will sink within me
" (17 minuta) referira na eteričnu viziju neo-folka da bi album okončao ponovno Spartlan sa četiri stavka teme "
Common ground
" dramatičnom kantatom koja u sebi sadrži i plesnije momente valcera (stavak "
Prologue
") ili natruhe ekspresionizma ("
Scene 2
") prelamajući intenzivnu intimnost, pa čak i dašak veselja bogato razgranatom vokalnom pričom u kojoj je funkcija muškog i ženskog solo libreta zavidne operne razine.
Sama mirnoća albuma, kao i dosadašnjeg opusa The Crossing (ovo im je već treća recenzija na Terapiji!) ponovno dokazuje pronicljivi njuh Donald Nallyja za veličanstvene kršćanske teme koje ne moraju nužno biti stereotipno dogmatizirane. Ima sposobnost da dočara suptilnost u alternativnim pomacima prema modernoj klasičnoj glazbi sugerirajući racionalnost ka inspiraciji iz 17. stoljeća. Uostalom, za ovaj blagdan tekuće 2017. bolji izbor nitko nije ponudio.
Sretan Uskrs!
Naslovi: CD1: 1.To the hands - I.Prelude - wordless, 2. To the hands - II.In medio in the midst, 3. To the hands - III.Her beacon-hand beckons, 4. To the hands - IV.Ever ever ever, 5. To the hands - V.Litany of the displaced, 6. To the hands - VI.I will hold you, 7.I come near, 8.Ad cor - I.Wound, 9.Ad cor - II.Joy, 10.Ad cor - III.I laugh at you mockingly, 11.Ad cor - IV.Wound joy I laugh at you, 12.Ad genua - To the knees
CD2: 1.Dress in magic amulets, dark, from my feet, 2.My soul will sink within me, 3.Common ground - Prologue, 4.Common ground - Scene 1, 5.Common ground - Scene 2, 6.Common ground - Scene 3
ocjena albuma [1-10]: 8

horvi // 16/04/2017