U ogromnom opusu kao što ga ima David Kechley posve neobično je da mu ovo najnovije izdanje ima 2 odvojena CD-a s obzirom da prvi iznosi svega 8 minuta koje su se komotno mogle stacionirati na jedan zajednički što bi sve skupa iznosilo onih klasičnih 45 minuta albuma.
Ali ne, eto, ovaj ekstravagantni umjetnik je to baš tako želio i jednostavno se bez tog prohtjeva izgleda nije moglo jer kako sam pojašnjava na ovitku omotnice, poput starog djela "Winter Branches" koji mu je bio prvi zvanični CD (objavljen 1997., mada je djelo snimljeno još 1987.), kompletirao je desetogodišnji rad u dva komada, pa je tako ovdje pribjegao vrlo sličnom principu iznenadivši publiku na ovakav nesvakidašnji način. Prije svega, ovo je zanimljivo ostvarenje uradio s poljskom
Filharmonijom Sudeka
pod dirigentskom palicom
Jerzy Koseka
(spomenuti "Winter Branches" je radio sa češkim umjetnicima), a ne treba zaboraviti da je nekoć radio i sa zagrebačkim, te bosanskim glazbenicima, odnosno da je veliki slavenofil što u američkoj, pogotovo modernoj klasičnoj glazbi nije osobito česti slučaj.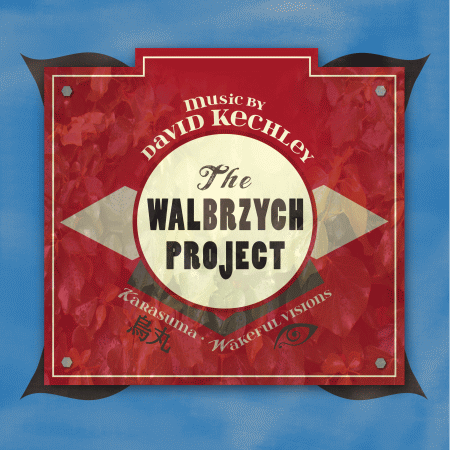 Prvi CD nazvan "
Karasuma: A fast funk for orchestra
" je uistinu funk pun orkestralnog plesa, ritmičan je i šarolik bez pribjegavanja nekim imitacijama s osjećajem jazz movinga protežući se na dvije aranžmansko-kompleksne strukture s bezbrojnim igrama i instrumentalističkim nadmetanjima kao da je kroz filharmoniju spojio barem 5-6 raznovrsnih big bendova što su stilski i žanrovski diferencijalno nespojivi. Taj njegov, nazovimo egzibicionizam nije bez pedigrea: čak ima i podnaslov ispisan na japanskom jeziku, no u globalu predočava slobodoumni amerikanizam, barem onakav kakav se pamti prije Trumpa.
A drugi CD, mnogo dulji, s glavnim naslovom "
Wakefull Visions/ Moonless Dreams
" gust je i zbijen konglomerat orkestralnih sposobnosti koje su me otprve podsjetile na čuveno "Posvećenje proljeća" Igora Stravinskog koje je točno prije jednog stoljeća na premijeri, a i još jako dugo vremena potom bilo smatrano poganskim i primitivnim djelom od strane glazbene kritike i intelektualnog sloja audijencije što nije prepoznalo avangardne sklonosti. Ustvari, ruku na srce, Stravinski je bio jedan od prvih rockera u klasičnoj glazbi koji je uspio doživjeti i komercijalnu pop stranu svojeg izraza mada ga isprve rockeri uopće nisu shvaćali sve tamo do 60-ih godina 20. Stoljeća (ok i Wagneru, te Schoenbergu sve zasluge). Kechleyeva sposobnost virtuoznih bravura uronjenih u luksuzna rješenja provučena kroz 4 stavka su jedan od dokaza nepogrešivog zvučnog lirizma ne idealizirajući amerikanizam, osobito ne i zato jer je Filharmonija Sudeka (točan naziv Filharmonia Sudecka) iz manjeg i širem pučanstvu nepoznatog grada Wałbrzycha (Valbrzić) od 100-tinjak tisuća stanovnika na jugu Poljske upravo je poznata po svojoj filharomoniji isto onoliko koliko su otprilike Hlebine i Podravina poznati po naivnom slikarstvu i brojnim slikarima naivcima. Samo za razliku od mojeg zavičaja, Poljaci uopće nisu naivci u umjetnosti, a niti su ikad kaskali za kurentnim trendovima, no to je već druga priča. Ovdje su kroz Kechleyeve vizure otjelotvorili čitav niz različitih aspekata sanjarenja referirajući se na Stari Zavjet, Busonov haiku, scene vještica iz Shakespearevog "Macbetha", te na neke memorije Proustovog shvaćanja svijeta koji je nekud uludo otišao.
Naslovi: CD1: 1.Karasuma: A fast funk for orchestra
CD2: 1.Wakefull Visions/ Moonless Dreams: A symphony in Four Movements - I.Whirlwind, 2.II. Notari Notari, 3.III. Something wicked, 4.IV. Moments
ocjena albuma [1-10]: 9

horvi // 09/07/2018