Yuko Fujiyama je japanska klaviristica i kompozitorica rođena 1954. u Sapporu, a počela je svirati kad su joj bile samo 4 godine. 1980. se pronašla u New York gdje je svoju prvu značajniju rolu odsvirala na pjesmi Cecil Taylor, da bi se od 1987. aktivno uključila u koncertna i diskografska dešavanja. Ima radove s 3 benda - One World Ensemble, Yuko Fujiyama Quartet i Yuko Fujiyama String Ensemble, a po svemu sudeći jer kao i gomila klasičnih glazbenika nema zvaničnu web stranicu, "Night Wave" joj je prvi solistički rad potpisan samo s njezinim imenom.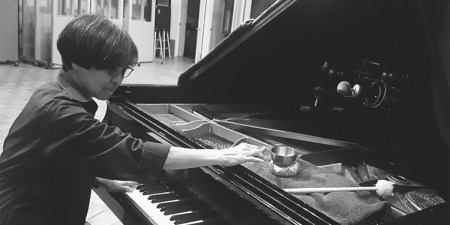 Kao što nije bila studijski plodna, ovaj praktički pravi debi oslanja se na noviju strukturu američke suvremene glazbe koja spaja klasiku i jazz. Ovdje je to oivičila refleksnim potezima svirke klavira stvarajući atmosferu ponekad vrlo kratkih kompozicija s učešćem troje glazbenika -
Jennifer Choi
(violina),
Graham Haynesa
(rog i kornet), te
Susie Ibarrom
(bubnjevi). Svi su oni refleksno uključeni u proces s unaprijed razrađenim sekvencama bez obzira na osnovnu jazz potku stvarajući osebujnu atmosferu bez dugotrajnog petljanja i zadržavanja na čistim improvizacijama oslanjajući se na široku paletu ambijentalija, tonova i boja.
Koji puta ovdeje se dešavaju nagli uzleti s frenetičnim eksplozijama poput tema "
Up tempo
" ili "
Beyond the sound
", no najveća koncentracija je fokusirana u mirnije sekvence poput minijaturnog frcanja vatre što daje živahnu osnovicu egzaktnih egoističnih poanti punih melankoličnih impresija. Ne zadržavajući se na nekim pretjeranim solažama, čitav album odiše antiknim aromama i ekspresivnim impulsom s ravnopravno raspoređenim udijelom svih glazbenika. Kaže, kako stoji na omotu, da je ovih 50 minuta plod njezinog višegodišnjeg istraživanja glazbenih struktura, pa je zato vrlo teško pronaći neko osnovno uporište za koje bi se slušatelj mogao prihvatiti u prvom preslušavanju. Ako ništa drugo, sva ova mahom melankolična atmosfera vrlo ugodno je osvježenje pokazujući kvalitativnu vrijednost jednostavno izgrađene infrastrukture u kojoj nema repeticija.
Naslovi: 1.Woven colors, 2.Up tempo, 3.Romance, 4.Clash, 5.Premonition, 6.Indigation, 7.Fireworks, 8.Beyond the sound, 9.Waltz into shadow, 10.Autumn whispers, 11.Floating on a breeze, 12.Leap, 13.Starlight, 14.Night wave, 15.Tale of the old tree
ocjena albuma [1-10]: 7

horvi // 05/07/2018