Veena je ogroman žičani instrument iz porodice lutnje. Ima tridesetak varijacija do po 24 žice, čak postoje i elektronske varijante koje stimuliraju zvuk saksofona, flaute, harmonija..., a ovaj instrument s kojime barata
Nirmala Rajasekar
je izvedenica od 6 do 12 žica.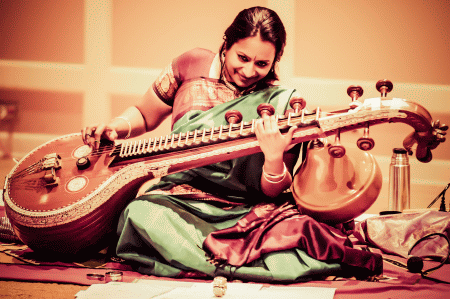 Nirmala Rajasekar
Nirmala (rođena 1966.) je indijska glazbenica, pjesnikinja i pjevačica stacionirana u Chennaiju, gradu u Bengalu, a svirati veenu je počela u 6. godini razvivši se u osebujnu virtuoskinju svjetskog glasa prije svega zastupajući Karnatski glazbeni stil, tradicionalni izričaj južne Indije i Šri Lanke. Dugo vremena je radila van očiju šire javnosti mada je stalno putovala po svijetu šireći naukovanje svirke veene sve dok je prilikom nastupa u Minnesoti 2007. nije zapazio Innova Recordings i ponudio joj angažman.
Na ovome albumu okupila je 4 vrsna glazbenika na različitim instrumentima, neki od njih su toliko egzotični da niti sami nazivi glazbala ne znače mnogo. Poput mridangama, gathama, bendra ili khanjira, a to su sve mahom indijsko-tibetske udaraljke neobičnih zvučnih frekvencija čime se u ovoj glazbi postiže tipičan autohtoni vibrato južne Indije. Uz originalnog Indijca, gurua
Thanjavura K. Murugaboopathija
na spomenutim udaraljkama, nešto poznatije instrumente poput bongosa, okvira doboša, daffa i riqqa udara
Tim O'Keefe
, njegov brat
Pat
je zadužen za saksofon, klarinet i kravlja zvona, a
Michelle Kinney
za violončelo. Album od 60 minuta sastavljen je od veoma interesantnog world-music presjeka koji obuhvaća početnu temu "
Mary O'Neil
" iz irskog jig folklora, preko kineske pentatonike, tradicionalne indijske rage sve do jazz opservacija, a kako je Nirmala putovala po svijetu, ovdje je uvrštena i jedna tema iz turskog plesnog folklora - "
Nihavent Oyun Havasi
".
Svih ovih 10 kompozicija predočava transžanrovski uron u bogatu tradicijsku glazbu od dalekog i srednjeg istoka do američkih, odnosno zapadnjačkih popularnijih obrazaca u netipičnim formatima gdje su samo 4 kompozicije uzete direktno iz folklorne baštine, a preostalih 6 djelo je Nirmale i njenih pozvanih prijatelja. Improvizacije koje su svi oni unijeli u ovaj čaroban svijet zvukova vrlo su nježne, mirne i suptilne, duhovno istesane u poznatoj staloženosti nalik na mantre i trans kroj ritmičkih, melodičnih i harmonijskih sprega okupirajući duh i psihu u ekspresivnu simbiozu racionalnog i emotivnog. Ona sama za ovaj album je izjavila da ga je osmislila na ovakvom globalnom nivou upravo zbog svih ovih svjetskih tegoba u kome se nalazi stanje duševnog i mentalnog bitka: 'sada, više nego ikad potrebna nam je glazba da nas drži na okupu, da ne zaboravimo što to mi imamo i moramo dati zajednici da slavimo ono što nas čini drugačijim'.
Vrlo prijatno, nenametljivo i spontano glazbeno ostvarenje za fine trenutke turbulentnog života.
Naslovi: 1.Mary O'Neil, 2.Mallari: Temple processional, 3.Pentatonic - new beginnings, 4.Prism, 5.Vaasanthi - the quest, 6.Maithree - the music of friendship, 7.Nihavent Oyun Havasi, 8.Sublime journey, 9.Nanati Baduku, 10.Ted's dream
ocjena albuma [1-10]: 8

horvi // 09/11/2018