Nakon Sepulture bez Cavalere, stiže nam Soulfly s Cavalerom! Tribal groove metal banda turira Europom već neko vrijeme, promovirajući novi album "Conquer" inspiriran orijentalnim ritmovima Egipta. U nas i kod susjeda Srba dolaze u srijedu 11. marta, pardon ožujka. O Soulflyju ne treba puno raspravljati. Radi se o ponešto upicanjenom roots-zvuku koji je Sepultura iznjedrila na istoimenom albumu koji, kako se čini, privlači sve više i više nu-metal publike.Koliko god vas ta kovanica odbijala ili privlačila, radi se o jednom od boljih metal bandova današnjice i red bi bio da se pojavite u Aquariusu, namazani ratnim bojama, naoružani tomahawcima (ko nije Indijanac, može i obična sjekira za cijepanje drva) i zajedno urlate "Back To The Primitive!".
Podršku im pružaju thrasheri Incite, koje osim sličnosti sa starom Sepulturom, vezuju i rodbinske veze. Naime, pjevač im se zove Richie Cavalera, i Maxov je posinak.
Prije Incite, sviraju i skaču solidni, angažirani te mnogočlani nu groove metal band Cold Snap iz Varaždina.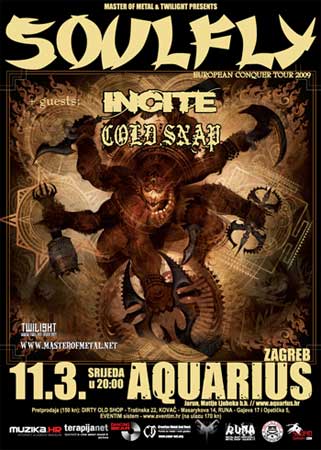 djole // 06/03/2009