U subotu 22. veljače će u zagrebačkoj Tvornici Kulture nastupiti američke metal core legende
Hatebreed
u sklopu svoje turneje "The Divinity OF Purpose Fall Tour". Hatebreed sa sobom kao specijalne goste dovode još jedne legende, britanski grind core band Napalm Death koji naša publika već jako dobro poznaje.
Hatebreed su američki band iz Connecticuta, osnovani 1994. godine i posebni su po svojoj kombinaciji crossover thrash metala i tadašnjeg hard core punka te su jedni od začetnika metal hardcore scene, tj metal corea.
1997. objavljuju album "Satisfaction is the Death of Desire" koji je napravio pravu malu revoluciju na metal sceni uzdižući ih među najveće bendove metal core scene.
Zatim Hatebreed kreću na turneje sa bendovima poput Slayer, Deftones, Napalm Death, a što je rezultiralo uzajamnim utjecajima i ponešto komercijalnijem zvuku Hatebreeda na iduća dva albuma; "Perseverance" iz 2002, a posebno na "The Rise of Brutality" iz 2003. nakon čega Hatebreed postaju još popularniji i kreću na zajedničku turneju sa Slayer, Slipknot i Mastodon.
Slijedi Grammy nominacija za najbolji metal live band i pjesmu "Live for This" sa albuma "The Rise of Brutality", a Hatebreed počinju glasit za jedan od najboljih metal bendova uživo.
Na novoj turneji, sa kojom dolaze u Zagreb, predstavljaju svoj novi album" The Divinity of Purpuse" (Nuclear Blast) sa kojim su ponovno oduševili svoje fanove.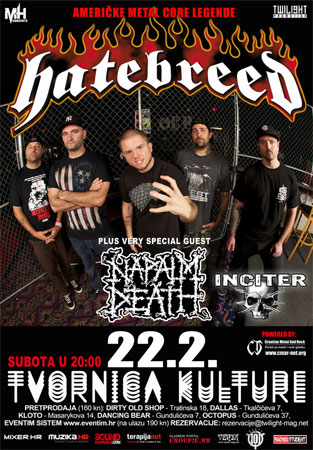 Kao posebni gosti turneje sa Hatebreed dolaze grind core metal legende
Napalm Death
sa karijerom koja je duža od 30 godina i koja ih je početkom osamdesetih od teškog underground crust punk benda uzdigla do jednog od najbitnijih grind core i death metal bendova današnjice. Napalm Death su jedni od onih bendova pred kojima sve staje, a njihova sirova energija doslovno ruši sve pred sobom. Na ovoj turneji predstavljaju svoj posljednji album "Utilitarian" (Century Media).
Kao local support će nastupiti zagrebački metal bend
Inciter
koji promovira svoj novi, treći album "From Within". Na njihovom live DVD "Incite This Live" se jasno vidi energija koju bend stvara. Pozornicu su do sada dijelili s nekim od najvećih imena metal scene, kao što su Lamb Of God, Anthrax, Iced Earth i Saxon.
Koncert će se održati u zagrebačkoj Tvornici kulture u subotu 22. veljače s početkom u 20 sati. Cijena ulaznice iznosi 160 kn u pretprodaji te 190 kn na ulazu dvorane na dan koncerta. Ulaznice se mogu kupiti u Dirty Old Shop - Tratinska 18, Kloto - Masarykova 14, Dancing Bear - Gundulićeva 7, Dallas Music Shop -Tkalčićeva 7, Octopus Piercing Studio - Gundulićeva 37, Dallas Music Shopovi - Rijeka - Splitska 2A, Zadar - Široka ulica 2, Šibenik - Kralja Tomislava 4, Split - Narodni Trg 14, Eventim sistem, www.eventim.hr.
promo guy // 13/02/2014