Svako od nas ima svoj najdraži bend. I sigurno nam nije drago kad neko drugi rošta po najdražim nam pjesmama. Misleći pritom na "cover" verzije određenih pjesama, pa čak i "tribute" albume. Moj najdraži bend je U2. Kako postoje nam najdraži bendovi, koji imaju i nadraže nam pjesme, sigurno se među pjesmaricom tih bendova našla i poneka koja nam nije odgovarala. Imaju i U2 takvih pjesama. Jedna od dobrih strana "cover" verzija takvih pjesama je da zavolimo takve pjesme najdražih izvođača. Ponekad...
Kako bi pokazali koliko cijene Bonov rad na spašavanju Afrike i ljudi u Africi od gladi, boleština i neimaštine, okupila se respektabilna ekipa afričkih glazbenika, mahom svjetski poznatih te obradila 12 U2 pjesama, na svoj - afrički - način. Poneki od tih izvođača toliko je dao sebe i svog zvuka u pjesmu, da je ostala skoro neprepoznatljiva do samog kraja.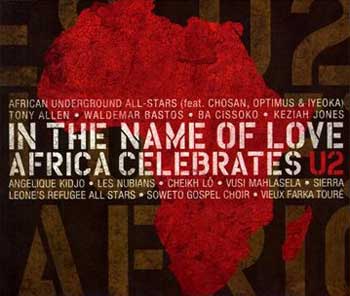 Angelique Kidjo otpjevala je Mysterious Ways pola na francuskom, a pola na engleskom s laganom muzičkom posvetom Paulu Simonu i na taj način mi malo približila ovu ne baš omiljenu mi U2 pjesmu. Vieux Farka Touré pretvorio je žestoku i ljutu Bullet The Blue Sky u pravi pustinjski blues, dok je u izvedbi Ba Cissokoa od Sunday, Bloody Sunday ostao prepoznatljiv samo gitarski rif, za ovu priliku odsviran na afričkoj kora harfi.
Sometimes You Can't Make It On Your Own, najlošija je izvedba na cd-u, možda zato jer je otpjevana u cjelosti na engleskom i zato jer nije puno odmakla od izvornika. S druge strane Where The Streets Have No Name, iako otpjevana na engleskom, uz dodane trube i malo afričkih gospel začina, ima ono nešto.
Iako se smatram fanom i poznavateljem U2 opusa, pjesmu I Still Haven't Found What I'm Looking For, prepoznao sam tek kad sam pročitao njeno ime na omotu. Keziah Jones, pjesmu One potpuno je prilagodio svom funky izričaju, a time je još više udaljio od mene, dok su Les Nubians u With or Without You unijeli malo elektronike, no to joj nije donijelo ništa značajnije dobroga.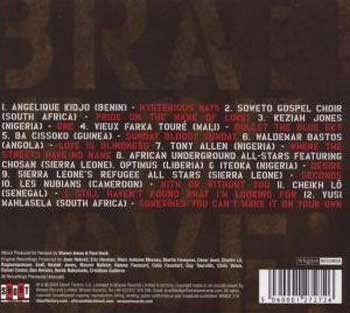 Soweto Gospel Choir izveli su Pride (In the Name of Love) u acapella verziji, koja me podsjetila na muziku iz filma Kralj lavova, koju očito u zadnje vrijeme previše slušam. Dosta čudan odabir imali su Sierra Leone's Refugee All Stars. Oni su odabrali pjesmu Seconds, koja nije bila singl ili hit a na albumu War prirodno se nastavlja na Sunday Bloody Sunday. Napravili su odličan posao. African Underground All-Stars "odrepali" su Desire i donijeli dašak svježine, toj inače dosta "praznoj" pjesmi, a Love is Blindness dobila je svoju englesko-portugalsku-Silencio verziju.
ocjena albuma [1-10]: 8

pedja // 10/07/2008