1000 Homo DJs
je bio kratkotrajni frakcijski projekt
Al Jourgensena
u vrijeme kada je tražio izlaz iz elektronike i EBM-a koncem 80-ih godina niti sam ne znajući kuda da se stilski uputi. EBM kao žanr nije zadovoljio komercijalne kriterije, a dotadašnji plasmani prva tri
Ministry
albuma nisu ga impresionirali premda bi se s današnjeg rakursa "
The Land of Rape and Honey
" (1988, USA no.164) s prodanih skoro milijun primjeraka širom svijeta (samo u USA je planuo s vremenom u 600.000 komada) činilo bi se itekako prihvatljivih razmjera s obzirom da danas jedva proda 30-40 tisuća, no u to doba Al se stubokom dvoumio između kreativnih fluktacija.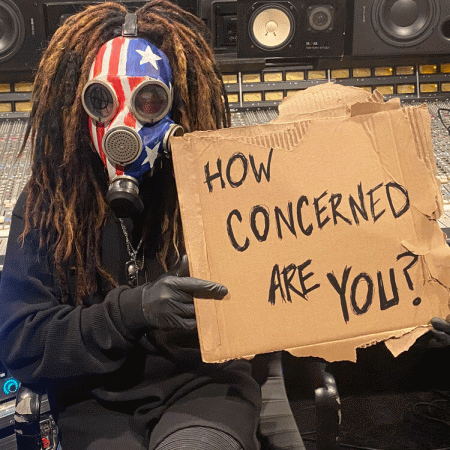 Al Jourgensen © 2021
Žanr je nestankom D.A.F. izgubio prvotnu punkersku draž elektronike, Cabaret Voltaire su počeli raditi disco i house, a jedini pravi potentni okidači bili su mahom underground usmjerenja neadekvatnih za široku audijenciju: belgijski Front 242 su još imali najbolju sponu u tome, a drugi segment bilo je electro-wave svaštarenje Depeche Mode koji su vrludali pop kolosijekom koji Alu očito nije odgovarao zbog sterilnosti i skučenosti. Valjalo se drastično mijenjati u zvuku i pristupu. A kako je tada uz sebe imao samo
Paul Barkera
na bas gitari (napustio Ministry 2003.), želio je nešto jače i upečatljivije van matičnog benda: prvo su snimili poprilično žestoku industrial-metal autorsku pjesmu "
Apathy
" objavivši je u obliku 12'' singla za Wax Trax! Records 1988., a onda se odlučili za preobrat s obradom "
Supernaut
" Black Sabbath koji je također objavljen na istoj etiketi dvije godine kasnije. I to je bio ključni rezultat dobitne formule: velika hard/ heavy himna repetirajućeg riffa uz ritam mašine i ondašnje opskurno tehničke elektronske mogućnosti, ali ništa zato.
Čim se posluša ta uvodna "Supernaut" s Alovim vokalom u distorziji, taj prljav i nezgrapan zvuk što je onda bio vrlo škakljiv, čak i nepodoban, danas je itekako dobrodošao spram sve ove moderne produkcije u kojoj se svi trude imati što čišći i referentniji ambijent. Ista je priložena još u tri varijante - remiksu, dub miksu i s vokalom
Trent Reznora
(Nine Inch Nails) snimljenog još 1994., taman kad su Ministry, a i NIN bili najveće zvijezde industriala prije pojave Marilyn Mansona i Rammstein. Trent pjesmi ništa nije posebno dodao, ali niti oduzeo, nema nikakve zamjerke. Uz to, ovdje se nalaze još dvije nikad objavljene pjesme "
Hey asshole
" (čak 8 minuta) i "
Better ways
" snimljene 1988. godine, a vraški su prljave, šašave, lucidne i otkačene u recitativnoj fuckin' no-hip-hop svađi uz repetativne punky/metal riffove i ritam mašine poboldane prelazima u prvoj, te mračnijim post-punk/ gothic sadržajima u drugoj gdje se utjecaji Mark E. Smitha & The Fall ne mogu sakriti.
Premda EP sadrži čak 45 minuta i katkad je zamorno dosadan, posebice u remiksevima i dub varijantama gdje se čuje jedna te ista fazonaška konstrukcija izvučena ili potisnuta na glavni front, nesumnjivo jest da je ovaj projekt imao daleko više mašte od kasnijih Ministry albuma: bio je zabavan i alternativan istovremeno otvarajući vrata za mnoge uspješne imitatore što su spojili elektroniku, punk, metal i plesne ritmove.
Kao uvod u novi album, ovo se doima mnogo bolje i uvjerljivije od puno toga što nam je Al ostao dužan u posljednjih 20-ak godina. Ovakav prljavi zvuk mu bolje stoji.
Naslovi: 1.Supernaut (Al vocal), 2.Hey asshole, 3.Supernaut (remix), 4.Supernaut (Trent vocal), 5.Apathy, 6.Better ways, 7.Supernaut (dub mix)
ocjena albuma [1-10]: 7

horvi // 18/09/2021