Francuski industrial-rock bend Porn startao je 1999. u Grenobleu kada je Philippe D studirao psihologiju i sociologiju. Ime je proizašlo kao relevantna inspiracija i utjecaj njemu omiljenog benda The Cure i albuma "Pornography". Uz The Cure, prvi počeci su bili pod znatnim primjesama Bauhaus i Nine Inch Nails, te noise-industrial vedeta SPK i Esplendor Geometrico što je uočljivo na prvom izdanju, EP-iju sa pjesmama "Soft machine - Porn machine", "Recycle" i "Still" objavljenom 2000. godine. Već tada ih je otkrio Francis Zegut, te su nastupili kao predgrupa Venom i Metallice, a 2001. bend se seli u Lyon gdje im se na basu pridružuje Hughes B. Prvi album "Glitter Danger And Toyboyz" objavljen je 2004. za Slalom Music, a tokom turneje sa ASP po Njemačkoj 2005. objavljen je "Call Me Superfurry" za berlinsku etiketu Ausfhart koja im je vršila distribuciju za srednju Europu. Igrom slučaja, zapazili su ih na skroz drugom kraju svijeta, u Australiji, gdje im je albume 2006. objavio Electricult, no tada je došlo do trogodišnje pauze u kojoj je Philippe D radio kao DJ, producent i menadžer. 2010. je objavljena kompilacija "A Decade In Glitter And Danger", te je u posve obnovljenoj postavi bend počeo s novim životom.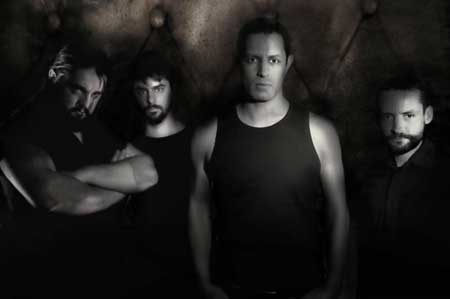 Danas Porn uz Philippe D-a (vokal) i Hughes B-a (bas) čine Step R (gitara, udaraljke), MD (gitara) i Didier Q (bubnjevi). Ovaj povratnički album "From The Void To The Infinite" objavljen je 10.X 2011. i napucan je klasičnim, tvrdim hard-rock/metalskim riffovima gitara i čvrstim 1/1 tempovima izuzetno pogodnim za ples. Jednostavnije rečeno, ovo je pravi pravcati industrial-rock bez ikakvih dodatnih supstanci. Tek tu i tamo malo synth harmonija, ritam mašina i elektronskih basova, no u principu riječ je o zvuku veoma sličnom na Killing Joke i američkim Filter iz vremena albuma "Short Bus". Tekstovi su mračni, pravi darkerski (svi su na engleskom), Philippe ima različiti raspon glasa koji varira od Trent Reznora do Jaz Colemana, a relativno jednostavne konstrukcije pjesama a'la new-wave/ post-punk (prije svega Joy Division i The Cure) dozvoljavaju sasvim dovoljno širok prostor da se bend razmaše dinamikom 'pop' estetike.
Album je ravnomjerno raspoređen na žestoke, umjerene i sporije tempove, pa se tako otvara sa odličnom žesticom "I died twice", tempo se spušta u umjerenijoj "Not with a bang", da bi svoj plesni fokus dosegao u vrlo finom hitoidnom singlu "Love like war". Ritam se podiže na najbrži komad "We are weapons (shoot your leaders)" koji ima elemenata punk energije križane sa thrash/metal-industrialom, pa se nakratko prekida u kraćem instrumentalu "Nothing like you", da bi se ponovno vratio u žestokom komadu "The machineries of joy" i himničnoj "A duty dance with death". Uvjetno rečeno, laganiji dio albuma dolazi u vokalno sampliranom polu-instrumentalu "Same old story", potom u tromijoj "In the wrong line" i ubjedljivo najlaganijoj, elegičnoj "No dominion" koja zvuči baš kao da je ponikla iz vremena The Cure opusa 80-ih godina. A na samom kraju pristiže jedno fantastično iznenađenje - obrada upravo The Cure hita "Lullaby" u vrlo dobrom dizajnu umjerenog industrial tempa.
Dum Dum Girls - Bedroom Eyes
Cijelom djelu ništa ne manjka. Jest da Porn nije u zvučnom pogledu izumio nikakav novi trik i da im se pjesme svode na vrlo dobro znane šablone i sheme, ali sve što su napravili u ovih 40-tak minuta odlično funkcionira. Pretpostavljam da i na koncertima imaju ovako moćan industrial-rock/metal zvuk sa pop obrascima, pa bi bilo jako dobro pogledati ih u skoro vrijeme ako nam budu negdje u blizini.
ocjena albuma [1-10]: 8

horvi // 21/12/2011