Ako ste nezadovoljni krvožednik razočaran koncertima
Nile
, onda vam Sanders vraća 100% dio porcije orijentalnih arabeski.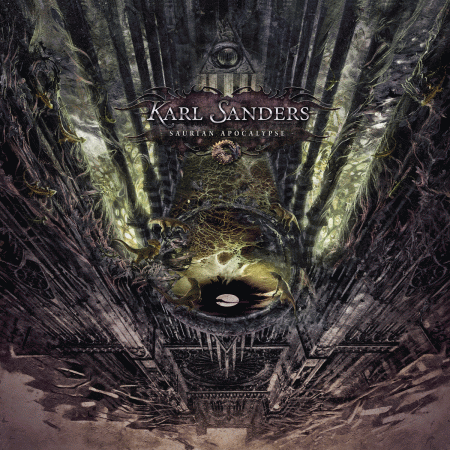 Svakako spadam u veliku skupinu nezadovoljnih krvožednika razočaranih koncertima Nile. Kad su u ona dva zagrebačka nastupa (2008.
www.terapija.net/koncert.asp?ID=5128
i 2011.) otprašili tehnički dio svirke bez svih onih Sandersovih šargija, oudova, flauta, turskih gongova, baglama, buzukija, sazova, udaraljki kojima se ni imena ne znaju, pa synthova i zborskih arapsko-bliskoistočnih vokala, a po albumu ih je znao imati i desetak, ostalo je neodgovoreno pitanje kome služe sve te autohtone arabeske u njihovom vraški potkovanom technical death metalu ako ih nisu u stanju realizirati uživo. Pa barem samo kao sampliranu matricu jer sigurno jest da dodatnu prateću ekipu od 5-6-7-8-9-10 gostujujućih glazbenika poput nekoć Talking Heads financijski se ne isplati vući na turneju od tridesetak koncerata.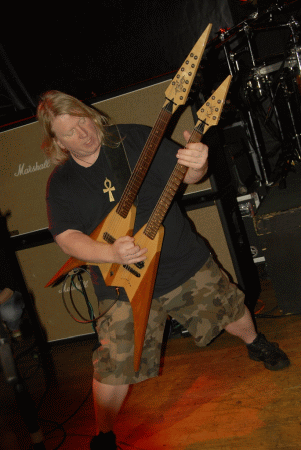 Karl Sanders
Karl Sanders
, alfa i omega Nile je odvajkada impresioniran proučavanjem drevne kulture i motologije Bliskog istoka. Uz stalno visoke kreativne kriterije matičnog mu benda, znao je raditi i solo albume, ali to bješe još u prvoj deceniji 21. stoljeća. Izgleda da su mu se na glavu popeli nezadovoljni fanovi rogoboreći baš upravo oko tih medikamenata koje redovito koristi u izričaju benda, a ne svira ih u živim opusima, pa se ponovno prihvatio ove folk mitologije oboružavši se baglama sazom, lutnjama, akustarom tamburom u nekoliko varijacija (koristi 13 žičanih tambura s posebnim žicama od tetiva, koža, sintetike i metala), pa flautama, pickupovima, amplificiranim priručnim sredstvima i dakako, synthovima. A uz sebe ima još originalnog Nile bubnjara
Pete Hammoura
i saurijanskog pjevača
Mike Breazeale
-a koji mu je istom tako pjevao na prethodna dva albuma, te 'sa strane' gitarističkog virtuoza
Rusty Cooleyja
, oudista
Mustafu Stefana Dilla
, jazz udaraljkaša
George Kolliaha
i još jednog jazzera, gitaristu
Matthew Kaya
, te na koncu i pripovjedača
Jonathan ADD Garofolija
koji priča storiju o doktoru Eduardu Luccianiju, jednom od rijetkih koji su preživjeli samouništenje čovječanstva potpalog pod vlast saurija (gmazova i reptila iz trijasa); doktor nakon otkrića svireposti i nasilja Saurijanskih vladara poludi i bježi iz Saurije u mučnim putešestvijama aranžiranim kinematografskim pristupom.
Duboke zvučne aure naglašene plemensko-obrednim ritmovima i udaraljkama s obiljem Sandersovih žičanih instrumentalija, kontekstualno prate scenarij iz skladbe u skladbu. Ovo svakako NIJE nikakav METAL i nema veze s njime i to onoliko koliko su svi takvi slični detalji ukomponirani u Nile glazbu. Ovdje oni pokazuju autohtonost izraza, prvenstveno orijentalnog folka s ponešto srednjeazijskih elemenata (Irak, Iran, Perzija, Mezopotamija, Afganistan, Pakistan), a po žanru može spadati u world-music, ambient i new age, odnosno ovih 60-tak minuta dostojanstveno vraćaju povjerenje da sve ono u Nile repertoaru ima svoje jasno zaleđe u ovakvom, slobodno se može reći majstorskom folk albumu s kombinacijom "Jurassic Parka" i Lovecraftovskih horror priča.
Naslovi: 1.The sun has set on the age of man, 2.The disembodied yet slither among us, 3.The evil inherent in us all, 4.Skull fuck ritual (skull breach edition), 5.Nada Zaag, 6.An altered saurian theta state, 7.Nihil emplexus, 8.Divergence the long awaited third primordial ascension, 9.Mask of immutable self delusion, 10.No creature more deserving of cataclysmic annihilation
ocjena albuma [1-10]: 8

horvi // 05/08/2022