Vrlo teško se otprve može steći iskonski dojam naravi ovog 11. albuma stoner teškaša iz New Jerseya. A to je činjenica da je
Dave Wyndorf
pribjegao obradama i to mahom manje znanih izvođača iz 60-ih i 70 godina koji su njemu tvorili bitan dio stvarateljske karizme, pa samo iznimno dobri znalci mogu prepoznati J.D. Blackfoot, The Scientists, Pentagram, Poobah, Jerusalem, The Pretty Things, Josefus, Cavemen, Table Scraps, Dust, Morgen… A jedino možda otprve Hawkwind u temi "Born to go" s obzirom da su obrade tako vrsno izvedene izbjegavajući bilo kakva uspoređenja s originalima.
Prije svega, ovo su mahom opskurni bendovi čije pjesme valja tražiti po kojekakvim raritetnim izvorima poput malenih zakutaka nekih second hand dućana s rijetkim i teško dostupnim vinilima od kojih su neki tiskani samo kao bootleg izdanja u limitiranim edicijama, ali kao što se preducira, riječ je o odličnim pjesmama koje zvuče tako kao da su djelo Monster Magnet po ničemu ne dajući utisak vanjskog izvornika.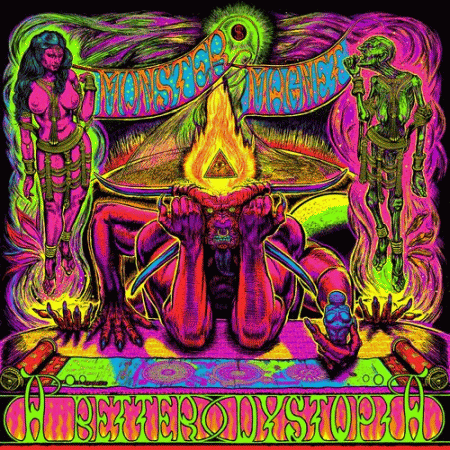 Od samog početka uvodne "
The diamond mine
" Wyndorf narativno sriče nerazgovijetan opsceni monolog DJ Dave Diamonda, ranog psihodeličnog rock prvaka na solo gitari postavivši utor za spomenutu obradu Hawkwind u urlajućoj diverziji s kakvom se može izgraditi gotovo svaka od narednih pjesama u onome poznatom stilu velikih riffova, dugotrajnih gitarskih međuigara i tih vokalnih manipulacija bilo da su one spoken-word, pjevanja, vriska ili čak i pomahnitala zavijanja. Sve je ovo oblikovano kroz impresivan osjećaj osobnosti i identiteta čak i kod nekih tananijih performansa u kojima je uočljiv manjak kompozitorske kreacije poput "
Epitaph for a head
" ili "
Solid gold hell
" izbačene na samo pročelje zavaravši da bi katarzičnost mogla imati deficitarne karakteristike. Prave stvari tek slijede u obradi Pentagrama "
Be forewarned
" i starih psihodelika Poobah iz 1972. ("
Mr. destroyer
") i Jerusalem ("
When the wolf sits
"), a jedan od ponajboljih komada pristiže u "
Death
", izvorniku daleko poznatijih The Pretty Things s mekšim obrednim bubnjevima, mutnim gitarama i sitarom uvodeći u ambijentalnost.
Energičniji izbojci "
Situation
" i "
It's trash
" nepoznatih Josefus i Cavemen su kratko upakirani sa jednom od rijetkih pjesama iz 21. stoljeća "
Motorcycle (straight to hell)
" Table Scraps iz 2015. izdvajajući masne bas linije zadovoljno krvareći u posljednjoj, najduljoj heavy ružioni "
Learning to die
" (od benda Dust) prisjetivši se na trenutak i slavnog "Powertrip" albuma iz 1998. kroz bonus skladbu Morgena "
Welcome to the void
". Ovakav neočekivani razvoj izrade kolekcije cover pjesama nimalo nije specifičan: dok bi mnogi drugi bendovi izvornike podastrli što vjernijim kopijama i prepoznatljivosti, a naravno, malo tko bi se uopće osokolio obrađivati ovako minorne, nepoznate i mahom zaboravljene izvođače, Wyndorf i ekipa su čak i na uštrb nekakvog komercijalnog uspjeha realizirali podvig izvlačenja retra iz naftalina u nepogrešivoj formuli vlastitih uvjerenja, autentičnosti i sirovoj snazi zadržavajući bit originala.
Postignuta je čvrsta ravnoteža između psihodelije 60-ih i 70-ih s kurentnim vremenima, ajde, možda i više nego što se to od Magneta i očekivalo u garažnom smjeru. Također, ovdje je i manje humora koji se često nalazi na njihovim albumima, kao i euforičnih vrhunaca, no radi se o stručnom i vješto odrađenom poslu s pjesmama koje bi široki auditorij mogao čuti što je sve to sporadično utjecalo na korijene hard rocka i metala.
Naslovi: 1.The diamond mine, 2.Born to go, 3.Epitaph for a head, 4.Solid gold hell, 5.Be forewarned, 6.Mr. destroyer, 7.When the wolf sits, 8.Death, 9.Situation, 10.It's trash, 11.Motorcycle (straight to hell), 12.Learning to die, 13.Welcome to the void (bonus)
ocjena albuma [1-10]: 7

horvi // 26/09/2021