Nastavljajući s realizacijom neobjavljenih radova pokojnog frontmena Suicide, "After Dark" je treći posthumni album, a kako priloženi press kaže i posljednji kojeg je snimio godinu dana prije smrti 2016. godine. Još ranije, 2011. je proživio moždani udar i povukao se sa scene, no nastavio je povremeno raditi uz brižni oporavak kako mu se ukazala poneka situacija; ili putem internetskih razmjena pjevajući na već gotove elektronske matrice, ponešto sa suprugom Liz Lamere, te se za sada još nisu otkrile sve kolaboracije jer se priprema tko zna koliko izdanja pronađenih u njegovoj privatnoj arhivi ne samo iz tog posljednjeg perioda već sigurno i iz mnogih razdoblja njegove pola stoljeća duge aktivnosti.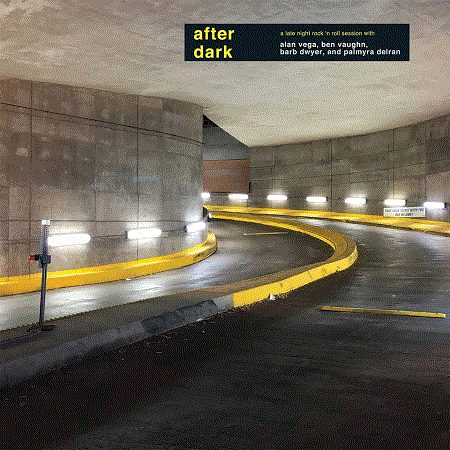 U dotičnom trenutku Vega se osjetio kao rijetko raspoložen za živi session okupivši članove psychobilly benda Pink Slip Daddy:
Ben Vaughna
(gitara),
Barb Dwyer
(bas, synth) i
Palmyre Delran
(bubnjevi), a za divno čudo kao rijetko u njegovoj karijeri, izostala je bilo kakava elektronika, ritam mašina i gromki štropot standardnih synthova. Kako inače nije volio nikakve konvencionalnosti, a prema show-bizu i mainstreamu je bio opaka opozicija, tražio je od ovog trojca da potpuno nepripremljeni, bez iti jednog stiha, praktički na gluho dođu u studio i samo prate njegovo pjevanje. A da stvar bude još drastičnija, niti on se nije pripremio. Vaughn je rekao da bi Vega samo sjedio rekavši im stih-dva, a budući da su ga jako dobro poznavali (Vaughn je s njime još 1996. snimio album "
Cubist Blues
"), svirali su najminimalnije što im je u tom trenutku dolazilo kao inspiracija dok bi on crtao neke zamišljene portrete, a onda se samo iznenada ustao, uzeo mikrofon i počeo pjevati, sricati riječi i na licu mjesta improvizirajući praktički gotov libreto.
Rezultat je 6 minimalističkih pjesama s neizostavnim blues/ surf rock štimungom minimalističkog post-punka, a zahvaljujući Palmyrinoj hipnotičkoj ravnoteži i s osjetnim aromama krautrocka. Sve je to u vrlo modernom dizajnu koji podjednako odgovara retro trendovima indie-rocka, međutim Vegini lirski konteksti praćenja tijeka svijesti u slem poeziji umnogome premašuju klasicizam, da se ne kaže, hipstersko prenemaganje na račun otuđenosti i nerazumijevanja okoline. Od uvodne "
Nothing left
" do završnog synth kaosa "
The record speed
" u kome je otišao u daleku budućnost i vratio se poput proroka nagovijestivši da je ona već počela, svaka pjesma proteže paranoju od neizvjesnosti kojoj je on očito znao i zaplet i rasplet, a i kraj, ali ipak ga nije želio relativizirati ili sofisticirano uljepšavati smatrajući da je teške i neugodne stvari bolje prešutjeti pa makar to bila i beatnički ušminkana balada "
Wings of glory
", rasplesana "
River of no shame
" ili naizgled osvježavajući jazzy acid "
Out of town
" koji ustvari prikriva mračno putovanje u agoniju.
Premda ovo nije njegov domicilni glazbeni stil, van svake sumnje da se nije umješno snašao u njemu pokazavši spremnost na kompromise i u vrlo kritičnom zdravstvenom stanju.
Naslovi: 1.Nothing left, 2.Hi speed roller, 3.Out of town, 4.River of no shame, 5.Wings of glory, 6.The record speed
ocjena albuma [1-10]: 8

horvi // 31/08/2021