Japanski multiinstrumentalist što dolazi iz Japana kaže za sebe da je običan čovjek kome je glazbena domena prije svega pop, možda unikatna, čudna glazba, ali je ipak pop. Do sada je objavio debi album "L.S.F." 2013. za japansku etiketu Cafe O Label i jednom je gostovao na kompilaciji Bearsuit Records "Tomato Sauce Lasers, Sausage Lassos" (2015), a prije toga je radio pod imenom Bubbly Folks.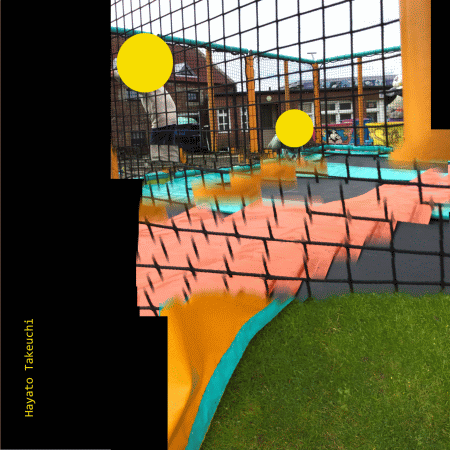 Na ovome njegovom službeno drugom izdanju predstavlja se s 5 instrumentalnih tema u nekoliko stilskih varijacija koje sežu od uvodnog zvrkastog minimalizma "
Etude G-12
" pod laganim natruhama trance estetike s pumpajućom bas pedalom gdje šara laid-back ambijentima gitare i naglašenog staccato funka, a ako bi se pomislilo kako je ovo još jedan od elektronskih autora s dalekog istoka, u to ne treba biti posve siguran. Njegova tehnika je višeslojna, pa tako kroz "
Usan kusao no osoushiki
" odjekuje piano melodija uz pratnju umjerenog trip-hop ritma, zabavnog kolaža što insinuira fučkanje, ako ne i cvrkut neke ptičice, te niže psihodelične repetativne efekte, dok je "
Mr.Henderson no ai to replica
" prava cirkuska čigra što kovitla sintetičkim fanfarama, valcerom i lepršavom melodijom na gitari. "
Umi wo miteiru
" je lagani ambijentalni komad u fahu chamber-popa, kao rođen za orkestraciju, fagot i gudače, a završna "
Anata to watashi no kyoukaisen
" sadrži ponešto i od drone atmosfere dugotrajnim synth harmonijama kakve su odvajkada sastavni dio suvremene pop scene još od primjerice Pink Floyd i Tangerine Dream sve do novih izvođača iz 21. stoljeća.
Ep kao takav nema nikakvih mračnih urona ili nekih iznenadnih kovitlavih skokova u aranžmanske preokrete, sve se odvija koncipirano dosljedno etici alternativnog pop izraza u kome je jednostavnost vrlina, a analogno muziciranje prioritet. Zanimljivo i opuštajuće…
Naslovi: 1.Etude G-12, 2.Usan kusao no osoushiki, 3.Mr.Henderson no ai to replica, 4.Umi wo miteiru, 5.Anata to watashi no kyoukaisen
ocjena albuma [1-10]: 7

horvi // 02/10/2017