Pariški peterac zanimljivog imena 'ribićija sačmaricom' nije osobito žestok predstavnik post-hardcore metala sa sludge elementima, čak je za prvu ruku upoznavanje s njima putem interneta zanimljivije. Upišete li naziv benda u google, dobiti će te masu stranica koje govore o ribolovu i različitim ribićkim tehnikama, između ostalog i o podvodnom ribolovu i korištenju artiljerije u takve svrhe, hahaha.
Za deceniju rada koliko bend postoji (osnovani 2005) diskografija im je vrlo siromašna. Prvi demo "Des mots" objavljen je 2007., debi album "The Night Fell" 2010., a ovaj drugi službeni album prvo je zaživio kao d.i.y. rad koncem 2015. da bi ga Domino Media Agency medijski distribuirao u proljeće 2016. Pomislio bi se da su mnogo radili na specifikaciji i bogatstvu, te komplementarnosti i nekom možebitnom konceptu s obzirom da se naslov debija 'Pala je noć' veže s ovime '...ali zora će doći', međutim osim vrlo zgodno sročenih nazivnika, neke jezgrovitije fabule i razvezane lirske dramatike uopće nema. To su mahom nemaštovito sročeni stihovi s optužbama na nebesa, bogohulstvo i poniranje u pakao uz jednu koliko-toliko zgodnu prispodobu u uvodnom skitu "
King of the monsters
" o čudovištu Godzili koje je potreslo Japan prije hollywoodske komercijalizacije.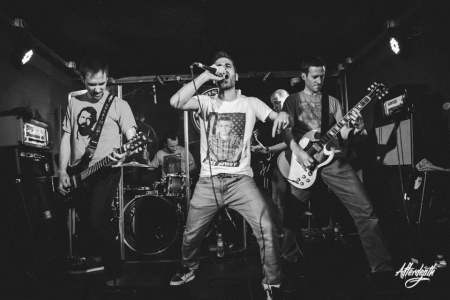 Okey, tu je glazba u prvom planu jer očito nisu mnogo pažnje posvetili tome o čemu osorno prljavim vokalom frontmen
Iñigo
nariče u polumelodičnim arijama izdvajajući prva dva, još ranije objavljena singla "
Moshpute
" u stoner stilu inficiranom southern rockom i "
It's poutring
" s blago kompleksnijim aranžmanima i pratećim vokaliziranjima. Kada se ne obraća pozornost na blijedu i hibridno neučinkovitu poetiku, dojam kojeg ostavlja barem polovica ovih pjesama je solidna kontemplacija lakših post-hardcore gabarita koji puta malčice žešće nabrijanih u komadima "
Murder death kill
" i "
Supercharged
", a u dva slučaja dovedena i do najniže brzine graničeći s baladičnošću najduljih kompozicija "
Silence is violence
" (6.38) u kojoj Iñigova rola počinje tek u petoj i pol minuti i sludge komadu "
Død
" (8.51) što zajedno iznose gotovo polovinu vremenskog opsega albuma od 35 minuta.
Da je maštovitosti u lirici, pogotovo humora i ironije kojom zrače naslovi albuma svi ovi parametri sasvim solidne svirke s mnogo gitarskih staccata
Tofa
i
Seta
, te dinamički uređenih kompozicija izbili bi negdje uz rame njihovih očitih utjecaja poput Neurosis, High On Fire, Isis i Converge.
Naslovi: 1.King of the monsters, 2. (Kaijū), 3.Murder death kill, 4.Moshpute, 5.Silence is violence, 6.It's poutring, 7.Supercharged, 8.The ghost theory, 9.Død
ocjena albuma [1-10]: 6

horvi // 08/08/2016