Ima li nasljednika "Live On Planet Earth" The Nevill Brothers, po nekim kritičarima najboljeg live albuma svih vremena? Ovaj sjajan živi dokument Galactic sa proširenom duhačkom i vokalnom ekipom ozbiljno se pridružio toj kandidaturi.
Novi, drugi po redu živi zapis ovog sjajnog bijelog funk/hip-hop/jazz sastava iz New Orleansa potpuno potvrđuje da se daleko bolje snalazi na pozornici nego li u studiju. Uz nisku odlično odabranog repertoara ovdje je uvršteno 5 brojeva sa posljednjeg albuma "Ya-Ka-May" iz 2010. koji svjedoče o enormno velikim razlikama između rada u studiju gdje su skladbe sabili u skučene okvire pop pjesme, dok su ih ovdje reproducirali u znatno produženim verzijama na velebno raskošan način koji jednostavno tjera na ples. Bez ikakvih produkcijskih štoseva, ovdje su se peteročlanoj postavi (Jeffrey Raines - gitara, Robert Mercurio - bas, Stanton Moore - bubnjevi, Ben Ellman - saksofon, usna harmonika, harfa i Rich Vogel - Hammond orgulje) u pojedinim pjesmama pridružili Cyril Neville, Big Freedia i Corey Henry na vodećim vokalima, te fantastični duhači The Soul Rebels Brass Band i Trombone Shorty.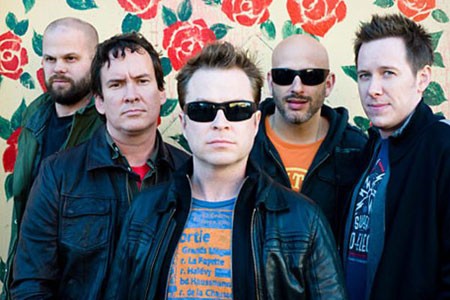 Da se sada ne uspoređuju razlike spram studijskih snimaka, koje usput nisu niti do koljena ovoj živoj svirci, koncept je otprilike podijeljen u ravnomjeran miš-maš kolaž sastavljen od instrumentalnih i vokalnih skladbi za koje je uglavnom zadužen Cyril Neville, svjetski poznati član lokalnih zvijezda The Neville Brothers. On uglavnom drži početni vokalni dio koncerta sa pjesmama "Gossip", "You don't know" i moćnom bluesu "Heart of steel" koje su u studijskim varijantama izvodili Glen David Andrews i Irma Thomas, a između njih su redom nanizani fantastično izvedeni, uglavnom novi instrumentali "Balkan wedding", "Cineramascope (feat. Trombone Shorty)" i "Garbage truck". Na sredini koncerta DJ se poigrao sa vokalnim samplovima u pjesmi "Wild man", pa se nakratko za mikrofonom pojavio Corey Henry u naslovnoj pjesmi albuma "From the corner to the block" iz 2007., a na samom kraju i Big Freddia koji je izveo "Encore double it". Jedina zamjerka ide na račun repertoara budući da nije izvedena niti jedna stara kompozicija koje je nekada izvodio Theryl DeClouet, prvi i jedini frontmen Galactic koji je bend napustio nakon albuma "Ruckus" (2003). No, najjaču snagu bend odvajkada isijava u instrumentalima koji ovdje jednostavno razaraju svojom moćnom ritam sekcijom, radom maestra na žicama i klavijaturama, te nevjerojatnom duhačkom sekcijom koja se razmahala u svim mogućim pravcima.
Glazba šara po funku na sve načine ispreplitanjem soula, bluesa, contemporary r'n'b-a, hip-hopa, world-musica, rocka sve do iznimno uzbudljivih jazz fragmenata punih nadigravanja duhačke sekcije prizivajući nekada moćan zvuk Metersa. Osobito se ističu instrumentali "Balkan wedding" sa dionicama nalik na ovozemnu romsku world-music pleh glazbu u stilu Neat Veliova i Kočani Orkestra, a potom funk-jazzom okupani "Cineramascope (feat. Trombone Shorty)", "Boe money (feat. The Soul Rebels Brass Band)", "Funky bird", "Boban (mere Yaara Dildara)"...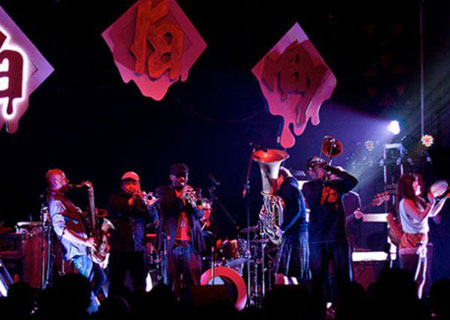 Perfektno uigrana ekipa, rasplesani ritmovi, te svirka puna adrenalina i improvizacija ozbiljno atakira za naslov najboljeg živog albuma 2011., a nakon toga će vrijeme pokazati svoj feedback...
Besprijekorno.
ocjena albuma [1-10]: 10

horvi // 22/05/2011