Umjesto pokojnog genija
Andy Gilla
na gitari je
Jezz Dave Payo
član mnoštva uglavnom manje znanih američkih bendova (najpoznatiji su Slint, Tortoise i jedno kratko vrijeme je bio u Zwan, zna se, ćelavog gnjecavog, svima oniljenog Billy Corgana), čak i pjeva himnu "
Paralysed
", na bubnjevima je ponovno originalni
Hugo Bruhman
, a kako se, eh, Dave Allen iz tko zna kojih razloga nije htio pridružiti, na basu je njegova prva zamjena
Sarah Lee
koja ga je nastavila šibati nakon njegovog odlaska koncem 1981. godine.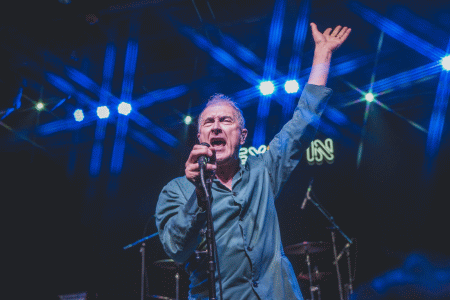 Gang Of Four - Jon King © 2022
Objavljen je cjeloviti zapis povratničkog koncerta održanog 11. ožujka 2022. u Atlanti pred 400-500 ljudi gdje se točno vidi i čuje što je to manjkalo šminkerskoj indie-rock verziji sa
John 'Gaoler' Sterryem
na vokalu. Jon King je i dalje u odličnoj kondiciji, unatoč čak 67 godina na plećima (!!!), sjajno izgleda, vitak je i raspoložen za svaku interakciju u svojem radničkom sakou kojeg oznoji da se može cijediti par litara vode iz njega, skače i pleše, održava apsolutni feedback s publikom, na koljenima je i ama baš ništa ne glumata jer je sve te pjesme on stvarao s pokojnim Gillom.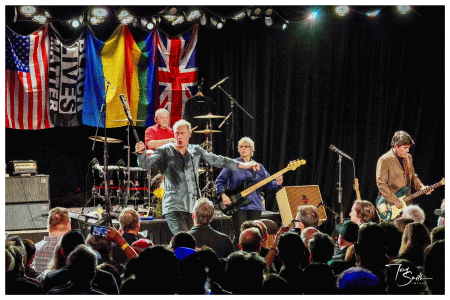 Gang Of Four © 2022
Za sada još uvijek nema informacija o radu na novim materijalima.
horvi // 11/07/2022
PS: play list on concert:
1.Return the gift
2.Not great men
3.Outside the trains don't run on time
4.We dream as we dreams, alone
5.Why theory?
6.Paralysed
7.Anthrax
8.He'd send in army
9.What we all want
10. I love man in a uniform
11.I parade myself
12. At home he's a tourist
13. Natural's not in it
14. To hell with poverty!
BIS:
15.Capital (it fails us now)
16.I found that essence rare
17.Damage goods