Vijest koja će zasigurno obradovati sve fanove kojima izvornog post-punka nikad nije dosta jest da s čuvenom četvoročlanom bandom iz Leedsa od koje je ostao samo nažalost originalni gitarist Andy Gill na zagrebački koncert 10.IX 2016. u sklopu europske turneje dolazi i The Membranes, pionirski d.i.y. punk sastav koji je 1977. raskrčio gnijevni prostor u Lancashireu. Osnovani u Blackpoolu imali su nesreću da svoja prva izdanja realiziraju tek nakon što je cijela plejada prvih punk aduta i heroja posustala, no ostali su vjerni etici fanzinaškog i nezavisnog izdavaštva objavivši u periodu od 1980. do 1990. 6 albuma i 10 singlova koji su zapeli i za uho starog pokojnog katalizatora John Peela koji ih je s velikim zadovoljstvom vrtio na BBC Radio One.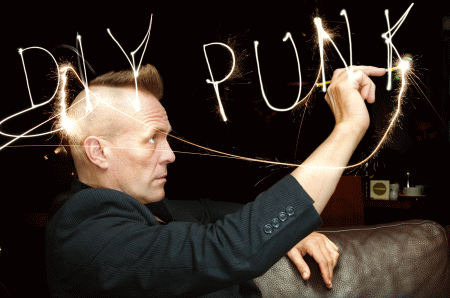 John Robb
Prepoznatljivost benda bile su vrlo sirove i agresivne pjesme s naglašenim basom i karizmatičnim vokalom
John Robba
, te unatoč tanane produkcije koja u današnjim okvirima izgleda poput demo snimaka, nekolicina singlova i albuma su dospjeli i na liste najprodavanijih independent izdanja u UK poput albuma "
The Gift of Life
" (1985, no.15), "
Songs of Love and Fury
" (1986, no.4) i "
Kiss Ass... Godhead!
" (1988, no.4), te singlova "
Spike Milligan's Tape Recorder
" (1984, no.12), "
Death to Trad Rock
" (1985, no.8) i "
Everything's brilliant
" (1986, no.11).
Svoj rad su s posve novom postavom obnovili 2009., a povratnički, sedmi album "
Dark Matter/ Dark Energy
" objavili su 2015. ostavši u svome prepoznatljivom stilu koji uz punk i post-punk kombinira i noise-rock kome su bili skloni, te elemente neo-folka. John Robb kao danas jedini originalni član benda afirmirao se i na novinarskom području pišući za ugledne magazine poput Sounds, Melody Maker, The Sunday Times, The Observer, The Guardian, The Independent, a najpoznatiji je po prvom interviewu s Nirvanom još 1988. kada im nitko nije davao niti najmanje šanse da će ikad biti neki značajniji bend i svirati pred više od 50-100 ljudi. Autor je i 9 knjiga među kojima se nalaze biografije The Stone Roses i The Charlatans, te je dobitnik prestižne nagrade za najboljeg britanskog independent rock kritičara. Ujedno uređuje i vodi underground blog Louder Than War (http://louderthanwar.com/).
horvi // 31/08/2016