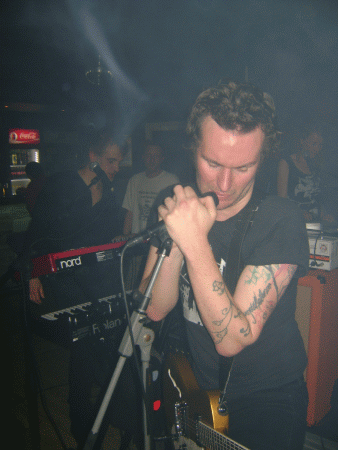 thot u zagrebu 2014. na rođendanu terapije © horvi
Belgijski Thot, bend koji nas je počastio svojim učešćem na rođendanu Terapije 5.VI 2014. održavši fenomenalan koncert u SPUNK-u, privremeno se povlači u hiatus. Diljem Europe su tokom 2014/2015 promovirali svoj posljednji album "The City That Disapears" i odlučili da je nakon više od decenije rada vrijeme da se smire strasti. Sa svoje turneje su izabrali vrlo zgodne video detalje i montirali ih u izvedbu stare pjesme "(Never) Never again land" s debi albuma "The Huffed Hue" iz sada već daleke 2005. Nažalost, u spotu nema momenata iz Zagreba koji se pokazao nefleksibilnom destinacijom ovog odličnog benda kojeg nastavlja solo projekt frontmena, gitariste i pjevača Grégoire Fraya pod nazivom The Hills Mover.
www.youtube.com/watch?v=zXoKddvPe2Y
Pogledajte ovaj video i biti će vam žao što 2014. niste došli na njihov koncert.
p.s. Bend traži nove promijene i nove izraze, sad rade s nizozemskim SmallFish koji bi im u budućnosti mogao donijeti više koristi, te rade i na novom albumu, ali spontano. Kad će izaći, za sada se ne zna. Možda još u ovoj deceniji, a možda i u idućoj.
horvi // 03/02/2016