Nakon vrlo bogate koncertne sezone u 2015, godini gdje je i metal publika zasigurno došla na svoje izgleda da ni 2016. neće biti ništa manje zanimljiva. Već početkom veljače, točnije u srijedu 3. veljače, u zagrebačku Tvornicu Kulture dolazi australska metal core atrakcija Parkway Drive.
Petorka Parkway Drive koja dolazi iz na prvi pogled idiličnog, a u stvari poprilično mračnog surferskog grada, je utjelovljenje dualnog kaosa, prirodnog; jer izbacuju energiju poput ogromnog surferskog vala i ljudskog; jer je njihovo djelovanje odgovor na ljudsko nasilje. Ta dualnost se osjeti i prilikom njihovih nastupa uživo kojoj doprinosi i njihova vrlo raznolika publika. Parkway Drive na ovoj turneji, nazvanoj "IRE European Tour 2016" predstavljaju svoj novi, peti studijski album
"IRE"
koji su objavili za prestižnu američku alter izdavačku kuću Epitapah i s kojeg su do sada skinuta tri singla - "Vice Grip", "Crushed" i "The Sound of Violence". Novi album je pomak u zvuku koji se odmakao od tipičnog metal corea i zvuči više metal, dok sam bend izjavljuje da je novi materijal napravljen pod utjecajem Rage Against The Machine, i zvukovno i lirički.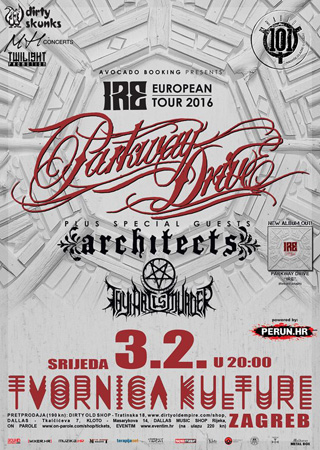 Parkway Drive na ovoj turneji dovode još jedan vrhunski sastav koji svaki dan postaje sve značajniji na metal core sceni, britanski Architects koji u svojim radovima ne skrivaju svoje pro-ekološke stavove i preziru ignorantne stavove. Iza sebe imaju šest albuma i jedan EP na kojima su vrlo zanimljivo pomiješali razne podstilove od harcdorea, metalcorea, mathcorea,..... i definitivno će biti velika konkurencija Parkway Driveu na stageu.
Kao prvi bend će nastupiti autori jednog od najkontroverznijih metal albuma u 2015. godini, australska death metal mašina Thy Art Is Murder. Radi se o albumu nazvanom "Holy War" čiji omot, riječi i video spotovi predstavljaju realistično razmišljanje o svijetu u kojem živimo, sve upakirano u teške riffove i brze ritmove bubnjeva što naglašava njihove stavove.
Početak koncerta je najavljen u 19:30h, a cijena ulaznica je 190 kn u pretprodaji, te 220 kn na ulazu.
Ulaznice možete nabaviti na slijedećim pretprodajnim mjestima i online shopovima: u Zagrebu: Dirty Old Shop - Tratinska 18 (online: http://www.dirtyoldempire.com/shop/ i 01 5573 888), Kloto - Masarykova 14, Dallas Music Shop - Tkalčićeva 7, Purgatory. U Rijeci: Dallas Music Shop - Splitska 2, Ljubljani: Madness - Trubarjeva 16, On Parole - http://www.on-parole.com/shop/tickets, Eventim sistem, www.eventim.hr.
promo girl // 30/11/2015