Nova "supergrupa" okupljena oko lidera benda SNOW PATROL Gary Lightbody-a, uključuje i jednog člana legendarnih R.E.M., Petera Bucka, te njihove dugogodišnje suradnike iz raznih faza. Redom to su Iain Archer (bendžo i vokali; Reindeer Section, Snow Patrol), Scott McCaughey (bas, harmonika, klavijature; Tuatara, The Minus 5), Richard Colburn (bubnjevi; Reindeer Section, Snow Patrol, Belle & Sebastian), Jacknife Lee (melodika, produkcija), Troy Stewart (klavir; The Dandy Warhols), dok su im se povremeno pridruživali na vokalima Zoey Deschanel (She & Him) i njen kolega iz benda M Ward, te Tom Smith (Editors) remixer Chris McCormack i još poneki znani i neznani junak ili junakinja.
Ovako nabacani možda i ne odaju ono što bi se trebalo iščitati iz gornjeg, a to je da glavnina ovog benda/projekta dolazi sa dvije strane. S europske (irsko/škotske) strane tu su Gary Lightbody, Iain Archer, Richard Colburn i Jacknife Lee, dok američku stranu drže Peter Buck i dugododišnji mu pratitelj u ne-REMovskim bendovima Scott McCaughey.
E sad, kako to sve zvuči možete probati i sami dešifrirati iz gore navedenog, ali neki mix svega i svačega izlazi iz zvučnika. Nekome će to biti dosadno, nekome zanimljivo, a većini prosječno i prolazno.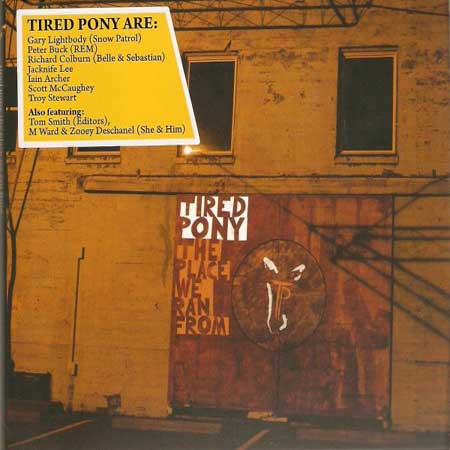 Najlakše bi bilo reći da je to još jedna kolekcija Lightbodyevih pjesama koje nisu mogle ući na SNOW PATROL albume, kao što je bilo nekad s projektom REINDEER SECTION, no tu ima i dobrih momenata. Možda najbolji primjer kako je sve to trebalo zvučati (a nažalost nije) je pjesma Dead American Writers, koja nošena gitarom jednostavno odudara od ostatka materijala. Za ljubitelje Lightbodyevih dueta tu su dva sa Zoey Deschanel (Get On The Road i Point Me At Lost Islands), od kojih je ovaj prvi "deja-vu" nekog od prošlih SNOW PATROL albuma, dok je drugi izašao iz nekog "saloona" tamo na divljem zapadu. Jedina pjesma bez Lightbodyog vokala, The Good Book, koju pjeva Tom Smith, je neka okljaštrena EDITORS odbačena pjesma i nikako se ne prilagođava ostatku materijala.
Nisam siguran da li će i kada doći do drugog albuma, no mene neće, vjerojatno, biti tu uz njih.
ocjena albuma [1-10]: 6

pedja // 16/11/2010