Black Rainbows
dolaze iz Rima i kao uzore navode Fu Manchu, Fatso Jetson, Queens Of The Stone Age, MC5, King Crimson… Bend je osnovan iz zezancije 2006. godine, a uskoro su ih zamijetili u francuskoj izdavačkoj kući ''Longfellow Deeds''.
Na njihovom drugom albumu ''Carmina Diabolo'' se nalazi deset pjesama od kojih niti jedna posebno ne iskače, ali sve zajedno ne zvuči loše. Black Rainbows ne filozofiraju previše nego se drže standardnog old school stoner rocka, bez previše miješanja stilova i proklizavanja u hard rock 70-ih. Kilometarska masiranja gitare su svedena na minimum, a komunikacija sa svemirom je ograničena na posljednju pjesmu, ujedno i najdužu na albumu, prikladnog naziva ''Space Kingdom''. Ostatak albuma je žestoki stoner rock.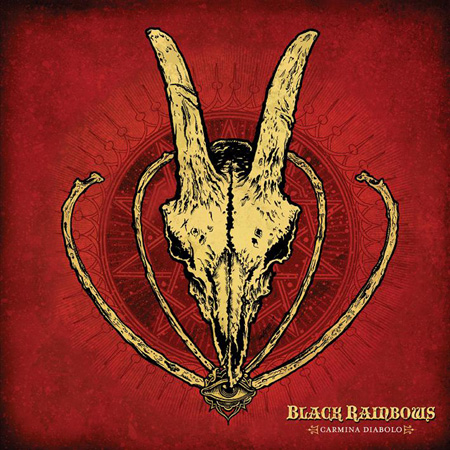 Usprkos svim predrasudama da si talijani s engleskim nisu na ti, svi tekstovi Black Rainbows su na engleskom, a Gabriele Fiori ih izvodi bez zamjerke. Fiori osim dobrih vokalnih sposobnosti dobro barata i gitarom, a podršku mu daju Daniele Conti na bubnjevima i Marco de Masi na basu.
Black Rainbows ne zvuče toliko masivno, a ni napušeno, kao neki od srodnih im bendova. I možda vam dok ih slušate ne prizovu u misli toliku količnu pustinje i kotrljajućeg žbunja. Umjesto toga možda vam prizovu želju da skačete po sobi i svirate air gitaru, a to nikada nije loše.
ocjena albuma [1-10]: 7

ana // 18/10/2010