Da su kanadski razjebanci nepredvidljivi, svjedočilo se s brojnim izdanjima unazad desetak godina. Koketirali su s indie-rockom, elektronikom, funkom i discom, no nikada nisu ostavljali postrance svoje gnjevne hardcore-punk korijene. Uvijek su oni tu bili negdje čekajući svako malo sa strane da uskoče u njihovu lokomotivu.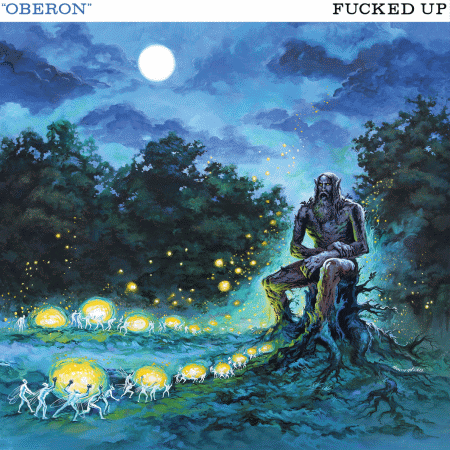 Na ovome zasebnome EP-iju, nezavisno od zodijačkih radova, materijal je dostatan, po običaju, te sa 4 pjesme vrše jedan sasvim drugačiji kumulativni vulkan - odšetali su u noise i sludge razbijajući se u pakleno
Damian Abrahamovo
vrištanje s mitološkim scenama o Hadu i onostranom životu u čijem je središtu mitski kralj Oberon, vilenjak iz "Sna ljetne noći".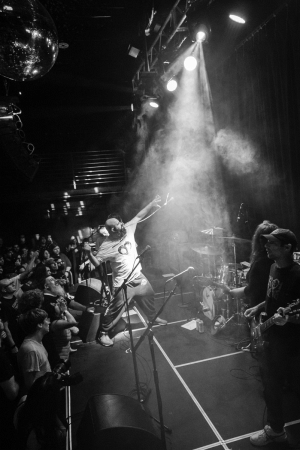 Fucked Up © 2022, Toronto
No, iznenađenje je tim veće kad se u uvodnoj, naslovnoj pjesmi "
Oberon
" od skoro 8 minuta izvrši neuobičajen masakr: stvoren je dojam najmračnijih kutaka nadrealnog s potmulom tetralnošću poput The Residents. Komotno bi se pomislilo da su obradili neku od njihovih pjesama iz tko-zna-kojeg perioda i to u tromoj blues/sludge ružioni s bezbroj breakova gurajući teške okove bremena proživljenog kao kaznu za sve nepodobštine, a prateći video je potpuna opozicija - nevinašce s dva razigrana desetogodišnjaka! "
Strix
" potom energično razvaljuje koloplet brzog sludgea u psihodeličnim ekscesima očito nadahnutih s Melvins i The Jesus Lizard, dok se u "
Mashhit
" malčice vraćaju i na pripomoć synthova i elektronike usporedo održavajući i vitalnost noise gitara u razvučenim disonantama gruvajući u srednjem tempu.
Ono što se već 4-5 decenija provlači kroz underground rock itekako je ovdje prisutno, pa pobogu, kako bi to izgledalo da se ova kompanija ne dosjeti neke pikanterije. To je završna "
The aquarium
", obrada Saint-Saensa s mnogo prezira i namjerne provokacije upuštajući se u totalni mrak i horror za kakav je teško bilo uopće zamisliti da bi se ikad mogli upustiti u njega. Išli su na najružniju sliku instrumentalne fikcije, te, dakako, uspjeli su i tom onoliko koliko su spomenuti The Residents iskasapili, primjerice "I can't get no satisfaction".
Zbunjujuće, abrazivno, nategnuto i nepredvidljivo jest, ali i vrlo oduševljavajuće u inovantnosti.
Naslovi: 1.Oberon, 2.Strix, 3.Mashhit, 4.The aquarium
ocjena albuma [1-10]: 8

horvi // 07/12/2022