Niste li se možda zapitali nije li malo čudno što se
David Gilmour
zauzeo za podršku Ukrajini? Gledajući ne tako daleko, a onda i dalje u prošlost, od pandemije preko Afganistana i Sirije, pa sve do našeg domovinskog rata i zbivanja na Balkanu u zadnjoj deceniji 20. stoljeća, malo tko se od velikih glazbenih faca angažirao u bilo kakvoj potpori. Bilo ih je - Bruce Dickinson, U2, Bowie, Mark E. Smith…, no uglavnom se to sve dešavalo mimo svjetskih medija na način da bend/ autor realizira studijski materijal čiji je kompletan profit usmjeren humanitarno namjenski.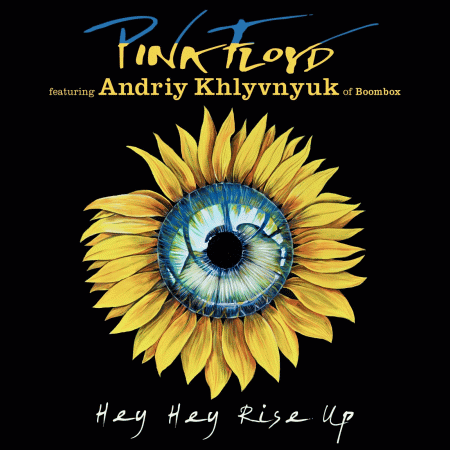 Malo je znano da je jedna od Gilmourovih snaha upravo Ukrajinka, a i nekoliko mu unuka (usput, Gilmour ima osmero djece), a kad tako ne bi bilo, čista je sumnja da bi išta bilo od ovoga angažmana potaknutog objavom
Andriya Khlyvnyuka
na instagramu, frontmena ukrajinskog benda
BoomBox
koji je prekinuo američku turneju pridruživši se Teritorijalnoj ukrajinskoj obrani prethodno snimivši selfie video na praznom kijevskom centralnom trgu pjevajući staru domoljubnu ratnu pjesmu "
Ой у лузі червона калина
" ('na livadi leži crvena hudika') iz 1875. koja se rasprostranila i popularizirala tijekom Prvog svjetskog rata, te jedno vrijeme bila i prva službena ukrajinska himna. Crvena hudika je grmolika biljka visine do 2 m, kod nas poznata kao bekovina ili kalina, raširena je poput bazge i divlje kupine, a njeni crveni grozdičasti polodovi su jestivi i ljekoviti u malim količinama tek nakon jesenskog mraza (služe za pomoć kod astme, grčeva i bolne menstruacije), dok su u većim količinama otrovni.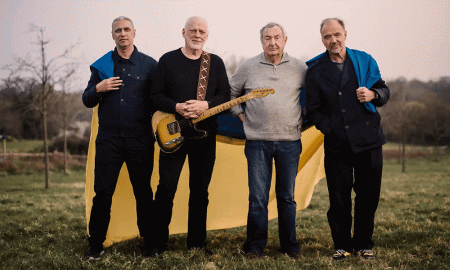 Pink Floyd © 2022
Elem, Gilmour se obratio Khlyvnyuku, te je na njegovu temu osmislio podlogu za pjesmu u kojoj još uskače ukrajinski ženski folklorni zbor
Veryovka
s nijemim vokalima kao harmonijom, te je ponovno okupio zadnju postavu Pink Floyd s
Nickom Masonom
(bubnjevi),
Guy Prattom
(bas) i
Nitin Sawhneyom
(klavijature). Izuzev ovog gostujućeg vokala koji u dva navrata pjeva samo po jednu kiticu i time daje sasvim drugačiji i neočekivani šmek slavnome bendu, ostatak infrastrukture je praktički isti kao i svaka druga Floydovska pjesma kratkih pop gabarita do 4 minute.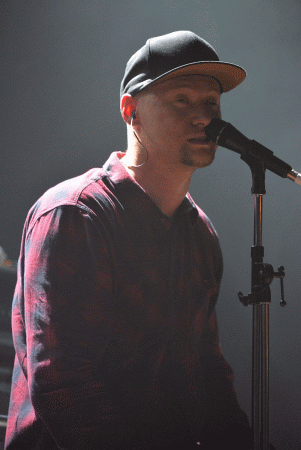 Andriy Khlyvnyuk
'
Ой у лузі червона калина похилилася,
Чогось наша славна Україна зажурилася.
А ми тую червону калину підіймемо,
А ми нашу славну Україну, гей-гей, розвеселимо!
А ми тую червону калину підіймемо,
А ми нашу славну Україну, гей-гей, розвеселимо!
'
'
na livadi leži crvena hudika
s nečim tužna naša slavna Ukrajina
a mi crvenu hudiku podižemo
da našu slavnu Ukrajinu, hej-hej, razveselimo'
'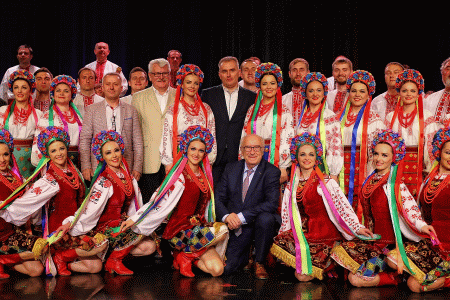 zbor Veryovka
Bez obzira na ovaj hvale vrijedan potez koji je do sada pregledan na youtube više od 10 milijuna puta, a singl u prvom tjednu download prodaje dosegnuo UK no.5 i USA no.1, te kao opipljivi nosač UK no.49 i keširao finu svotu za Ukraine Humanitarian Relief Fund, ovakav rad isuviše velikog benda je drska manipulacija. Istina, ostalo je samo ime za čije autorsko pravo i dalje glavne tantijeme ubire upravo Gilmour čiji se radovi, bili oni potpisani bendovski poput zadnjeg, neinventivnog katastrofalnog posrnuća "The Endless River"
www.terapija.net/mjuzik.asp?ID=20541
(2014) ili solističkog "Rattle That Lock"
www.terapija.net/mjuzik.asp?ID=22826
(2015) samo koprcaju paradirajući imenom u potrazi za publicitetom ne hajući brigu oko umjetničkog i kreativnog dezena.
ocjena albuma [1-10]: 5

horvi // 16/07/2022