Koncem 2020. su iznenadili svojim akustičnim EP izdanjem, a koncem 2021. su nastavili istim unplugged tempom. Samo za razliku, ovaj drugi 'odvojeni session' su čak 2 EP-ija što zorno pokazuje da se bend zaželio koncerata i turneja jer su svi ovi sessioni snimani u nepovredivosti njihovih kućnih ognjišta, internetski razmjenjeni, te naknadno miksani u zajednički zvuk.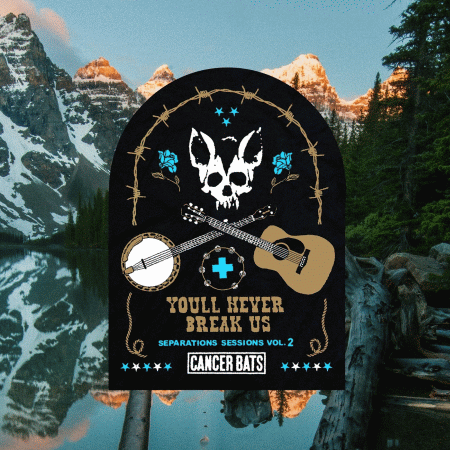 Ovakvo preuređivanje starih pjesama ima smisla ovakvom prigodom. Naime, teško je za očekivati da bi bend raštrkan po Kanadi od istoka do zapada mogao studijski funkcionirati u pogledu komponiranja novog materijala i na online razini, pričao je u interviewu frontmen
Liam Cormier
. Puno im je lakše bilo da si svatko od njih izabere pjesmu-dvije-tri, odsvira svoje dionice i onda ih pošalje ostalima, te se tako nadodavaju novi oblici. A ovdje u tom pogledu ima puno tumbanja do neprepoznatljivosti, posebno u harmonijama koje kroz akustiku dobivaju sasvim drugačija svojstva za razliku od mahom žestokih gitarskih distorzija.
Prvi CD počinje iznenađenjem: "
Hail the acoustic destroyer
" nije samo zvjezdano ultimativna himna iz 2008. s ponajboljeg im drugog albuma "
Hail Destroyer
", već i sadrži vokale samo iz Ontarija - ugošćena je
Lindsay Schoolcraft
, donedavno klavijaturistica Cradle Of Filth koja se u pjesmi nameće gothic autentičnošću posve preokrenuvši izvornik. Jest, premda je ova tema odsvirana na teški Alice In Chains način, taj njen vokal odvlači sasvim na drugačiji, daleko mračniji kolosjek. Vrlo slično u instrumentalizaciji je postavljena "
Bricks mandolins and more tambourine
" sa zagasito močvarnim blues vibracijama i pretumbanim tekstom, a te dvije pjesme su zasigurno među najupečatljivijim izvedbama oba EP-ija. Dakako, ovdje postoji još nekoliko trenutaka intrigantne monumentalnosti: mračna "
Racoustic TS
" (iskrivljena varijanta "R.A.T.S."), te teška i disonantna "
Pneumoniacoustic hawk
", dok su na drugom EP-iju iznenađenja samo gostovanje
Nick Shermana
u "
Deathsmarch to a new acoustic beat
" i slobodno medley šetanje s tri pjesme spojene u jednu "
Lucifers/ Slightly less/ Rocking chair
", a u principu, to je za one koji su propustili prvo izdanje.
Pa ipak, niti jedno od ovih izdanja zajedno s prvim iz 2020. nema, a i ne može imati onu čar standardnih unplugged realizacija upravo zbog toga što nema bendovske atmosfere zajedništva, ali pokazuje kreativnu sposobnost i svestranost ekipe da su više osim hardcore grupe, a to je sasvim dovoljno da zadrži uzbudljivost do onog pravog studijskog albuma.
Naslovi CD1: 1.Hail the acoustic destroyer (feat. Lindsay Schoolcraft), 2.Bricks mandolins and more tambourine, 3.Pneumoniacoustic hawk, 4.Racoustic TS, 5.Winterpeg folk fest
CD2: 1.Deathsmarch to a new acoustic beat (feat. Nick Sherman), 2.Road sick sick sick so stay home, 3.Black metal bicycle my blues riffs away, 4.Darkness lite, 5.Bed of nails, dreams of tambourines, 6.Lucifers/ Slightly less/ Rocking chair
ocjena albuma [1-10]: 8

horvi // 17/12/2021