Švicarski četverac iz Luzerna možda je premekan za post-hardcore, a pretvrd za pop-rock, tvrde iz distribucijske etikete Domino Media Agency imajući na umu daleko jezgrovitije i klasičnije gabarite tih žanrova. Osnovani 2011. vrlo brzo su isplivali na lokalnoj sceni zahvaljujući nastupima na poznatom Luzerner Festu gdje su se nametnuli snažnim spojem hardcorea i indie-rocka, te energičnim nastupima i pjesmama s netom objavljenog debija "A Terrestrial Journey" (2013).
Novi, drugi album napucan je eksplozivnim frekvencijama s izmjenama lakših dionica dostatnim ritmičkim tempovima pokazujući i koherentnije aranžmanske komplekse u kojima osim riffova i groovy šuseva za moshpit veliku ulogu igraju i dominacije učestalih staccata, kao i frenetično naglašen vokal
Thomasa Zurfluha
. Od pjesme do pjesme ponajvljaju se takve sheme što nakon izvjesnog vremena prerastaju u pretjeranu klišejiziranost, ali kontekst pospješuju poneki socio-kritički lirski segmenti tako da uslijed urona u melankoličnost atmosfera kompozicija podjednakom diverzijom napada dva oprečna fronta - nepovjerenje i praštanje. Prvih pet pjesama uistinu šibaju ovakvim adrenalinima, dok akustična laganica "
The birds you keep awake
" čini vitalan raskorak od njih poput letargičnog raspoloženja Radiohead i tipičnih brit-pop izvođača. Jedina praktički napucana pjesma od početka do kraja je "
Candles and curses
", a da nisu samo spoj hardcore/indie-rocka svjedoči i "
Defense mode
" s primjesama blueserskih elemenata u teškim riffovima, te eksperimentalniji pristup u programatski uređenoj naslovnoj "
The beauty of irony
".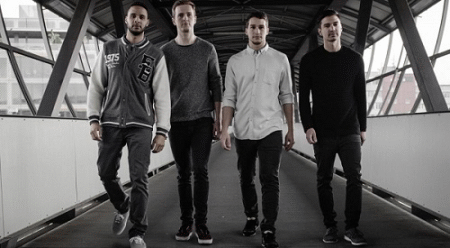 Kao što ovdje ima uistinu svačega od punka, thrasha, pa čak i natruha industriala do tih patetičnijih pop segmenata s kojima kompaktno razdvajaju aranžmanske kolaže, tako niti njihova ciljana publika nije samo u post-hardcore ili indie-rock auditoriju. Još uvijek su vrlo mladi, ali kako se čini dovoljno zreli za rad na dulje staze jer im kompozitorske vještine i vrlo dobre svirke ne manjka.
Naslovi. 1.Predigested Hollywood, 2.Wear out your heart, 3.Shark bait, 4.Backstabbing, 5.Bland masks, 6.The birds you keep awake, 7.Candles and curses, 8.Defense mode, 9.The beauty of irony
ocjena albuma [1-10]: 7

horvi // 12/08/2016