Dvostruki živi zapis koncerta iz Osla snimljen početkom 2003. godine je performans kojim su promovirali tada aktualni album "Demon Dance Alone" (2002).
Album je bio njihov odgovor na 11.IX 2001. (napad na trgovački centar u NY), te je bio konceptualno djelo sa 28 vrlo kratkih pop kompozicija od kojih su neke postali mali underground hitovi. S otklonom od punog desetljeća, te pjesme i dalje ništa nisu izgubile na svojoj aktualnosti zbog emotivnog raspoloženja, vrlo rijetkog u njihovoj ogromnoj diskografiji.
Za razliku od originalnog studijskog albuma, ovdje su s novim redosljedom predstavili 19 kompozicija na dva cd-a u izvedbi od sat i 38 minuta sa raritetnom živom svirkom benda (gitara, synth, bas, efekti, elektronski bubnjevi) i vokalima koje je uz vodećeg Randyija pjevala Molly Harvey uz još nekoliko pratećih ženskih glasova. U određenu ruku, čitav ovaj živi zapis djeluje poput mjuzikla koji provlači relativno jednostavnije pop konture s rock svirkom koja je katkad oivičena malim i kratkim progressive aranžmanima u kojima se sviračka ekipa bacila u lagane eksperimente.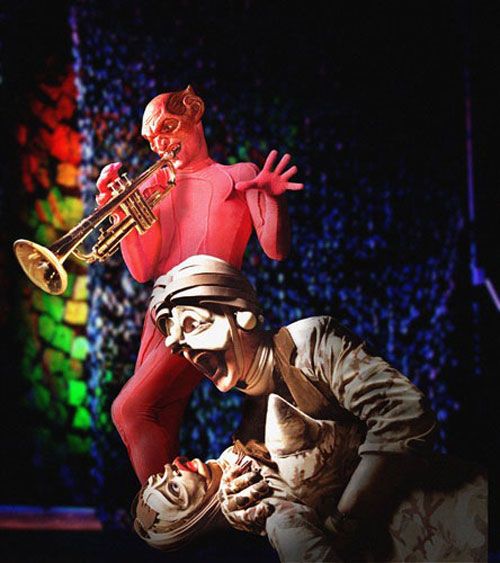 Nakon uvodnih pompoznih elektronskih fanfara prvi konkretan komad je erotska "Betty's body" u njihovom pravom zvrkastom pop maniru (sa pratećim ženskim vokalima), a onda se nižu neki od čuvenih underground hitića poput "Mickey Makaroni", "Wolverines", te svakako najvećeg "My brother Paul" koja govori o nesretnoj smrti na stubištu zgrade. Pjesme su ispresjecane sa ambijentalnijim i ekspresivnijim svirkama "Wonderful" u tri nastavka, a pronađe se i poneki lucidniji instrumental ("Baja"). Molly Harvey je glavne vokalne role odradila u laganoj "Caring", bluesu "Weather man", sentimentalnoj šansoni "Car thief" popraćenoj elegičnim ugođajem harmonike, "Wonderful 2" i "Beekeeper", te izmjenjuje duete u 15 minuta dugačkoj "Plains to Mexico/ Golden goat/ Shoe salesman" koja nije bila dio studijskog albuma, no ovom prilikom se taman uklopila kao specijalni teatralni dodatak. U njoj je ujedno i instrumentalistička ekipa dala ponajbolje performanse (osobito gitarist). Posljednji dio koncerta su tri najkomunikativnija komada u kojima zabavljaju publiku mameći gromoglasne ovacije - "Wonderful 3" (s komičnom pričom o James Brownu), "Needines" (parodija na The Beatles "Please, please, please") i previše pompozno produljena na čak 10 minuta naslovna "Demon dance alone".
Kao što je teško predvidjeti svaki novi potez ovih čudaka koji izgleda da su u situaciji nekih drastičnih promijena (navodno su smijenili glavnog vokala), tako izgleda da ovim zapisom imaju u planu ovjekovječiti neke od komercijalnijih trenutaka u karijeri kada su radili u punom sastavu. Onom valjda originalnom. No, od ovog koncertnog zapisa ne treba očekivati nikakve posebnosti osim teatralnosti i nenadane žive svirke. Prilično lagodne i jednostavne artističke zabave. Umiju oni to i bolje.
Diskografija:
Meet The Residents (1973)
The Third Reich'n'Roll (1976)
Fingerprince (1976)
Duck Stab/ Buster & Glen (1978)
Not Available (1978)
Eskimo (1979)
The Commercial Album (1980)
Mark Of The Mole (1981)
The Tunes Of Two Cities (1982)
Intermission: Extraneous Music From The Residents' Mole Show (1983)
Title In Limbo - with Renaldo And The Loaf (1983)
George & James (1984)
Whatever Happened To Vileness Fats (1984)
Census Taker (1985)
The Big Bubble: Part Four Of The Mole Trilogy (1985)
Stars & Hank Forever: The American Composers Series (1986)
God In Three Persons (1988)
The King & Eye (1989)
Freak Show (1991)
Our Finest Flowers (1992)
Gingerbread Man (1994)
Hunters (1995)
Have A Bad Day (1996)
Wormwood: Curious Stories From The Bible (1998)
Roadworms: The Berlin Sessions (2000)
Icky Flix (2001)
Demons Dance Alone (2002)
WB: RMX (2003)
12 Days Of Brumalia (2004)
I Murdered Mommy (2004)
Animal Lover (2005)
Tweedles (2006)
Night Of The Hunters (2007)
The Voice Of Midnight (2007)
The Bunny Boy (2008)
Smell My Picture (2008)
Postcards From Patmos (2008)
Anganok (2009)
Hades (2009)
The Ughs! (2009)
Arkanzas (2009)
Ozan (2010)
Strange Culture/ Heackel's Tale (2010)
Dollar general (2010)
Talking Light Rehearsal (2010)
Beautiful Eyes (2010)
Dolor Generar (2011)
Chuck's Ghost Music (2011)
Lonely Teenager (2011)
Coochie Brake (2011)
River Of Hades (2011)
Demonic!, live (2012)
ocjena albuma [1-10]: 6

horvi // 22/11/2012