Klub SKWHAT vas poziva na odličnu svirku u subotu, 12.05.2012. Po prvi puta u SKHWAT stižu dva odlična benda: Cripple and Casino i Storms
Koncert od 21h
Upad 25kn
CRIPPLE and CASINO
Cripple and Casino je bend koji dolazi preko bare, barem što se zvuka i izdavača tiče; locirani u Zagrebu ova mega energična četvorka praši odličan indie rock na tragu američke škole post hardcorea i noisea s post punk uletima. Netom nakon osnivanja pred nekoliko godina potpisuju za etiketu Radio is Down iz Olimpye, S.A.D, te su skinuvši sa sebe demo etiketu nastavili prašiti po regionalnom undergroundu, a po prvi put u našem klubu isprašit će i vas!
STORMS
Proizašli iz škole prljavog zagrebačkog punka, rocka, noise-a u bendovima poput Nikad, Amok, Lunar i drugima, trojica bivših članova Don't Mess With Texas-a 2009. godine okrenula su se energičnom, glasnom i jezgrovitom zvuku instrumentalnog rocka/post-rocka s bendom znakovitog naziva Storms. Njihovom prvom svirkom u SKWHAT-u pokušat će vas uvest u oluju najavljenu sjajnim albumom ''We Are Storms'' i nakon naleta kvalitetne muzike nasukat će vas znojne natrag u noć.!
Prije eventa od 18h chillanje uz vege roštilj i ostale kuharske kreacije ekipe iz SKWHAT-a; sunce, mjuza, roštilj džaba ili uz donaciju trajat će do koncerta.
Vidimo se u SKWHATu!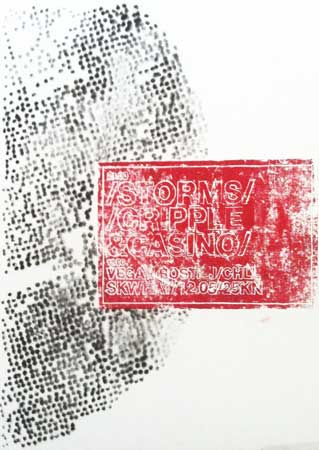 promo guy // 02/05/2012