Ugodan, prijatan i nenametljiv, a uz to i neprestano radišan, stari Jah se na ovome instrumentalnom albumu 'vratio kući'. U svoj London kome je mnogo dao kao ikona post-punka, duba, eksperimentalne glazbe i world-musica, a dobio tek mrvice.
Mada već ovremešen, ne gubi dodir sa stvarnošću koju vještim pretvorbama uranja u zvučne imaginacije, naoko, za jednog londončana bespotrebne fakcije. Naime, služeći se svakodnevno autobusnim linijama gradskog saobraćaja u domicilnom južnom Londonu, snimao je mobitelom zvukove u autobusu na nekoliko vitalnih trasa, uglavnom u noćnim ili jutarnjim satima kada i nema neke osobite vreve i gungule, a potom je te atmosferične i ambijentalne, elem, konkretne zvukove konvertirao u živu glazbu. Uostalom, na bandcamp stranici je napisao '
svi ovi zapisi su snimljeni u autobusima kroz južni London, uglavnom jugozapadni, a radio sam u tišim razdobljima dana/ noći
'.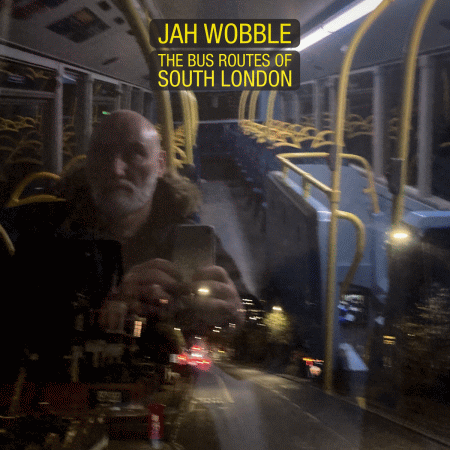 No, ovdje nije suhoparni zapis tih snimaka mobitelom, nego minuciozna svirka plesnog duba s manje-više živim instrumentarijem, pretpostavimo njegove
Family
ekipe premda nije obznanio kompletnu sekciju koja je sudjelovala na ovome radu. Pogled na popis skladbi navodi 8 autobusnih linija, sam sadržaj je u 'very mood' putopisu, ležernom i neopterećenom, a opet, vrlo psihodeličnom, koji puta i neočekivano eksperimentalnom s ponekim zanimljivim izbojcima u dvije najzanimljivije teme "
345 towards South Ken
" i "
12 towardsDullwich Library
". Njegov specifičan bas prepoznatljivo šeta kroz levitirajuće plesne tempove nakićene synthovima, elektronskom produkcijom, raznoraznim staccato frakcijama, a u
prvospomenutoj
ubacuje i snimke ptica stepenasto gradeći valovitu konstrukciju gdje se pojavljuje 'chug' funk gitara, konge, sitna kaotična abrazivnost, te po prvi puta i spoken-word samplovi sveskupa nalikujući na Cabaret Voltaire iz davnih dana Public Image Ltd.
Drugospomenuta
od skoro 10 minuta je prava ljepotica za radoznale raširivši se u brojne spektrove ambijentalnih opservacija; oko četvrte i pol minute čuju se odjeci nalik na onaj eksperimentalni štos Butthole Surfers kada su izmasakrirali Donovanovu "The hurdy gurdy man" daleke 1990., ali Jah je pristojan gospodin nizajući kolekciju jazz fragmenata saksofona, klavijatura i iznenadnih posezanja u frakcijski kaotičan jazz (u sedmoj minuti) koji je po mom osobnom nahođenju najoriginalniji dio čitavog albuma.
Ima i house/ techna u predzadnjoj "
430 towards Roehampton
" s lepršavim neonom i svježim zrakom ako ga u Londonu uopće može biti, dok je zadnja, naslovna "
The bus routes of South London
" mračno impregnirani rascjepkani dubstep bogatog ambijentalnog sadržaja zaokruživši čitav koncept na artističkom nivou. Također valja spomenuti i neočekivanu pop temu "
37 towards Peckham
" od nepune 4 minute za radio eter u bilo kojem trenutku na bilo kojem kontinentu. Jah pruža užitke u ovim instrumentalnim vizurama skoro puni sat vremena bez obzira voljeli London današnjice ili ne.
Jako lijepo i preporučljivo štivo iz kojeg se može štošta toga naučiti i saznati.
Naslovi: 1. 35 towards Clapham Junction, 2. 190 towards Richmond, 3. 37 towards Peckham, 4. 14 towards Putney Heath, 5. 21 towards Lewisham shopping centre, 6. 345 towards South Ken, 7. 12 towardsDullwich Library, 8. 430 towards Roehampton, 9. The bus routes of South London
ocjena albuma [1-10]: 8

horvi // 31/01/2023