Otkako su početkom 80-ih godina napustili, ili još bolje rečeno izbačeni iz P.I.L. posvađavši se s Johnny Lydonom gotovo do groba, ova dva osebenjaka su lutala od nemila do nedraga kao studijski glazbenici pri tome pokušavajući ostvariti i neku zapaženiju solo karijeru. Osim što je basist Jah Wobble (pravim imenom John Wardle) kratkotrajno uspio s bendom The Invaders Of The Heart koji je imao i dvije MTV singl uspješnice "Vision of you" (1992, UK no.35) i "Becoming more like God" (1994, UK no.36), a gitarist Keith Levene sa Hillel Slovakom i Fleom iz RHCP koncem 80-ih snimio album i jedan singl, ostatak njihovih karijera je sveden na margine premda obojica imaju ogroman diskografski opus.
Prvi puta su se zvanično sastali nakon punih 30 godina ujesen 2010. na Musicport festivalu u Brindlington Spa za potrebe koncerta sarkastičnog cover benda Johnny Rotter Of Sex Pistols Experience (sa Nathan Mavericksom na vokalu), a onda su se neočekivano s Lydonom za mikrofonom još jednom pojavili pod imenom Metal Box In Dub na 3 koncerta održana u Japanu iste godine. Tokom ljeta 2011., Wobblea i Levenea je pozvala Julie Campbell, mančesterska glazbenica poznatija kao LoneLady da joj gostuju na drugom post-punk/pop albumu "Psychic Life". Kako su uočili da stvar funkcionira i da se nakon tako dugog niza godina ponovno mogu naći na istoj valnoj duljini, odlučili su ponukani povratničkim albumom P.I.L. "This Is P.I.L." napraviti zajednički rad na kojem bi naglasili sličnosti i razlike zbog kojih su nekad davno zaratili i raskrstili s Lydonom mada se činilo nakon 3 zajednička koncerta u Japanu da će P.I.L. proraditi u djelomično originalnoj postavi.
Album je objavljen na etiketi Cherry Red Records koja zastupa i Julie, odnosno LoneLady, a u povijest je ušla zahvaljujući debiju Dead Kennedys "Fresh Fruit For Rotting Vegetables" (1979), te je otkrila Marine Girls, post-punk bend Tracey Thorn koja se proslavila s Everything But The Girl. O tome koliko su Wobble i Levene zaslužni za uspjeh P.I.L., originalni zvuk i sam pojam post-punka ne treba posebno govoriti - bez njih bi ona prva 2-3 albuma P.I.L. bili pobačaji, no da im onaj drugi dio posla što se tiče lirike nikad nije išao posve od ruke, svjedoči upravo ovaj rad.
Od 10 kompozicija 4 su čisti instrumentali. "Strut" i "Back on block" aludiraju na fazu "Metal Box" s primjetnim elementima U2, plesni acid/nu-jazz "Fluid" s vodećom Miles Davies-ovskom trubom gosta Sean Corbyija pretapa se u kratki rasplesani dub "Vampires" (1.39), dok je ambijentalna laganica "Jags & staffs" razvučeni spoken-word komad na gotovo 10 minuta. K tome, "Understand dub" je neznatna verzija iste pjevane pjesme u kojoj im gostuje Nathan Maverick iz projekta Johnny Rotter Of Sex Pistols Experience. Na koncu, kao kompletno pjevane skladbe ostaju naslovna "Yin & Yang", vrlo kratki uvrnuti southern r&b/dub "Mississippi", psihodelična obrada George Harrissona "Within you without you" i spomenuta "Understand".
U lirskom pogledu metaforički se obračunavaju s Lydonom kroz individualna i samo njima dobro znana prepucavanja tko-koga-šta-zašto kara. Evo, singl "Yin & Yang" govori 'jebeni Yin i jebeni Yang/ nježno šapuću i jebeno praskaju/ nježno i teško, mračno i svjetlo/ podnevno sunce i neprobojna noć', a spoken-word komad "Jaggs & staffs" sa specifičnim huligansko-punkerskim akcentom opisuje današnje viđenje East Enda gdje je Wobble kao klinac drugovao sa Sid Vicousom, a s Lydonom pokrenuo P.I.L. Demistificira se kvartovski obračun gangstera i bandi tokom 70-ih godina otprilike slično kao što je to Lydon upriličio sa Finsbury Parkom na "This Is P.I.L.", no čitava lirika je poprilično dezorijentirajuća s insinuacijama na Shakespearovu etiku zagonetnog tumača ljudskih sudbina. Naposljetku, u završnoj "Understand" čini se da Lydonu pružaju ruku pomirenja refenom 'šta da kažem?/ možeš probati, vidi šta ti treba - dođi i sviraj...'.
Uz navedene glazbenike, prisutni su Jonas Persson (bubnjevi i organ) i Marc Layton-Bennett (bubnjevi) koji su dali dobar doprinos zvuku temeljeći se prvenstveno na jam-sessionu s mnogo slobodnog hoda. U principu čitav album odiše plesnim dubovima, eksperimentima, psihodelijom i improvizacijama bez obaveze na strukturu kompozicija kao što je to bio slučaj sa "Metal Box", tako da je glazbeni dio ovog albuma daleko jača strana.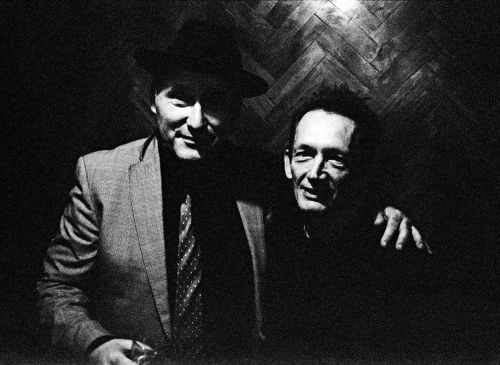 Diskografija Jah Wobble:
First Issue/Public Image, with P.I.L.(1978)
Metal Box/Second Edition, with P.I.L. (1979)
Paris au Printemps/Paris In The Spring, with P.I.L. (1980)
The Legend Lives on…Jah Wobble in Betrayal (1980)
V.I.E.P. (1980)
Bedroom Album (1982)
Snake Charmer (1983)
Neon Moon (1985)
Tradewinds (1986)
Psalms (1987)
Without Judgement (1989)
Rising Above Bedlam (1991)
Take Me to God (1994)
Spinner, with Brian Eno (1995)
Heaven and Earth (1995)
The Inspiration of William Blake (1996)
The Celtic Poets (1997)
Requiem (1997)
The Light Programme (1998)
Umbra Sumus (1998)
The Five Tone Dragon—Jah Wobble presents Zi Lan Liao (1998)
Deep Space (1999)
Full Moon Over the Shopping Mall (2000)
Beach Fervour Spare (2000)
30 Hertz - A Collection of Diverse Works From A Creative Genius (2000)
Molam Dub, with The Invaders of the Heart and Molam Lao (2001)
Passage to Hades, with Evan Parker (2001)
Radioaxiom, with Bill Laswell (2001)
Deep Space: Largely Live in Hartlepool & Manchester (2001)
Shout at the Devil, with Temple of Sound (2002)
Solaris: Live in Concert (2002)
Fly (2003) • Five Beat (2004)
I Could Have Been a Contender - Anthology (2004)
Elevator Music V.1A (2004)
Car Ad Music (2004)
Mu (2005)
Alpha-One-Three (2006)
Jah Wobble & The English Roots Band (2006)
Heart and Soul (2007)
Chinese Dub (2008)
Car Ad Music (2009)
Get Carter (2009)
Japanese Dub, with the Nippon Dub Ensemble (2010)
Welcome to My World (2010)
7 (2011)
Psychic Life, with Julie Campbell (2011)
EP, with Keith Levene (2012)
Yin & Yang, with Keith Levene (2012)
Diskografija Keith Levene:
First Issue/Public Image, with P.I.L. (1978)
Metal Box/Second Edition, with P.I.L. (1979)
Paris au Printemps/Paris In The Spring, with P.I.L. (1980)
Flowers Of Romance, with P.I.L. (1981)
Live In Tokyo, with P.I.L. (1983)
2011 - Back To Black, EP (1987)
Looking For Something, EP (1988)
If Six Was 9, EP (1988)
Violent Opposition (1989)
End Of The Century Park, with Gary Clail/ On U-Sound-System (1989)
Clothesline, split EP with Hillel Slovak (1990)
Emotional Hooligan, with Gary Clail/ On U-Sound-System (1991)
Hard Work, with The Philistines (1995)
Killer In Thw Crowd, with Murder Global (2002)
Easy Listening... For Difficult Fuckhead, with Pigface (2003)
Headf..., EP, with Pigface (2003)
Revolutionation, EP, with Carpetface (2004)
Have Mic With Travel, with Carpetface (2005)
Nic, with Necessary Intergalactic Cooperation (2007)
Psychic Life, with Julie Campbell (2011)
EP, with Jah Wobble (2012)
Yin & Yang, with Jah Wobble (2012)
Zajednički radovi:
First Issue/Public Image, with P.I.L. (1978)
Metal Box/Second Edition, with P.I.L. (1979)
Paris au Printemps/Paris In The Spring, with P.I.L. (1980)
Psychic Life, with Julie Campbell (2011)
EP (2012)
Yin & Yang (2012)
ocjena albuma [1-10]: 7

horvi // 13/01/2013