Odavno napustivši domenu standardne mačoidne hard-rock lirike i tematike vezane uz emotivno muško-ženske preokupacije, ovi dinosaurusi teškog rocka i jedni od ključnih karika u formiranju heavy metala (dakako uz Black Sabbath i Blue Oyster Cult) stubokom više nisu komercijalno atraktivni u pogledu singlova, no istom mjerom pariraju društvenim i svjetovnim premisama bez nekih radikalnijih odmaka kojima bi cifrali svoj prepoznatljiv zvuk.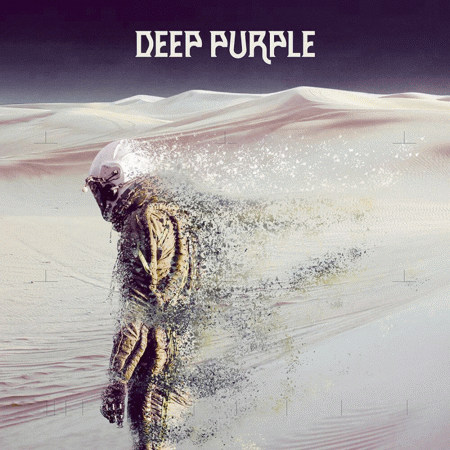 Sa svojim 21. studijskim albumom u karijeri ponovno po treći put za redom u produkciji
Boba Ezrina
koji im je očito pronašao novi senzibilitet za psihodelične i progressive zahvate, Deep Purple su u svojih pola stoljeća rada prerasli u znatno zahtjevniju i kompleksniju građu pripomažući mnogim novijim generacijama koje su stasale iza njih bilo da su u hard-rock ili heavy žanrovima. "Whoosh!" iliti po naški 'opa!' je prije svega netipično dugačak album koji skupa s bonus pjesmama (3 posljednje su live snimke iz Rio De Janeira 2017.) iznosi više od jednog sata, ali tek nekoliko pjesama prelazi duljinu od 5 minuta. Nova sklonost su im kraće i sažete pjesme u kojima ima dovoljno prostora da se kompletna ekipa razmaše šarolikim instrumentalizacijama, osobito klavijaturama
Don Aireya
koji je neprikosnoveni nasljednik teških Hammond A-100 orgulja John Lorda.
Prvi singl "
Throw my bones
" prenosi prepoznatljivi gitarski ljubičasti šafran Richija Blackmoorea utjelovljen u
Steve Morseu
uz lebdeći vokal
Gillana
, a slijedi ga koegzistentan hard-rock "
Drop the weapon
" s pozivom na deskalaciju i mudre izbore, nešto tromiji "
We're all the same in the dark
", pa još tromiji baladični treći singl "
Nothing at all
" s puno sitnih neo-classical intervencija gitare i klavijatura, a onda još malo političkih kibiciranja "
No need to shout
" i "
Step by step
" što drže dostatnu snagu na pristojnoj udaljenosti od društvenih angažmana bez tabloidnih žutih i zlih ogovaranja, a može pokazati i odakle Axl Roseu inspiracija za onoliko utabanih kreveljenja. Čak i među ostatkom materijala pronađe se dovoljna količina kohezivne sprege što pokazuje veličanstvenost svirača poput rock'n'roll/ rockabillyja "
What the what
" i razbarušenog hard-bluesa uronjenog u progressive "
The long way round
", a elementi Johan Sebastian Bachovih fuga izviru gotovo iz svakog intervala na orguljama poput instrumentalnog kraćeg komada "
Remission possible
" koji otvara još jedan singl "
Man alive
". Završni instrumental "
And the address
" posvećen je debiju "Shades of Deep Purple" iz daleke 1968. (bio je prva kompozicija na njemu) kao da moguće daju do znanja kako im je ovo moguće posljednji album, no ne zaboravimo da im se dvogodišnja turneja 2017-2019 zvala "The long goodbye"..., a sasvim očekivano za ovu priliku imaju najbolju namjeru održati još jednu, pandemijsku.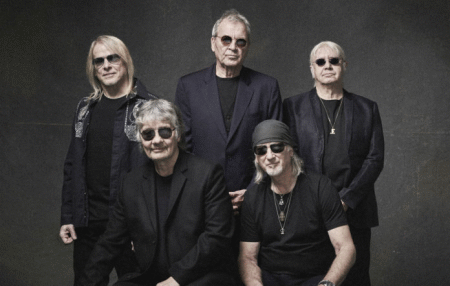 Deep Purple © 2020
Album je doživio lijep plasman na europskim top listama, u rodnoj Britaniji dosegao UK no.4, a u Americi koja ih je otpočetka karijere vrlo srdačno primila i gdje su pokupili najveću slavu, danas više nemaju osobitu prođu (USA no.161) iako mnogo toga ovdje asocira baš upravo na te njihove najslavnije godine prve polovice 70-ih. Elem, premda nimalo ne djeluje kao da je nastao 2020. već najmanje prije 40-tak godina (jedina s modernijim šmekom je završna "
Dancing in my sleep
"), s obzirom u kakvoj se krizi nalazi čitava planeta Zemlja, ovo je jedan od onih vrlo zabavnih, a pomalo i benigno budalastih albuma na kome se nalazi dovoljno iskrene dobrote uklesanih u dekadentne riffove. Svijetu je potrebno i malo privlačne zabave koju je Gillan objasnio 'ovo nije potrebno duboko rezonirati, napravili smo da se uživa bez pretjeranog razmišljanja'.
Naslovi: 1.Throw my bones, 2.Drop the weapon, 3.We're all the same in the dark, 4.Nothing at all, 5.No need to shout, 6.Step by step, 7.What the what, 8.The long way round, 9.The power of the moon, 10.Remission possible, 11.Man alive, 12.And the address, 13.Dancing in my sleep
ocjena albuma [1-10]: 7

horvi // 11/10/2020