Gledajući zadnji mlohavi rad The Rolling Stones "Blue & Lonesome" (2016) kojeg su starci poput njih simpatično pohvalili kao odličan jer je sastavljen od obrada isto kao što su im i prvih 6 mahom činile obrade, odnosno, vratili su se na svoje davne početke, tako su i ovi pioniri hard rocka i metala posegnuli isti štos. Na ovome radu su nakon jako dugo vremena ponovno prišli svojim starim fazonima iz epohe kada su tek počinjali, tamo davne druge polovice 60-ih godina prošlog stoljeća svirajući u Gillanovom bendu The Javelins omiljene obrade gackajući više po pop nego li rock terenu.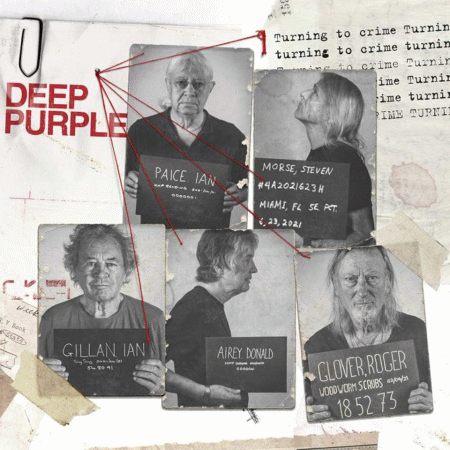 Međutim, za razliku od Stonesa koji se u 21. stoljeću apsolutno nisu snašli s kreacijama sabotirajući sami sebe ostavši duboko u 70-im, Deep Purple su zadnjih 20 godina itekako ozbiljno shvatili da se trebaju prilagoditi novim vremenima, ogromnoj konkurenciji, a i novoj tehnologiji, te kondicijskoj pripremi s kojom se rade turneje pune energičnih koncerata s obzirom da njihova publika nikad nije očekivala mlitavce na pozornici. Umjesto da nanižu serijal identičnih preslika, ova kompanija penzionera je napravila ogromne preinake. Kao prvo, gotovo su sve pjesme dobile nove nazive, a dakako i neočekivane oblike, a kao drugo, opako su se bacili u zavitlavanje rock kritike koja ih je tokom čitave karijere uglavnom degradirala.
Nazvan kao svojevrstan povratak na mjesto zločina je podli cinizam svim kritičarskim seronjama koji ne odobravaju ovakva izdanja premda recimo oni mlađi (-30) niti ne bi samo tako prepoznali gomilu ovih pjesama počevši od uvodne "
7 and 7 is
" u gotovo standardnom hard brand elanu, inače original Arthur Lee Lovea, a također ne bi otprve skontali niti njenu podrugljivost. Rad je vrlo eksplozivan, bend je zbog pandemije radio preko interneta što se osjeća u narednoj "
Rockin' pneumonia and the boogie woogie flu
" Huey 'Piano' Smitha kanalizirajući Showaddaywaddy za koje garantirano današnji balavi šarlatani-piskarala nikad čuli nisu. Rana ljubav ka klasičnom r'n'r-u dolazi do izražaja u "
Let the good times roll
" Ray Charlesa i Quincy Jonesa u potpunoj big band izvedbi kakva se redovito nalazi na programu HTV-a kada su revijalne seanse popuna rupetina po danu, noći i u prijepodne, a također i skiffle "
The battle of New Orleans
" Lonnie Donegana. Čvrstinu tih vremena dočarava "
Jenny take a ride
" u kojoj se nalazi ustvari "C.C. Rider", a onu pomalo bespotrebnu kolekciju ovdje čini "
Oh well
" Fleetwood Maca.
Zabavna "
Dixie chicken
" simulira prozraćnost Little Feat, "Lucifer" Bob Segera je vrijedan pažnje za čuti Gillana kako uzvikuje besmrtni slogan 'mrtva skuša' kojeg, opet mladi i napuhani balavanderi danas ne razumiju, tu je još i prikladno zlobna "
White room
" Cream-ovaca, Dylanova "
Watching the river flow
" prenosi pijanku krčmetina Divljeg zapada s kojima su bili oduševljeni u mladosti, a posljednja, iznenađujuća "
Caught in the act
" srećom nije revitalizacija dvostrukog Styx albuma uživo iz 1984. nego meddley pjesama Freddie Kinga, Booker T. & MG's, Allman Brothersa, Spencer Davis Group, te će se po prvi puta pronaći da sviraju svoje velike suparnike Led Zeppelin "Dazzed and confused".
Stoga, ako se pronađe onih kojima cover radovi ne odgovaraju, ovaj kao i sve ostale slobodno valja zaobići, ali time se nikako ne umanjuje zaista nadahnuta svirka i oštra provokacija, tko zna, pa nije valjda posljednja im u karijeri…
Naslovi: 1.7 and 7 is, 2.Rockin' pneumonia and the boogie woogie flu, 3.Oh well, 4.Jenny take a ride!, 5.Watching the river flow, 6.Let the good times roll, 7.Dixie chicken, 8.Shapes of things, 9.The battle of New Orleans, 10.Lucifer, 11.White room, 12.Caught in the act
ocjena albuma [1-10]: 7

horvi // 26/11/2021