Dobro je pomisliti da se Peter Gabriel vratio klasičnim, rockerskijim koncertima nakon onog odličnog, ali mnogima vrlo dosadnog simfonijskog performansa s kojima je putovao po svijetu nakon što se nenadano prešaltao u klasičnu glazbu albumima "Scratch My Back" (2010., UK no.12, USA no.26) i "New Blood" (2011., UK no.22, USA no.30) na kojima je obradio njemu neke omiljene pjesme drugih autora, kao i svoje u orkestralnim varijantama.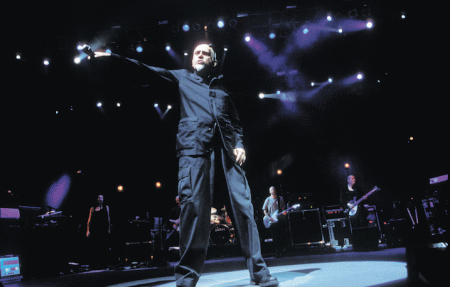 Međutim, druga stvar je, kako kaže između pjesama da mu je ovo vjerojatno posljednja turneja, te da se ne namjerava više baviti koncertnim aktivnostima s obzirom da je 13. veljače proslavio 69. rođendan, te da mu je preko glave pozornica, tonskih probi, vježbanja, a bome i komponiranja novih pjesama kad je ionako rekao i napravio sve što je namjeravao. Gotovo neprimjetno je nakon posljednjeg studijskog albuma "Up" iz daleke 2002. (UK no.24) objavio dva simpatična singla "
I'm amazing
" i "
The veil
" 2016. najavivši konačno novi album, ali on se još nije pojavio. Ali kad se pronikne malo dublje u sadržaj i činjenično stanje ovog pozamašnog zapisa od 2 sata i 15 minuta za kojeg je
Hamish Hamilton
napravio i kompletan video, poražavajuća je istina da je ovo snimak koji datira još iz 2003. kad je promovirao upravo spomenuti album "Up", a sve je tek ovih dana, elem 15 godina kasnije objavljeno kao audio i video CD/ DVD.
Koncert je održan 8. i 9.V 2003. u milanskoj Fila Forum i fakat je izgledalo da će mu to biti zadnja turneja kad je imao 53 godine, ali nas je prevario. No, sada s ovog aspekta možda je ovakav zgodan marketinški trik baš i potreban da zagrije fanove za neko novo iznenađenje, a možda i turneju. Nego, vratimo se na zapis... Praćen sa 6 glazbenika i troje gostiju prošarao je tom zadnjom studijskom fazom ispreplitanjem pjesama s albuma "Up" (6 pjesama) i "OVO" iz 2000. (2 pjesme) tek povremeno ubadajući hitovima, ali samo onim najkomercijalnijim poput "
Red rain
", "
Mercy street
", "
Digging in the dirt
", "
Solsbury hill
", "
Sledgehammer
" i "
In your eyes
" koji su mu i donijeli najveću slavu. Ali ništa od onih čuvenih "I don't remember", "Shock the monkey", "No self control", "Not one of us", "Steam", a nesuvislo bi bilo za očekivati "Lay your hands on me" kad se tokom kasnih 70-ih i 80-ih znao bacati u publiku prije punkera, metalaca i hardcoreaša. Zanimljivo je danas pogledati snimak s Rockpallasta 1978. kad je teatralno, poput smirenog klauna pošandrcao prilikom izvedbe "Moribund the burgermeister"...
Ali, ako ništa drugo, na ovome zapisu ostala mu je ona progressive-rock crta s kojom je iznenađivao mada se nakon odlaska iz Genesis orijentirao u mahom minimalističkiji art-rock/ new-wave vrhunske studijske i koncertne izvedbe, pa tako se ovdje može čuti sjajnih instrumentalističkih fragmenata basova
Tony Levinea
(ne treba niti sumnjati), gitara
David Rhodesa
, bubnjeva
Ged Lyncha
(ex-Black Grape, radio sa Sylvianom, Zuccherom, Shakespeare's Sisters, The Charlatans, Tom Jonesom, Electronics...) ili pratećih vokala lijepe Uzbekistanke
Sevare Nazarkhan
po glasu bliske Sinnead O'Connor i slijepih
The Blind Boys of Alabama
(postoje još od 1939.!!!), a tu su još i
Nusrat Fateh Ali Khan
i
Hukwe
i njegov nećak
Charles Zawose
iz Tanzanije (Hukwe je umro 2003. u 63. godini). Čitav snimak funkcionira besprjekornom svirkom, gotovo studijskim crtama s neophodnim eksplozijama ("Digging in the dirt" je čak podebljana gitarskim distorzijama i kraćim trash/hardcore izletom), a onog obaveznog world-musica ima na gotovo svakom koraku u profinjeno upakiranom dizajnu. Samo još nekoliko riječi: ovakav Gabriel uživo daleko bolje stoji od simfonijskog.
Naslovi: 1.Here comes the flood, 2.Darkness, 3.Red rain, 4.Secret world, 5.Sky blue (feat.The Blind Boys of Alabama), 6.Sky blue, 7.Downside up, 8.The Barry Williams show, 9.More than this, 10.Mercy street, 11.Digging in the dirt, 12.Growing up, 13.Animal nation (feat. Dr Hukwe Zawose and Charles Zawose, 14.Solsbury hill, 15.Sledgehammer, 16.Signal to noise (feat.Nusrat Fateh Ali Khan), 17.In Your eyes (feat.Sevara Nazrakhan), 18.Father, son
ocjena albuma [1-10]: 8

horvi // 11/04/2019