U prvih minuta otvaranja albuma sa Song for Clay ništa mi nije bilo jasno. Što to BLOC PARTY žele biti?! Kopija MUSE?! Kako im se to dogodilo?! Da li je to prirodna evolucija?! Zašto nisu ostali samo BLOC PARTY!?
Srećom, vrlo brzo ih je pumpajući ritam i nervozan i rastrgan glas Kele Okerekea vratio na pravi put i bilo je jasno da su BLOC PARTY samo koju godinu stariji, što ih je pojačali glazbeno i textualno. Da se razumijemo, ja volim MUSE, ali oni su samo jedni jedini i neponovljivi, i svaki pokušaj nekog benda koji bi težio njihovom zvuku bio bi potpuni i totalni fijasko.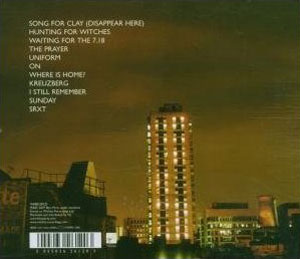 Rat i terorizam, religijska netrpeljivost i rasna mržnja, homosexualne veze i droge, očaj i razočaranje, teme su drugog albuma ove britanske skupine. To je posebno naglašeno u pjesmama koje slijede, a to su Hunting for Witches, Waiting for the 7.18 i The Prayer. Pjesme su to jedna bolja od druge, a koje nakon svakog slušanja zovu na još i stavljaju slušatelja u dilemu i nemogućnost odabira najbolja od predoženih.
Druga polovica albuma, smirenija je, mnogo tiša i teža za slušanje, no ona nosi bisere kao što su Kreuzberg, I Still Remember i prekrasnu Sunday koja stihovima "I Love You in the Morning when You're Still Hungover" ulazi među godišnje favorite.
"A Weekend in the City" bitno se razlikuje od debi albuma "Silent Alarm" što dokazuje odrastanje benda i dokazuju da im bendovi sličnih opredjeljenja kao što su KAISER CHIEFS, FUTUREHEADS ili HARD-FI nisu ni do koljena.
ocjena albuma [1-10]: 9

pedja // 12/02/2007