Dok se mnogi izvođači lagodno šepure na lovorikama i hvalospjevima ponekog remek-djela ili nečega sličnog sa čime su dosegli fokus kreativnosti isporučujući ziheraški provjerene formule dobitne kombinacije, pariški peterac Cowards suprotno tome zalazi u nova istraživanja spajanja oštrih i ekstremnih izraza s mračnim atmosferama metaliziranih hardcore teritorija. I uvijek se dešavaju vrlo bliske paradigme - kada je artist u naponu takve napredne kreativne faze redovito doživljava feedback kiselih lica i jetkih polemika na račun svjesnog autorskog legitimiteta što utire i krči neke nove smjernice.
Istina je da ovaj ekstremno mračan kvintet nije za svakoga jer godinama radi nekonvencionalnu glazbu čak i za žanrove iz kojih koriste neke relevantne poveznice poput black metala i sludgea, a što se tiče ovog albuma i posve netipičnih stilskih referenci new-wavea obradivši veliki
The Police
hit "Every breath you take" pod naslovom "
You belong to me
" s potpuno neprepoznatljivim paralelama u kombinaciji zgusnutog drone harsha što izranja iz fade-in pozadine u doom središnjicu, a tu je i još jedna neočekivana obrada manje znanog hita "One night in NYC" njujorškog
The Horrorist
, oneman techno/hardcore/gabber projekta Oliver Cheslera iz 2001. (pjesma je bila no.1 na Deutsche Dance Chart) u netipičnom stilu za 'kukavice' - plesnom tempu sa staccato gitarom naslovljen kao "
One night in any city
". Treba samo pretpostaviti da se ipak neće zadržati u ovakvim formatima jer bi to značilo gubitak svih dosadašnjih karakteristika i prelazak u daleko mekši obrazac.
Dakako, ovdje su i 3 autorske pjesme sa svim vitalnim karakteristikama dosadašnjeg rada - neurotičnošću, rastrganošću, bijesnoćom i kaotičnim hardcoreom što i tematski zaokružuje cjelinu fabule o neurednom, raskalašenom i pogibeljnom životu. "
Still (Paris most nothing)
", te "
Like us
" imaju tu ekstremnu hardcore crtu kaosa, a "
Let go
" pokazuje i avant-garde konotacije Deathspell Omega. S ova dva posve neočekivana covera 'kukavice' ponovno pokazuju relevantni odmak u vlastitom progresu ostajući i dalje u zastrašujućoj atmosferi patničko-sadističke opsesije, iživljavanja i kopanja po krhotinama životnih putešestvija.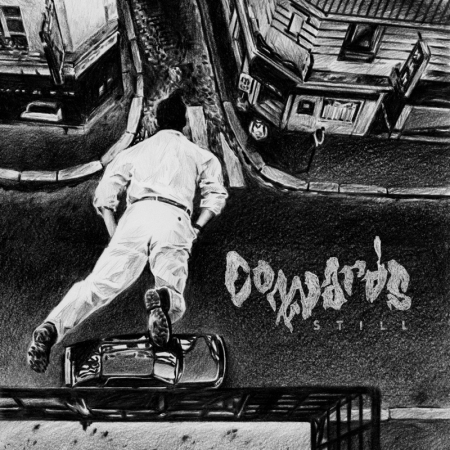 Premalo autorskog materijala, a i same duljine od 19 minuta nije dovoljno spram onoga što su uradili na prethodna 3 izdanja. Premda priča ponovno udara direktno u glavu s konstantnim periodima iscimavanja ekstremne brutalnosti i mračnih ambijenata više se doima kao blic-kolaž nego li kompaktno prohodan romančić, odnosno kratak film s 5 omnibus stavaka. Daleko su prohodniji u obrascima standardnih albuma kada razviju kompletnu fabulu od početka do kraja. Ovdje ona doživljava zaplet u posesivno-manijakalnoj "You belong to me" (uostalom Sting ju je napisao u vrijeme totalno emotivnog kraha kada mu se raspadao brak), doživljavajući prebrzi rasplet i finiš sa "One night in any city" gdje glavna akterica biva podvrgnuta seksualnoj torturi 'fucked up all night'. Tu manjka dovitljivijih intervala s kojima su znali obogatiti ranije albume; sve se odvija sažeto i šturo. Short horror stories.
Naslovi: 1.Still (Paris most nothing), 2.Let go, 3.Like us, 4.You belong to me, 5.One night in any city
ocjena albuma [1-10]: 8

horvi // 13/11/2016