Francuski underground bend Cowards iz Pariza nema onu uobičajenu priču da im je trebalo godina i godina rada da bi došli do debi albuma. Naprotiv, radi se o stanovitoj supergrupi koju čine bivši i sadašnji članovi Sickbag, Death Mercedes, Hangman's Chair, Eibon, Glorior Belli, Dacast i Collosus Of Destiniy. Okupili su se koncem 2011. i odlučili napraviti nešto drugačije od svojih matičnih bendova, te mada nisu po zvuku daleko odmakli od hardcore/sludge/black metal karakteristika, uspjeli su u jednome - sirovoj i teškoj glazbi koja ne daje mnogo mogućnosti za ugodni osjećaj.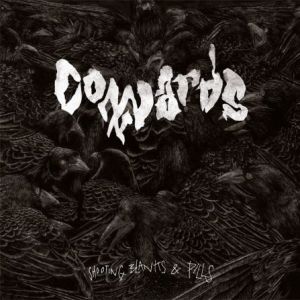 Bez nekakvih pretjerano brzih tempova, Cowards s ovim albumom u trajanju od 38 minuta daju veoma mračnu privatnu seansu utopljenu u očaju urbanog beznađa. Pjesme (ima ih samo 6) su vrlo teške, mučne i uglavnom spore, osobito depresivna, emotivna i perverzna "Scarce" (aludira na felacio i traje 9 minuta), te "Grand failure" s nevjerojatnim noise-industiral krešendom. Posve su kaotični i mračni, uzvikuju opasne pogrde na metaforičke erekcije i prostitutke ("Vices & hate"), pljuju na sve oko sebe (opaki brzanac "Arogant, unseen") i općenito negiraju bilo kakav vid tolerancije. Njima je sve negativno i uglavnom loše šta god da se oko njih događa.
Krvavi vokal J.H.-a i abnormalno težak masivni zid opakog složenca tromog hardcorea i sludgea, ovaj album se nikako ne preporuča mlađima od 18 godina. Kad bi naš Bare htio kanalizirati nešto slično, bilo bi perfektno. Zadnji puta se toga malčice dotaknuo u pjesmi "Ljubav ubija", a to je bilo još na debiju "Razum i bezumlje". On je nevinašce spram ovog francuskog kvinteta. Preopak je.
ocjena albuma [1-10]: 8

horvi // 02/07/2012