Kao što je i najavljeno, samo 4 dana uoči zagrebačkog koncerta francuski death/thrash/groove progressive majstori objavili su svoj drugi živi album, ovaj puta u obliku dvostrukog video DVD-a i jednog audio cd-a. A kako nemam vremena da se pozabavim duplim video izdanjem, evo kratkog osvrta na klasičan live cd...
Sastavljen od 5 pjesama sa posljednjeg albuma "The Way Of All Flesh" iz 2008. (očekivalo se više brojeva), set lista nudi još 4 pjesme sa trećeg "From Mars To Sirius" (2005) i 3 sa debija "Terra Incognita" (2001), dok sa drugog albuma "The Link" (2003) nema niti jedne. Svirka je na vrhunskom nivou, no ipak je izostala ona studijska čistoća zvuka po kojoj su, barem na albumima, dosegli gotovo savršenstvo. Sam dupli video DVD (kao blue-ray) je zapis sa tri lokacije - Garorocka, Les Vieilles Charrues showa i koncerta u Bordeauxu, a cd je kombinacija snimaka sa Garorocka i iz Bordeauxa, pa se ponešto izgubilo od uobičajenog koncertnog kontinuiteta. Pažljivim preslušavanjem mogu se 'pohvatati' konci, tj. šta je uzeto s koje lokacije, no to nije toliko bitno.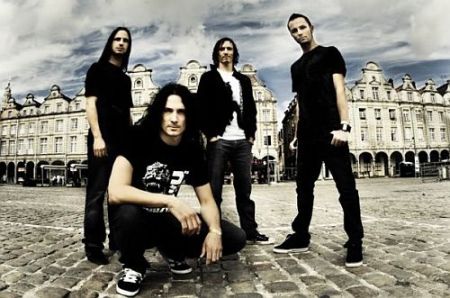 Daleko je bitnije da ovi Francuzi razaraju doslovce kao ubojice sa ovom set listom ispreplitanjem tri bliska stila - deatha, thrasha i groove metala u progressive aranžmanima s mnogo gitarskih sympho levitacija koje na momente djeluju kao da su odsvirane barem na klavijaturama. Po očekivanju, zapis otvara "Oroborus", inače uvodna skladba posljednjeg albuma i šteta je što se na nju ne nadovezuje "Toxic garbage island" po studijskom konceptu već "The heaviest matter of the universe" sa "From Mars To Sirius". Ah, Bože moj, no to u ovom slučaju funkcionira kao vješti 'miks' na gruvačinu zajedno sa "Backbone" (s istog albuma), da bi se taj početni furiozni uvod spustio sa tromom "Love" s debija i nastavilo se prašiti klasičnim Gojira death stilom kroz "From the sky", uskočilo u onaj eksperimentalni elektronski funk-metal štos "A sight to behold" koji se nastavlja u jednoj od ponajboljih izvedbi na ovom zapisu, pjesmi "The art of dying". Repertoar nije zaobišao niti sjajnu "Flying whales", kao niti skraćenu verziju "The way of all flesh" u trajanju od nešto manje 8 minuta. Jedino je iznenađenje posljednja, troma "Vacuity" u ovakvom žestokom repertoaru, no kada se zasebno izdvoji instrumental "Terra incognita" prije nje, bez ikakvih predznanja bi se moglo zaključiti kako je prije djelo nekog post-punk/noise nego li metal benda.
A to sve govori u prilog njihove velike kreativne umješnosti u kojoj osim standardnih žanrova znaju itekako dobro koristiti i neke sasvim drugačije parametre. Za obožavatelje, "The Flesh Alive" je itekakav dragulj, no za one kojima je ovo prvi dodir sa ovim velikim Francuzima, moglo bi doći do nesklada u nerazumijevanju bez obzira na sve metal afinitete. Ali ne treba žuriti pred rudo, njihov novi, peti studijski album "L'Enfant Sauvage" izlazi 25.VI 2012., te će možda bolje biti pričekati na njega jer je očigledno da su svoju pravu kreativnost usmjerili na nešto, sasvim vjerojatno, znatno drugačije.
Naslovi: 1.Intro, 2.Oroborus, 3.The heaviest matter of the universe, 4.Backbone, 5.Love, 6.From the sky, 7.A sight to behold, 8.The art of dying, 9.Clone, 10.Flying whales, 11.The way of all flesh, 12.Terra incognita, 13.Vacuity
ocjena albuma [1-10]: 8

horvi // 06/06/2012

> vidi sve fotke // see all photos