Deset godina nakon originalne HELP! Warchild kompilacije, posvećene djeci žrtvama rata u Bosni i Hercegovini, pojavio se i nastavak. Iako su između objavljene još dvije kompilacije pod Warchild etiketom, ova se smatra, pravnim i legitimnim nasljednikom spomenute.
Na toj prvoj, okupila se tadašnja krema brit scene, od kojih danas mnogi ni ne egzistiraju (BOO RADLEYS, STONE ROSES, PORTISHEAD, SUEDE, BLUR...), dok su se i na novoj pojavili samo MANIC STREET PREACHERS, RADIOHEAD i BLUR u GORILLAZ reinkarnaciji. No tu su zato nove brit snage KAISER CHIEFS, DAMIEN RICE, KEANE, BABYSHAMBLES, RAZORLIGHT, BLOC PARTY, COLDPLAY, HARD-FI, CORAL, MAGIC NUMBERS, a potkrali su se među njih i afrički TINARIWEN.
Kako je i običaj, neki su za Warchild snimili novu pjesmu, neki su obradili neku im dragu iz prošlosti, a neki lijeni su se isprsili s b-stranom nekog singla.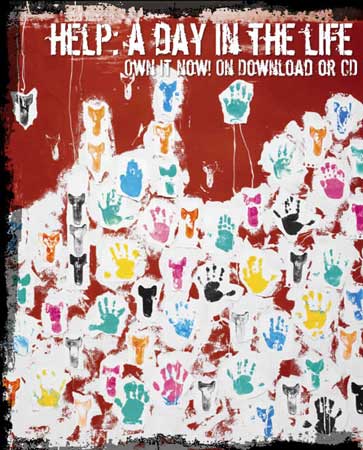 Najgore pjesme isporučili su RADIOHEAD, kojima je to prva nova stvar nakon "Hail to the Thief" i COLDPLAY s How You See the World No. 2, koja se dotad pojavila samo na japanskom izdanju "X&Y" albuma. Boy George (!?!?) i Anthony (dobitnik ovogodišnje Mercury nagrade) iskasapili su Lennonovu Happy X-Mas (War is Over), dok su ELBOW, npr. ispali standardno dosadni.
Lagano razočaravajući učinak polučili su MANIC STREET PREACHERS, CORAL i HARD-FI, dok BLOC PARTY nisu na razini materijala s debija
"Silent Alarm"
, ali su još uvijek bolji od mnogih.
GORILLAZ, GO! TEAM i MYLO su se sa svojim materijalima tu našli sasvim slučajno, dok su najbolje partije pružili bendovi koji su se odlučili na obrade, a to su KAISER CHIEFS sa simpatičnom I Heard it Through Grapevine i KEANE udruženi s FAULTLINE u Goodbye Yellow Brick Road, kao i neuobičajeno veseli BELLE & SEBASTIAN s pjesmom čudnog naziva - The Eight Station of the Cross Kebab House.
I na kraju treba reći, Hvala!, (kome već) na internetu i daunloudanju glazbe, besplatnom ili ne, jer ovako je moguće barem čuti sva sranja, ali i dobre albume, prije nego se čovjek odluči izdvojiti stotinjak i kusur kuna.
A ukoliko ste pak raspoloženi nešto donirati Warchild organizaciji, počekirajte o čemu se radi na
www.warchild.co.uk
.
pedja // 14/11/2005