Chris Gilmore, experimentalni elektronski mag iz Chicaga, nekima je možda poznatiji pod pseudonimom
FluiD
, pod kojim radi još od 1988 kada je objavljen njegov debi album "Warhol". Na svojim albumima i preko svojih pjesama isporučuje mješavinu psihodelije, noisea, jazza, duba, ambijentale i industriala i ostalih zamislivih i nezamislivih glazbenih žanrova. Nakon odlično prihvaćenog prošlogodišnjeg albuma 'Envisioning Abstraction: the Duality of FluiD', u suradnji s kolegom s etikete, odlučio se za split 12'' na kojem je zastupljen s tri pjesme na A strani.
Angels pt. II nastavak je Bowieve teme iz filma "Cat People", sa istom ili sličnom repetitivnom sekvencom, dok ja pri svakom slušanju očekujem kad će početi pjevati
"And I've been putting out fire with gasoline"
. Plague je mračna epska tema tijekom koje žmarci ne prestaju šetati tijelom, dok je Forewarding elektronski experiment koji me podsjetio na davno zaboravljenog GOLDIE-a.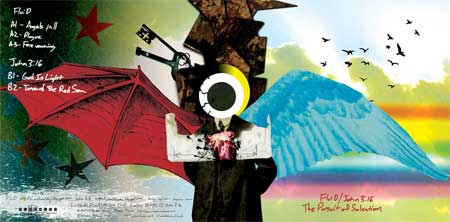 JOHN 3:16
švicarski je experimentalni elektronski mag čija se muzika u potpunosti može opisati kao i muzika koju proizvodi kolega mu s etikete. Nedavno mu je objavljen mini album, a dvije pjesme koje nisu stale na prethodnika protežu se čitavom jednom stranom ovog EP-a. Repetitivni elementi stvoreni elektronskim uređajima i semplirani bore se tijekom čitavih dvanaest minuta trajanja pjesama s analognim i uvode nas u jedan poseban svijet. Tako se God is Light polagano razvija u exploziju koja se događa pred kraj pjesme, a spoj zbornog pjevanja i naracije u Toward the Red Sea čini pjesmu uzvišenom čemu pogoduje i muzička podloga.
Ovo definitivno nije ploča za svakoga, no onaj tko je posjeduje ili će je posjedovati znat će je i cijeniti.
ocjena albuma [1-10]: 8

pedja // 25/02/2012