Najpoznatiji kao kapetan Yonoi u filmu "
Merry Christmas Mr. Lawrence!
" iz 1983. u kome je glumio vodeću ulogu uz Davida Bowiea,
Ryuichi Sakamoto
je prije svega bio vrstan glazbenik, inovator, eksperimentalist koji nije zazirao od neistraženih puteva i, sasvim slobodno se može reći, avangardist.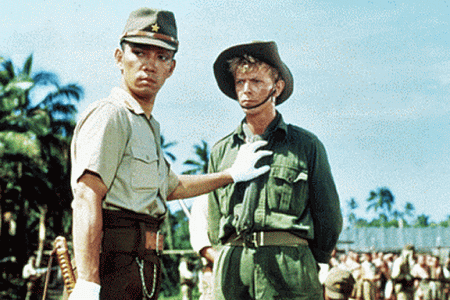 Ryuichi Sakamoto & David Bowie © Merry Christmas Mr. Lawrence, 1983
Zabranjeni poljubac iz filma "Merry Christmas Mr. Lawrence":
Rođen je 17. siječnja 1952. u Tokyju gdje je tijekom 70-ih završio fakultet za umjetnost i glazbu specijaliziravši se za elektronsku glazbu, klavir i klavijature zanimajući se i za različite autohtone sadržaje etnomuzikologije Japana, Okinawe, Afrike, Indije, jedan od glavnih uzora mu je bio francuski impresionist Claude Debussy, da bi 1978. pokrenuo jedan od najznačajnijih elektronskih bendova svih vremena
Yello Magic Orchestra
s kojim je u nekoliko navrata hiatusa i ponovnih reuniona objavio 8 studijskih albuma iznimne kakvoće, 15 živih, 11 kompilacija i 3 remix zbirke varirajući od synth-popa, acid-housea, techna, cyberpunka, eksperimentalne i ambijentalne glazbe, a između ostalog, zaslužan je za termin '
techno
' po pjesmi "
Technopolis
" s drugog albuma "
Solid State Survivor
" (1979).
Kao bend su u početku koristili prve elektronske bubnjeve, te bas gitaru i synth uz obilje ondašnje elektronske tehnologije (vokodere i efekte), a taj pristup su zadržali sve do zadnjeg albuma "
Technodon
" (1993) premda su se još dvaput okupljali 2002-2004 i 2007-2012, no bez novih radova održavajući samo žive nastupe. Svi albumi su im doživjeli ogromne tiraže u Japanu, a jedini od 25 singlova koji se uspio domoći značajnih pozicija izvan Japana bio je, danas ćemo slobodno reći, prilično naivan "
Computer game
" koji je 1979. dospio na UK no.17 i USA no. 60.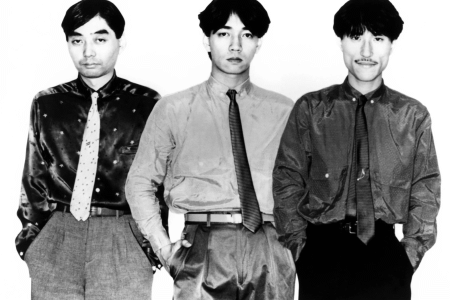 Yellow Magic Orchestra, najpoznatija slika, Ryuichi Sakamoto u sredini © bila objavljena i u nekadašnjem Džuboksu, 1981
Utjecali su na mnogobrojnu plejadu različitih stilova i žanrova, te izvođača među kojima su primjerice Tuxedomoon, Duran Duran, Ultravox, Gary Numan, Japan, David Sylvian, The Human League, Depeche Mode, OMD, Visage, Art Of Noise, Afrika Baambaata, Michael Jackson, Madonna (pozvala ga je kao najseksipilnijeg Japanca u video spot "Rain", 1992), Eric Clapton, Quincy Jones, Marriah Carey, Massive Attack, The Orb, Senor Coconut, Jennifer Lopez, mnogi techno DJ-i (Juan Atkins, Kevin Saunderson, Derrick May...), brojni hip-hop autori (De La Soul, Mantronix, 2 Live Crew...), te gomila friškijih electro hipstera, ambijentalista i eksperimentalnih kreatora.
Paralelno s radom u bendu, Sakamoto je održavao i vrlo plodnu solističku karijeru nanizavši 21 studijskih, 11 živih, 3 remix albuma, 15 kompilacija, 2 mini albuma, 36 singlova od kojih su napoznatiji oni s David Sylvianom ("
Bamboo houses
", 1982. UK no. 30, "
Forbidden colours
", 1983. UK no. 16 i "
World citizen
", 2003.), zatim "
Merry Christmas Mr. Lawrence
" (1983, UK no. 3), "
Field work
" (s Thomas Dolbyjem, 1985.), suradnja s Iggy Popom "
Risky
" (1987), te "
Revep
" s Alva Noto (2006.).
Posebno poglavlje u njegovoj karijeri je filmska glazba. Napravio je gotovo kompletne soundtrackove za čak 48 filma, a osim spomenutog "Merry Christmas Mr. Lawrence", tu su oskarom nagrađen Bertoluccijev "
The Last Emperor
" (1987., kod nas preveden kao "Posljednji kineski car" u kome upravo glumi Masahiko Amakasua, a kolaboranti na albumu bili su mu David Byrne i Cong Su), zatim također Bertoluccijevi "
The Sheltering Sky
" s John Malkovichem (1990) i "
Little Buddha
" s Bridget Fonda, Keanu Reevesom i Chris Isaakom (1993), distopijski "
The Handmaid's Tale
" s Faye Dunaway i Robertom Duvallom (1990), Almodovarov "
High Heels
" (1991), "
Wuthering Heights
" ("Orkanski visovi", 1992), erotski "
Tokyo Decadence
" (1992), "
Snake Eyes
" s Nicolas Cageom (1998), "
Femme Fatale
" s Antonio Banderasom i Rebeccom Romijn-Stamos (2002), odlična francuska drama "
Proxima
" (2019), akcijski triler "
Beckett
" (2021)...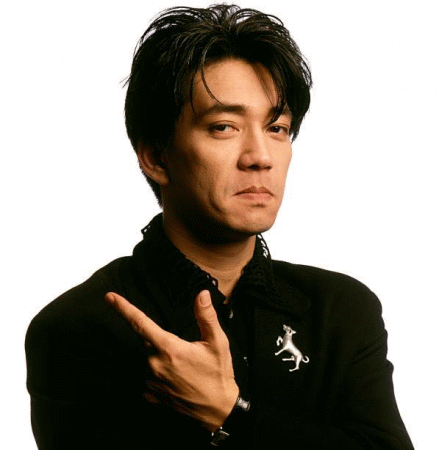 Ryuichi Sakamoto © u mladim danima
Upravo za filmsku glazbu je dobitnik najprestižnijih nagrada Oscara, Grammyja, BAFTA, Grand Bell..., ukupno ih je pokupio 7 - "Merry Christmas Mr. Lawrence", "Posljednji kineski car" (3 komada), "
The Fortress
", "
Love After Love
", "
Music Plays Images X Images Play Music
", bio je nominiran isto toliko puta, a dobivao je visoke honorare za svoj svestrani i predani rad s kojim je izalio izvan teritorija elektronike u klasičnu, modernu klasičnu, etno, world-music, avangardnu i eksperimentalnu glazbu.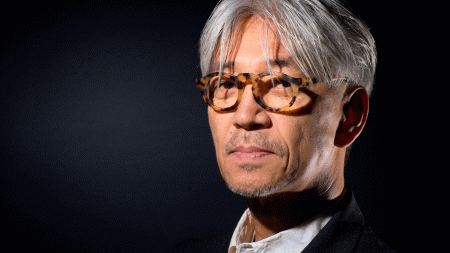 Ryuichi Sakamoto © 21. stoljeće
Zdravstveni problemi počeli su mu 2014. kada je dijagnosticiran rak grla nakon čega je krenuo na kemoterapije održavajući ga koliko-toliko u balansu, ali radijacija mu je poremetila imunološki sustav. 21. siječnja 2021. je podijelio pismo da mu je rak ušao u rektum, podvrgao se operaciji, ali je unatoč tome umro u Tokyju 28. ožujka u dobi od 71 godine. Vijest o smrti obznanjena je 2. travnja 2023. nakon sprovoda.
Rest in peace, japanski velikane.
horvi // 04/04/2023