Projekt neumornog
Luke Selmana
iz Karlovca (Ashen Chalice, A Knot of Tongues, Enlightened Eye of Ugin, Phezulu, Tkivo...) s
Jakovom
iz benda Mališa Bahat opet je nešto sasvim drugačije i dakako, veoma uzbudljivo izdanje. Oni koji znaju njegove brojne radove svakako se neće iznenaditi što je ovaj put dao prioritet ekspresivnijem, a i eksperimentalnijem pristupu gdje žice uglavnom brundaju u koheziji sa synthovima stvarajući dostatno mračnu buku.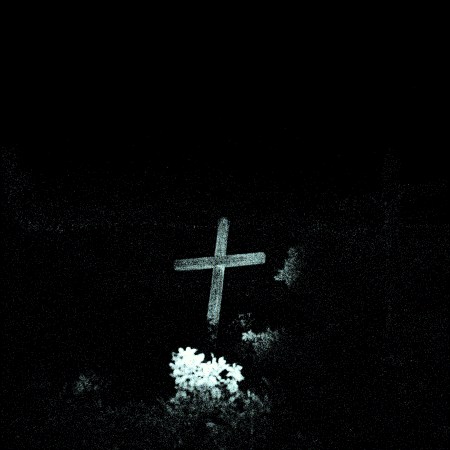 Stilski gledajući, ovo je kombinacija sludgea, dooma i dark ambienta s industrial elementima uz jezovitu vrisku tvoreći digitaliziran oblik renesanse, mnogo čega s 'post' prefiksima uključujući i elektroniku, a i novovjekovnu avangardu. Gotovo unikatni na ovim prostorima, posebice u Hrvatskoj, ovi zvuci od nekih 25 minuta podijeljenih u 5 kompozicija zvijerski teroriziraju živčani sustav uzajamnim distorzijama, opuštenim disonantama i jezivom atmosferom počevši od uvodnog instrumentala "
Digital movement
" preko vokalno odrežanih, odnosno odvrištanih tema u kojima se bez pripadajućeg libreta teško može dokučiti svjetonazor projekta.
Full LP: wZ0P4Bjnm24
Nihilizam izvire iz morbidnih stihova okupiranih egzistencijom, jadikovkama o sudbini između mesa i magle, lošoj karmi za iskupljenje, želji prema uništenju, razaranju, a bome i blagoslovu prosjaka i kurvi u pristranim alegorijama zlobe u ljudskom neznanju jasno očitavajući naslov albuma o lažnjacima i kojekakvim prevarama na duhovno-socijalnoj razini. U toj centralnoj srži tema "
Existing between flesh and mist
", "
Angels of concrete
" i "
Glass eyes
" ne dozvoljava se racionalnim medikamentima na ushićenje za otvoreni diskurz napadajući nakratko opsesivnim zvučnim manipulacijama blastbeat rešetanjima (ne zaboravimo, Luka je vrstan bubnjar), paklenim krikovima, hipnotičkim refleksijama s mnogo breakova i stalnim poniranjem u sve dublje ambise razdvojene synth fragmentima od pjesme do pjesme u kojima se može pronaći kojekakvih dahova The Body, starih solo radova Alec Empirea, eksperimentalnog Foetusa, sve do Primitive Man ili u nekim tagovima Man Is The Bastard. Završni instrumental "
I crumble before you with grace
" potpuno odvaja ovu neurotičnu renesansu sjetnim, dakako mračnim obligacijama 'nijemog zbora' kao idealnog 'outro' partnera za finiširanje makabrično psihološkog horrora za kakvog se jako dobro zna da ne uspijeva u našim krajevima jer, jbga, naši vrsni režiseri nemaju potrebu, a niti inspiraciju ulaziti u najmračnije kuteve ljudske psihe. Zato ima ovaj projekt pred kojim je, nadajmo se, nastavak.
Naslovi: 1.Digital movement, 2.Existing between flesh and mist, 3.Angels of concrete, 4.Glass eyes, 5.I crumble before you with grace
ocjena albuma [1-10]: 8

horvi // 16/08/2022