Potpisan kao OSS and The Orb, čisto tek toliko da malo zaintrigira usnule im fanove i pokuša animirati javnost, iza ovog kak'ti kolaboracijskog rada stoje i dalje The Orb, odnosno
Alex Paterson
i mlađahni
Michael Rendall
(Thomas Fehlmann ih je napustio još odavno) koji su nedavno pokrenuli vlastitku etiketu Orbscure, a za ovu priliku su se mjestimično udružili sa starim kompanjonom
Fil Le Gonidecom
nazvavši se Orb Sound System.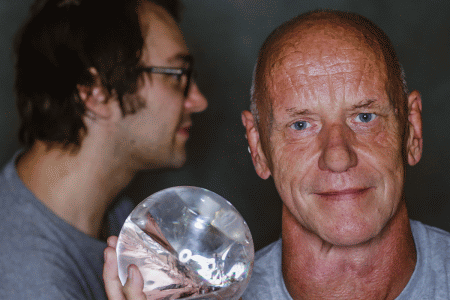 The Orb - Michael Rendall & Alex Paterson © 2021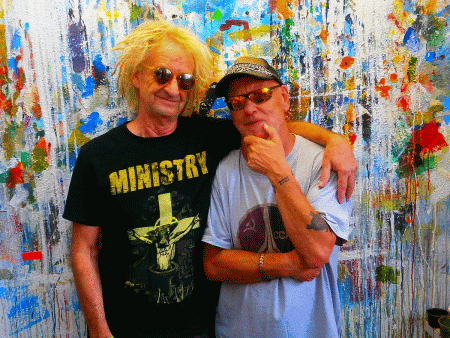 Orb Sound System - Fil Le Gondiec & Alex Paterson © 2021
Svjesni da su im dani velike slave ostali u 90-im godinama prošlog stoljeća, primorani su da izmišljaju kojekakve štoseve radi svraćanja pozornosti, no praktički osim onog albuma s
David Gilmourom
iz 2010. "
Metallic Spheres
" (UK no.12, USA no.73) nisu uspjeli dosegnuti željeni top-40 i dio radijskog etera unatoč potpisivanja ugovora s Cooking Vinyl koji im se nakon deset godina grozi s raskidom i otkazom (zadnji top-40 singl imali su prije točno 20 godina, "Once more" UK no.38). Pa i premda su kritike bile pozitivne na tih 7 albuma, činjenica jest da su se previše opustili i prepustili u letargične ambient house, chill-out, dub i trip-hop monotonije kojoj niti Lee 'Scratch' Perry nije mnogo pomogao kao vokalist i producent na dva povezana albuma (2012. i 2013).
Ovdje se nakon jako mnogo vremena ponovno prikazju u plesnom, striktno techno duhu gotovo tokom čitavog albuma, a razlog tome je valjan: na Glastonbury festivalu su bili predgrupom Kraftwerk igrajući šah s Robbie Williamsom. Ušetali su djelomice i u post industrial techno s temom "
Disco bombing
", ali je većina materijala sastavljena od sampliranih vokala što semantički nadomještavaju lirski sektor koji im ionako nikad nije bio prioritet. Uvodne "
Whippersnappper
" i "
No speed limit
" se baš poigravaju time pozivajući na gromki tribal dance, "
Digital bicycle clips
" prijatno ironizira kraftwerkovski manir bicikliranja skretanjem u minimalističke sfere i tu počinje nagli pad koncentracije s uobičajenim smislom za sofisticiranu zafrkanciju. Nije naodmet ne spomenuti i "
Bad Bochüm
" kao odgovor na Dusseldorf, te onu vječitu povezanost, kako je i sam Ralf Hutter u jednom interviewu spomenuo da je osnovna Kraftwerk inspiracija 'science & noise', a The Orb iliti OSS su to konvertirali šaljivim nazivom "
Wow Picasso!
". Povratak na dub i ambijent su zadnje dvije teme "
Delta river
" i "
Strong man's variations of a camel party
" koje mogu praktički biti sastavni dio bilo kojeg im albuma, EP-ija ili B strane singla.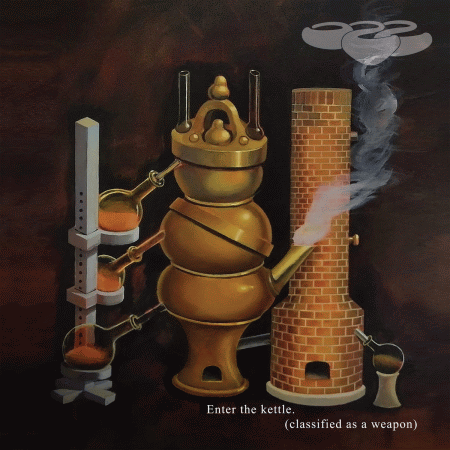 Prvi dio albuma su vješto složene kompozicije zanimljivih figura s obiljem acid detalja koji kako stvari teku preuzimaju sadržaj i postaju svrha samima sebi na relaksirajućoj bazi bez ikakvih devijacija ili simboličkih paradigmi, skoro pa nešto u rangu 'pop' klišeja koji ne bježe mnogo od neinventivnog EDM i indietronice. Perspektivno i obećavajuće počinje, a onda se naprosto razvodni u potrazi za zabavom u širokoj upotrebi.
Naslovi: 1.Whippersnapper, 2.No speed limit, 3.Digital bicycle clips, 4.Bad Bochüm, 5.Wow Picasso!, 6.Disco bombing, 7.Delta river, 8.Strong man's variations of a camel party
ocjena albuma [1-10]: 6

horvi // 04/12/2021