Ako niste ljubitelj remikseva, ovaj neobičan potez John Robba, vokaliste i basiste benda koji nas je očarao nastupom u zagrebačkoj Tvornici 10.IX 2016. kada su bili predgrupom Gang Of Four mogao bi vam sjesti vrlo neurotično i rastreseno. A razloga za to ima oho-ho...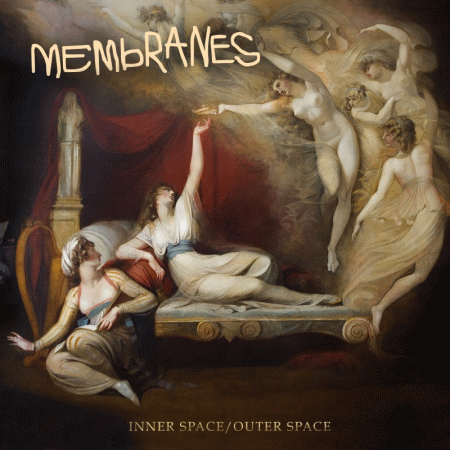 Remix, kao što kaže samo značenje jest novi remont, preslagivanje jednog te istog materijala u novoj formi, obliku, dimenziji. Robb je svoje originalne mastere povratničkog albuma "Dark Matter/ Dark Energy", prvog nakon 26 godina diskografske pauze poslao svojim kolegama sa scene na slobodni remont da s njima učine što god ih volja. I pretumbali su te originalne zapise do neprepoznatljivosti da se komotno čini kako su ovi remiksevi posve novi i drugačiji materijali od onih prvobitnih, još su mračniji i neurotičniji, te se od izvornih 14 kompozicija dobilo čak 17 remikseva jer su "
The Universe Explodes Into a Billion Photons Pf Pure White Light
", "
Space Junk
" i "
In the Graveyard
" zaživile u dvije verzije.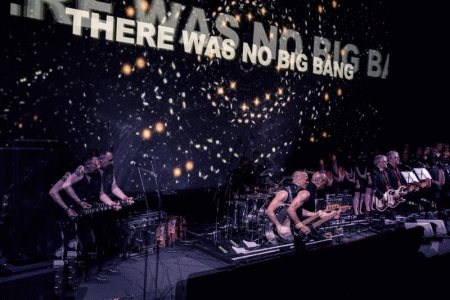 The Membranes live 2016
Da se sad ne povlače paralele s originalima, dakako za analizu valja prvo poslušati album, pa onda ove nove remikseve, ovdje su učestvovala vrlo značajna imena alternative i undergrounda od kojih su najpoznatiji Manic Street Preachers, Mark Lanegan, Youth iz Killing Joke, Godflesh, Therapy? i Alexandar Hacke iz Einsturzende Neubauten. Neka od njih se godinama nisu javljala s novim izdanjima (In The Nursery, Philip Boa, Chris Carter & Cosey Fanni Tutti, ex-Throbbing Gristle), za neka bome je ovo prvi glas da su još uvijek uopće živa (Keith Levene, ex-Public Image Ltd., Clint Mansell iz Pop Will Eat Itself, Barfak iz Tehrana i Fun-Da-Mental), a o nekima treba duboko posegnuti u istraživanje i pročeprkati tko su jer ih nema na nekoj vidljivijoj površini glazbene scene (Tunnelmental Assembly, Black Yoga Collective, Reverend and the Makers, Harry Stafford & Inca Babies). Svi oni su radeći nove dizajne imali odriješene ruke, te je svatko zavisno o vlastitim afinitetima dao svoj doprinos viđenju tih pjesama smjestivši ih manje-više u opsege teritorija po kojima su poznati od primjerice rocka Manic Street Preachers, gothica Mark Lanegana i In The Nursery (Die Fledermaus), ambijenata Clint Mansella, noisea Justin K Broadricka, dubova Reverend and the Makers i Youtha, EBM-a Phillip Boe i Tunnelmental Assembly, drone/dark-wavea Harry Stafford & Inca Babies, sve do gitarističkih psihodeličnih eksperimenata Keith Levena i posve neobičnih zahvata Therapy? i industrial poveznica Chrisa & Cossey, te Hackea iz Neubautena.
Od svega originalnoga ostao je samo prepoznatljiv Robbov vokal dok su ostali parametri dobili skroz nove performanse po kojima je vrlo teško dokučiti njihov izvornik. A upravo se to i tražilo - nova adaptacija i novi pogled na ovo remek djelo koje je po mnogim anketama uvršteno u sam gornji dom alternativne produkcije 2015. Mračan i sofisticiran 'make over' pruža delikatan užitak od 80-tak minuta na kakav niti sami The Membranes nisu navikli. Vrijedi ga poslušati i stvoriti novi horizont iz rakursa samih remiksera.
Naslovi: 1. The Universe Explodes Into a Billion Photons Pf Pure White Light (Manic Street Preachers Remix), 2. Do the Supernova (Phillip Boa Remix), 3. Dark Energy (Mark Lanegan Remix), 4. The Universe Explodes Into a Billion Photons Pf Pure White Light (Clint Mansell Remix), 5. 21st Century Man (Godflesh Remix), 6. Money Is Dust (Tunnelmental Assembly Remix), 7. Multiverse Suite (Black Yoga Collective Remix), 8. Space Junk (Reverend and the Makers Remix), 9. Dark Matter (Keith Levene Remix), 10. If You Enter the Arena You Got to Be Able to Deal With the Lions (Cosey Fanni Tutti Remix), 11. Space Junk (Youth from Killing Joke Remix), 12. In the Graveyard (Harry Stafford & Inca Babies Remix), 13. In the Graveyard (Cosey Fanni Tutti Remix), 14. Hail to the Lovers (Therapy Remix), 15. Magic Eye (To See the Sky) [Bartak Remix], 16. 5776 (The Breathing Song) [In the Nursery Remix], 17. Hum of the Universe (Einsturzende Neubauten Remix)
ocjena albuma [1-10]: 7

horvi // 31/10/2016